What We Can Do
Turning your space into a flexible office can help your employees be more productive and healthier throughout the day. Give your team what it needs to work its best.
UPLIFT Desk provides you the products, tools, and experience to adapt your space into the collaborative and productive environment you've always needed. Our friendly and knowledgeable experts can guide you every step of the way -- from office design to product selection, custom quotes to financing options, and delivery/installation to follow-up service. You can rest easy knowing our Certified Professional Ergonomist (CPE) assists with layouts and has reviewed all UPLIFT Desk products and designs.
Whether you need a large number of industry-leading height adjustable desks, ergonomic chairs, or office accessories as quickly as possible, or you have time to order unique styles and colors, we have what you want to outfit any office, big or small.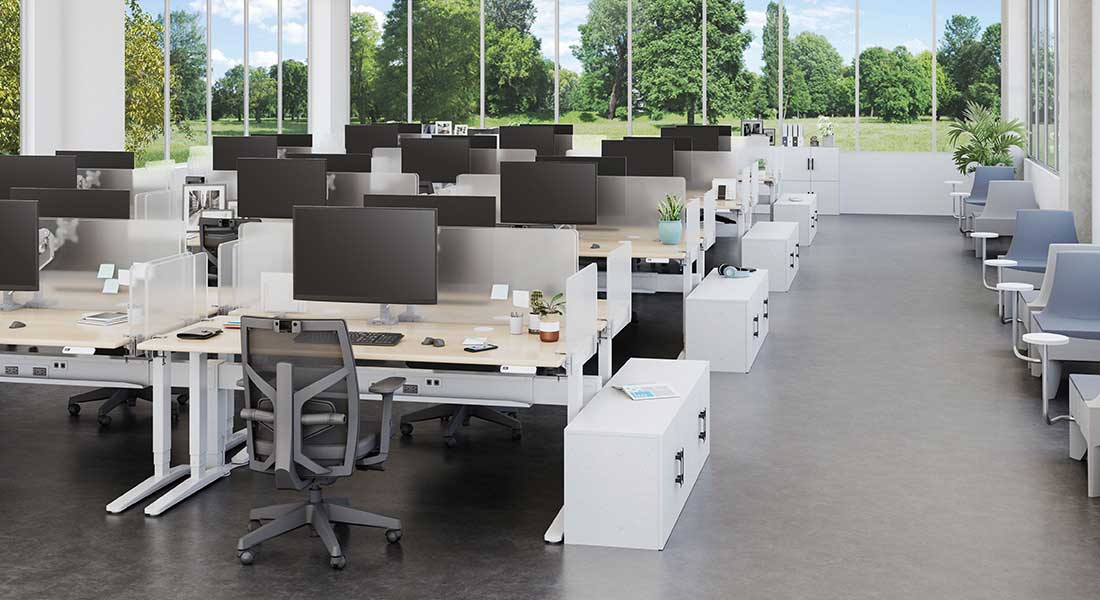 Tax Deductions for Business Owners
Did you know business owners can deduct the full purchase price of qualifying office equipment on their taxes? You could save thousands of dollars by taking advantage of Section 179 of the IRS tax code.
Many businesses are under the impression that Section 179 only applies to vehicle purchases, which is why it is often referred to as the "SUV Loophole" - in reality, Section 179 applies to a wide variety of business purchases such as automobiles, copy machines, and office furniture!
This means that in 2019, business purchases up to $1,000,000 from UPLIFT Desk were tax deductible. Always research your particular situation and find out the exact deduction limit for the applicable year; discuss with your accountant.
Upgrade your office today by contacting us for a free quote!
*Does not constitute legal or financial advice. Contact your tax professional for information as every business's situation is different.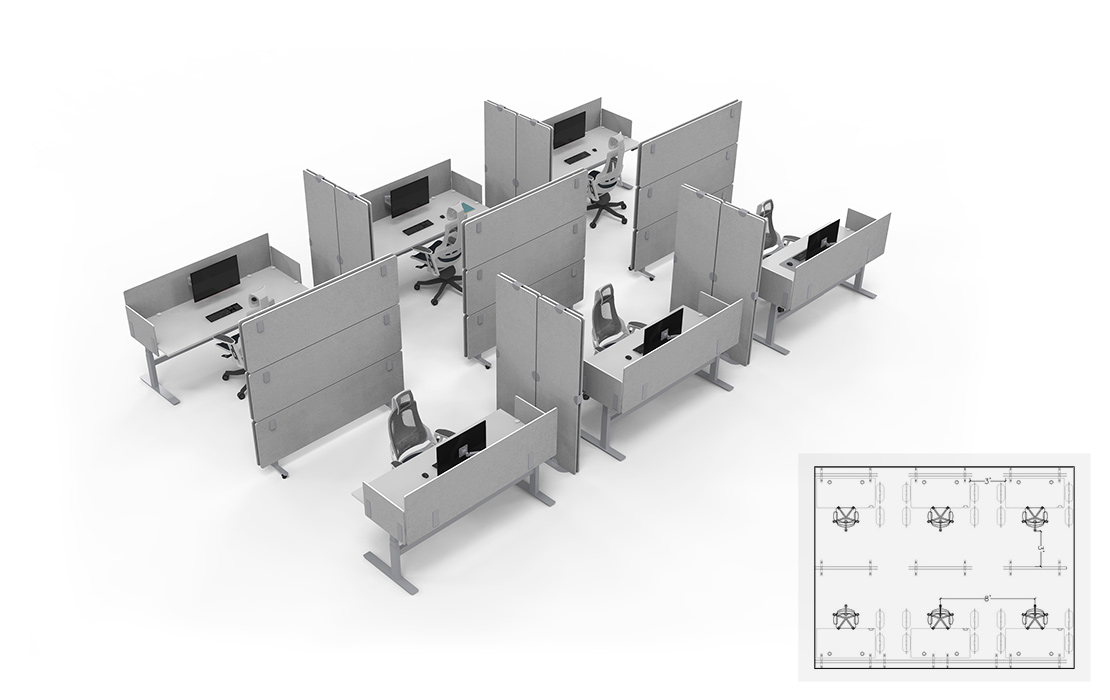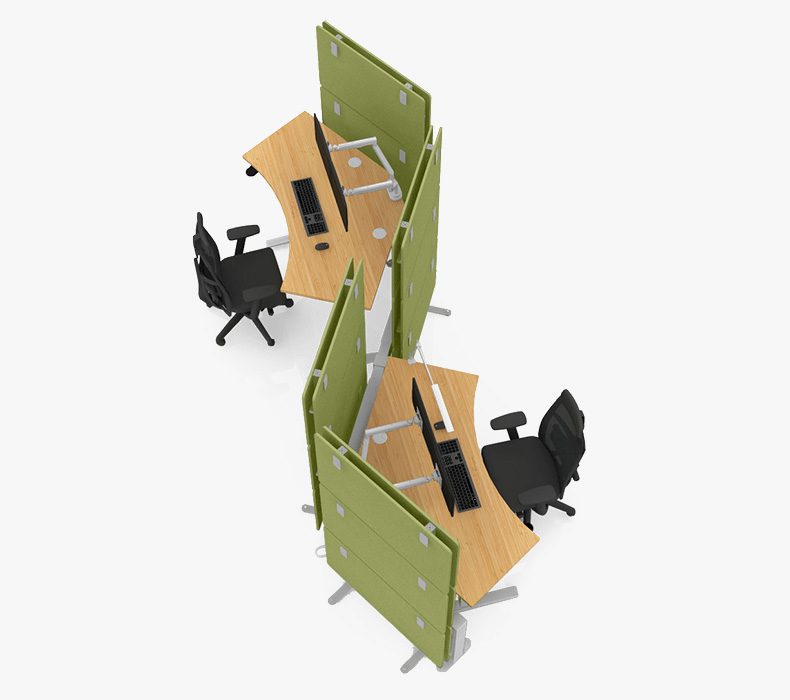 Bulk Order Discounts
Need multiple height adjustable desks, standing desk converters, ergonomic chairs, office accessories, or all of the above? We offer bulk order discounts for every size office. No matter if you need only a few desks or a few hundred, we'll work with you to accommodate your budget. Just tell us what you think you'll need, and we'll find a price and financing option that works for you and your business.
Need your flexible office outfitted quickly? You don't need to wait weeks or months. We can ship most bulk orders in only a few days. It's just another way we're working to UPLIFT your experience with us.
Already have the V1 version UPLIFT Desk? We now offer a benching solution to keep them perfectly separated and aligned.
Design Services with UPLIFT Desk
Not sure where to start when designing your flexible office? We're here to help you transform your space, complete with height adjustable desks, ergonomic seating, and office accessories.
Using state-of-the-art 2D and 3D planning software, our experienced team of designers and builders can show you how our products will fit your space. Our Certified Professional Ergonomist (CPE) reviews design plans and product selections to ensure your employees get the most out of their new office layout. We'll work with you to achieve your business objectives and balance your need for communication and privacy. Your office is where your team creates your company's future. Make it great.
Click here to learn more about our Office Design Consulting and Space Planning services, requirements, and to see examples of typical office configurations.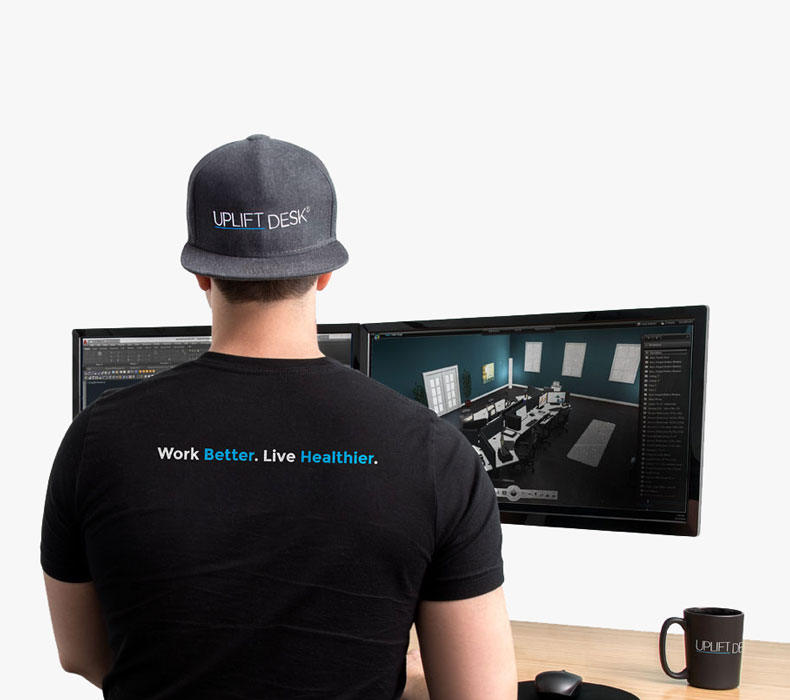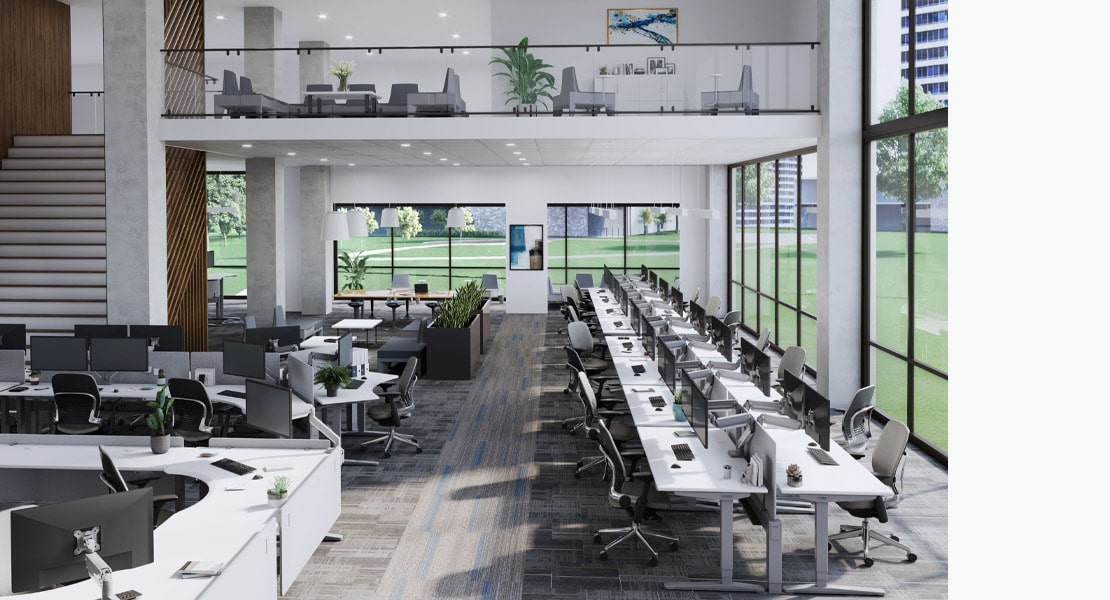 Large Installation? No Problem.
You've done the research, chosen UPLIFT Desk, and you've wisely decided to outfit your office with new height adjustable desks. Even though assembling a desk is easy, you've realized that your team just won't have the time. What now?
Leave the work to us. From desks and chairs to our line of UPLIFT Acoustics, we're able to help you set up your office. We can deliver and assemble our products, train your team, and offer follow-up service to answer any and all questions you may have.
Please let us know that you're interested in our installation services as you work with our team, and we'll be sure to dedicate the resources you need for a successful office transition.
Personalized Service and Exceptional Value
Let us help you make the transition to height adjustable desks and a flexible office. The benefits are proven, and we are experienced leaders in working with clients to achieve their goals. We ship quickly, boast an industry-leading warranty, have an unmatched team of experts behind our products, and deliver an exceptional value that can't be beat. We work with businesses large and small, interior designers, architects, schools, government organizations, and more to outfit almost any space. Your project is our priority, and we'll be there with you from start to finish.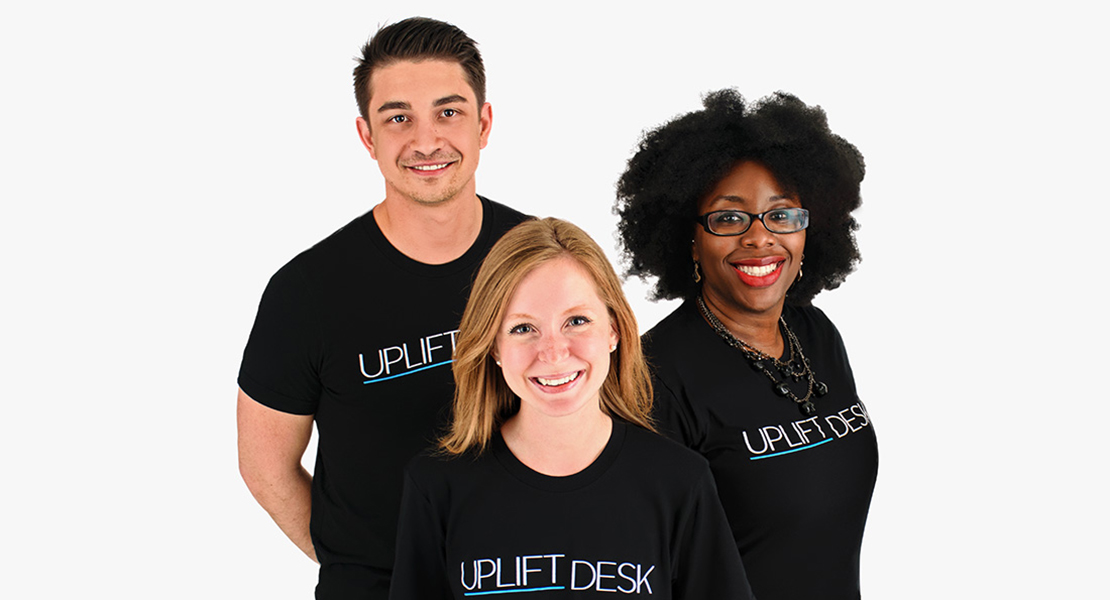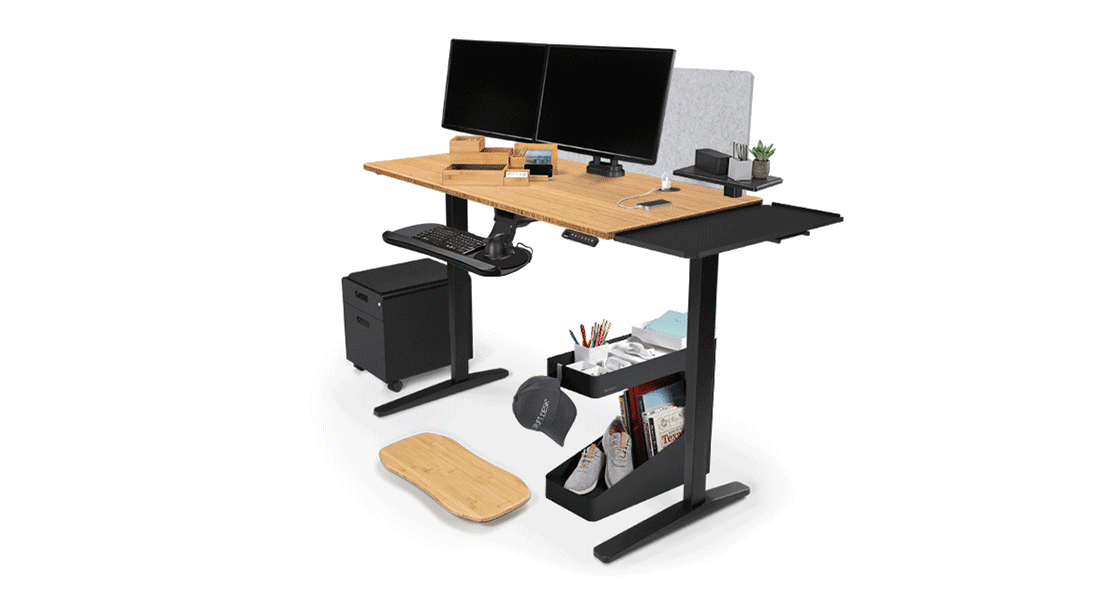 Custom Colors and Designs for Large Orders
Want something truly unique to you and your organization? Give us some extra time, and we can deliver custom laminate or solid wood desktop designs, unique seating colors, alternative acoustic panel designs, and much more. Start by letting us know this is something you're interested in, and we will work with you to find or create what you're looking for.
*Custom color and design availability is dependent on the size of an order. Please contact us for additional details.
Financing Options
We offer businesses, large and small, different ways to pay. Of course, you can always pay up front with your own line of credit, cash, or credit card. You can also apply for credit directly with us and fill out a purchase order. Please click here for additional information on placing a PO with us.
We also offer Affirm Financing on purchases of $250 or more. Affirm pricing helps you pay for the things you want over time. You're in control of how long you make monthly payments and how much you'll pay. For more information view our Affirm Financing page.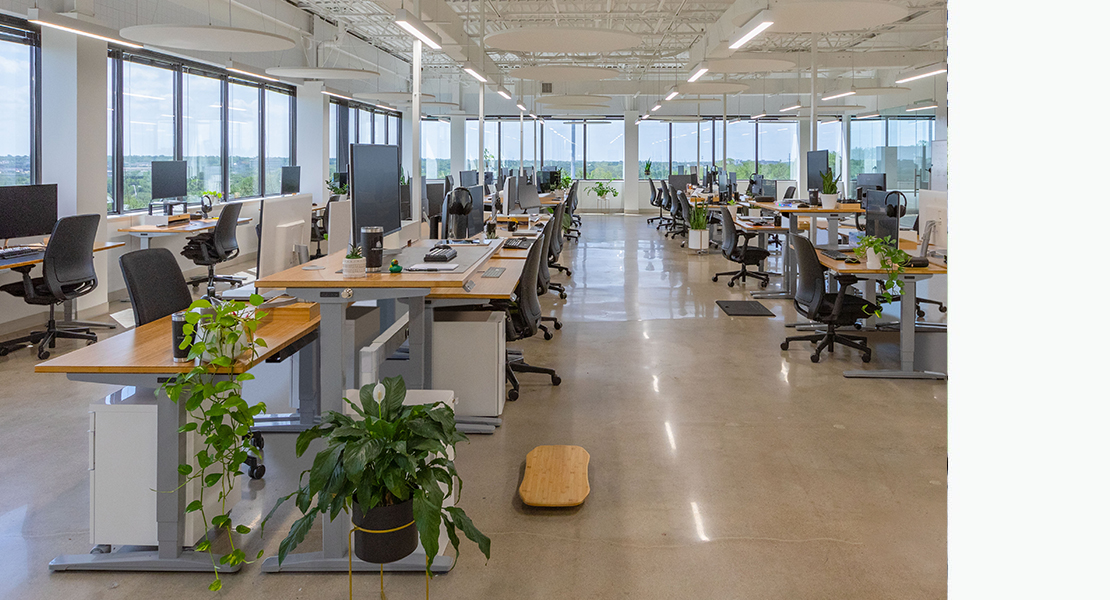 Ready to Start Your Order?
Get a head start on your order by filling out and submitting the information below. Have questions or need more info? It's okay; we can help. We're available via chat, phone, and email. Or, fill out the contact form below, and we'll be in touch with you ASAP.
If you're starting from square one, we recommend that you get acquainted with our desks and converters by using our Desk Selector Tool. You'll be guided to a desk builder where you can customize all your desk options. Then, add your desk to your cart and take a screenshot of your selection to attach below.
When You're Ready
---