Benefits of a Standing Desk
Join the standing desk revolution with UPLIFT Desk.
A Happier, Healthier Way to Work
The scientifically-proven cure for all our workday sitting problems.
No matter how much we focus on our health, the quintessential American work routine rarely allows us to harness the health benefits of movement. Between our morning and afternoon commutes, company meetings, desk work, and catching our favorite TV show on the couch, we spend most of our waking hours sitting down. What's a surefire antidote to all this workday sitting? Scientifically-proven, height-adjustable desks (also known as standing or sit/stand desks)! In comparison to a fixed standing desk, which can be just as bad for you as a traditional sitting desk, a height-adjustable desk cultivates the health benefits of movement by allowing users to freely switch from a sitting position to a standing position every hour or so. A growing body of research supports the benefits of standing desks and the myriad of ways they improve your life, from boosting productivity and preventing adverse health conditions caused by sedentary habits to increasing the probability of a pain-free workday by 80%.
Stand Up for Your Health
Check out the eight amazing health benefits you experience from using a height-adjustable desk.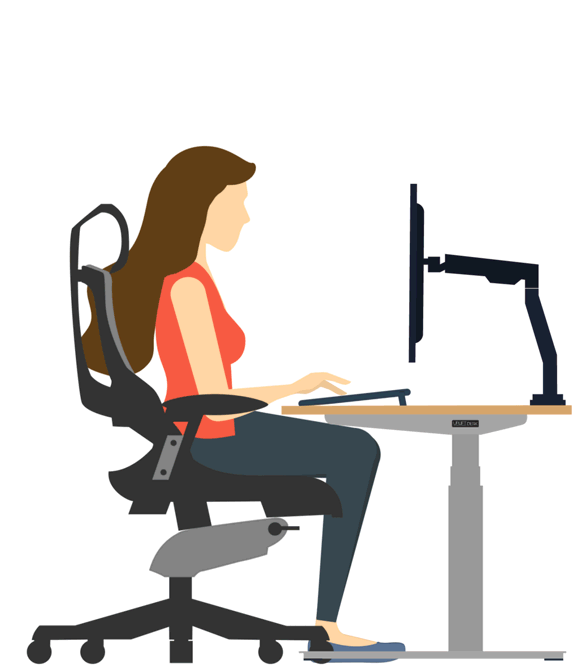 1. Increase Your Energy
Using a standing desk helps create the movement you need to improve circulation and deliver oxygen to the brain, which will increase your energy and attentiveness.1
2. Improve Your Mood
Those who sit for more than six hours per day show more signs of psychological distress than those who sit less. Standing at your desk has been shown to improve your mood and reduce depression, fatigue, and tension. 2
3. Harness Joint & Muscle Movement
The musculoskeletal movement required to consistently transition from sitting to standing counteracts the health repercussions of a sedentary workday routine.7
4. Boost Your Productivity
Standing at your desk has been shown to raise productivity by up to 45%.3
5. Lose Weight
Lose almost six pounds a year by standing instead of sitting for six hours a day. Standing burns 12% more calories than sitting.4
6. Improve Mental Focus
Moving enhances the creation of new brain cells, improving critical thinking and focus. 5
7. Lower Your Risk of Disease
A sedentary, physically inactive lifestyle is the fourth leading cause of mortality worldwide. Standing has been linked to lower rates of heart attacks, strokes, and diabetes.4
8. Reduce Caffeine Intake
Periodic standing sessions—rather than coffee or energy drinks—provide a more natural defense against those pesky afternoon crashes.8
Our mission at UPLIFT Desk is simple; we're here to provide the best selection of beautiful, functional, sustainable, and affordable standing desks and ergonomic furniture to enable you to work better and live healthier.
—Jon Paulsen
Founder & CEO
Improve Your Ergonomics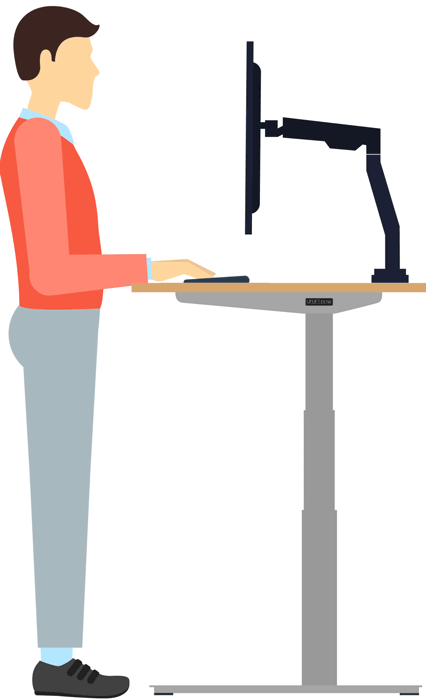 Improve Your Ergonomics
The principle behind ergonomics is simple—fit the task to the person, don't make the person conform to a poorly-designed task. By limiting the amount of time you spend sitting, and by focusing on movement through alternating your postures with a standing desk, you can reduce pain and strain while increasing your comfort levels at work. Adjustability is essential in your desk, chair, monitor arm, and keyboard tray. Make sure everything meets the full ANSI/BIFMA requirements for adjustability (UPLIFT standing desks and chairs do!), and then position them to fit your body.
Many certified professional ergonomists will tell you, "your next position is your best position." That's what this industry is all about: designing products and systems that encourage you to move and work comfortably/optimally.
Reduce Back Pain
---
Using a sit-stand workstation has been shown to significantly reduce lower back pain.5
Decrease Neck Pain
---
The CDC found that standing an hour a day at work can reduce upper back and neck pain by more than half. 2
Improve Your Posture
---
A standing desk allows you to improve your posture by training your back to stay straight with your shoulders pulled back.
Reduce Arm and Wrist Strain
---
A height-adjustable desk allows you to keep your arms at a 90-degree angle and your wrists level, reducing arm pain and putting less strain on your wrists.
Where We Fit In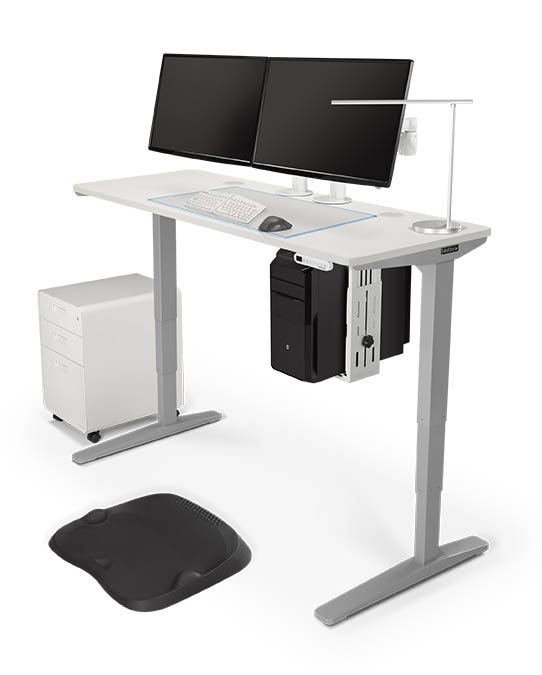 Where We Fit In
The numerous health, productivity, and ergonomic benefits mentioned above are the reason the UPLIFT V2 Standing Desk is at the heart of everything we do. It enables you to stand, sit, and move throughout the day, and when you do, your work surface will always be at the perfect height for the task at hand. Chosen as the "Best Standing Desk" by Wirecutter, Forbes, Wired, and Lifehacker, our newest standing desk comes with increased stability, safety, and reliability. Our "one-touch" height adjustment allows you to transition between sitting and standing with a tap of a button, and our steel frames are built with contract-grade quality to ensure that the desk you invest in today will help you live better and healthier well into the future.
Shop Now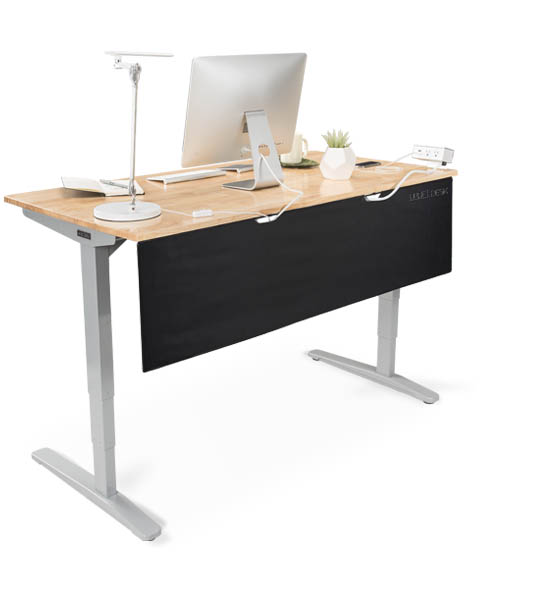 With our height-adjustable desks, all your work materials move as you do, and your seated height is perfect every time. After all, you'll typically still spend the majority of your time seated, but you can work at the ideal seated height and stand up frequently. Our products accommodate a seated 5th percentile (5'0") to a standing 95th percentile (6'3") with the UPLIFT V2-Commercial Desk. The standard UPLIFT V2 Desk travels 3" higher and can accommodate treadmills that raise the user around 5". However, if a full sit-stand desk isn't an option yet, our E7 Desk Converter is an excellent option because it maintains your ideal seated height, unlike other converters in the industry.
Note: Our UPLIFT V2-Commercial Standing Desk is designed to meet the ANSI/BIFMA G1-2013 height requirement standards and adjusts from 22.6" - 48.7". Shorter users that are around 5'0" tall can still use our regular V2 frame and sit ergonomically, but we recommend a keyboard tray for optimal keyboard/mouse positioning while seated.
Design My Desk
Join hundreds of thousands of happy customers who stood up for their health
Molly F.
Dramatic statement for sure. However this desk has saved me. I was having significant (stop you in your tracks) pain (neck, back and arm) due to improper height of my desk and the inability to stand. The Uplift has been great.
Zach F.
Was dealing with a lot of back pain, but having the option of spending 30 minutes standing and 30 sitting makes a huge difference.
Jacob S.
I ordered an UPLIFT V2 Standing Desk because I constantly have back pain from sitting too much. The desk has been a great resource to me, and having the ability to going from sitting to standing and back in just a matter of seconds makes working so much easier.
Sonia B.
I put in a lot of time researching various standing desks in the market and ultimately decided to give UPLIFT a shot. Boy, am I happy with the decision! The delivery was very quick, setup was straightforward (and fun!), and once it was all said and done, it was one beautiful, sturdy desk.
Nick C.
... if you aren't sure about standing desks, buy one and don't look back. The ability to switch between sitting and standing easily throughout the day is a life saver for lower back pain.
Trevor B.
I honestly felt I'd be standing about 20% of the day in order to change it up and relieve my back and neck. Turns out I prefer to stand about 80% of the day. I also find myself moving around a lot to music and feeling generally more free...
Carol W.
I am crazy about my beautiful new desk and everyone who comes into my office is taken by how gorgeous and efficient it is and is blown away by the quiet and effortless manner in which I can go from a sitting desk to a standing desk in a matter of seconds.
Victor C.
Standing at my computer for part of the day is truly a revelation, but I now see that an adjustable-height desk allows other options, too, such as sitting on a pillow or using a foot rest. Being able to vary my position keeps me from feeling stiff and cramped.
We're thrilled that UPLIFT desks are helping hundreds of thousands of people worldwide improve their lives.
—Jon Paulsen
Founder & CEO
Start Standing Today
Ready to make a commitment to living a happier and healthier lifestyle? Browse a selection of our products below.