At UPLIFT Desk, we've been designers and purveyors of comfortable, healthy work since 2002. When we couldn't find a perfect height-adjustable standing desk, we decided to make our own. Our award winning standing desks are rated #1 on Wirecutter, Forbes, and others. We also design ergonomic chairs & stools, monitor arms, keyboard trays, file cabinets, power/data rails, acoustic/privacy solutions, task lighting, and many other office furniture accessories. Our mission has remained the same: to help every person stay healthy, happy, and productive when they work.
Whether your work happens in a home office, cubicle, or C-suite, you can benefit from our quality ergonomic office furniture that adapts to your unique needs and style. With our reliable team of experts here to help you piece together the workstation that keeps you and your employees healthy, you can rest assured that knowledgeable professionals are standing behind you every step of the way with an industry-leading warranty to back up every product.
We are that team, we're here for you, and we're excited to help you build the office you've always known you needed.
Our core values guide our business practices while we guide you in your ergonomic evolution. Our mission is to put an end to unhealthy work environments for good.
Work Better. Live Healthier. UPLIFT Desk.
Our Core Values
Click Below to Learn More
Create a Healthier Workplace
Great work starts with a well-functioning workspace. No one understands this better than our founder, mechanical engineer, and Certified Professional Ergonomist (CPE), Jon Paulsen. Yet throughout his twenty years of workplace assessment and product design experience, Jon found a lack of companies with fulfilling and reliable customer service prepared to outfit ergonomically-evolving offices to their full potential.
Jon started The Human Solution in 2002 with the intent of designing, making, and bringing the best adjustable height standing desks and ergonomic products to the world. In 2011, UPLIFT Desk was born when we created our very own line of height adjustable standing desks with the goal of making industry-leading sit stand solutions at an affordable price.
Since then, we've added ergonomic chairs, standing desk converters, and nearly every type of desk accessory you'd need - creating a one-stop shop for healthy and productivity-boosting office furniture. In fact, we can design entire flexible office spaces for you with our space planning software. Our goal is to make UPLIFT Desk the brand you trust.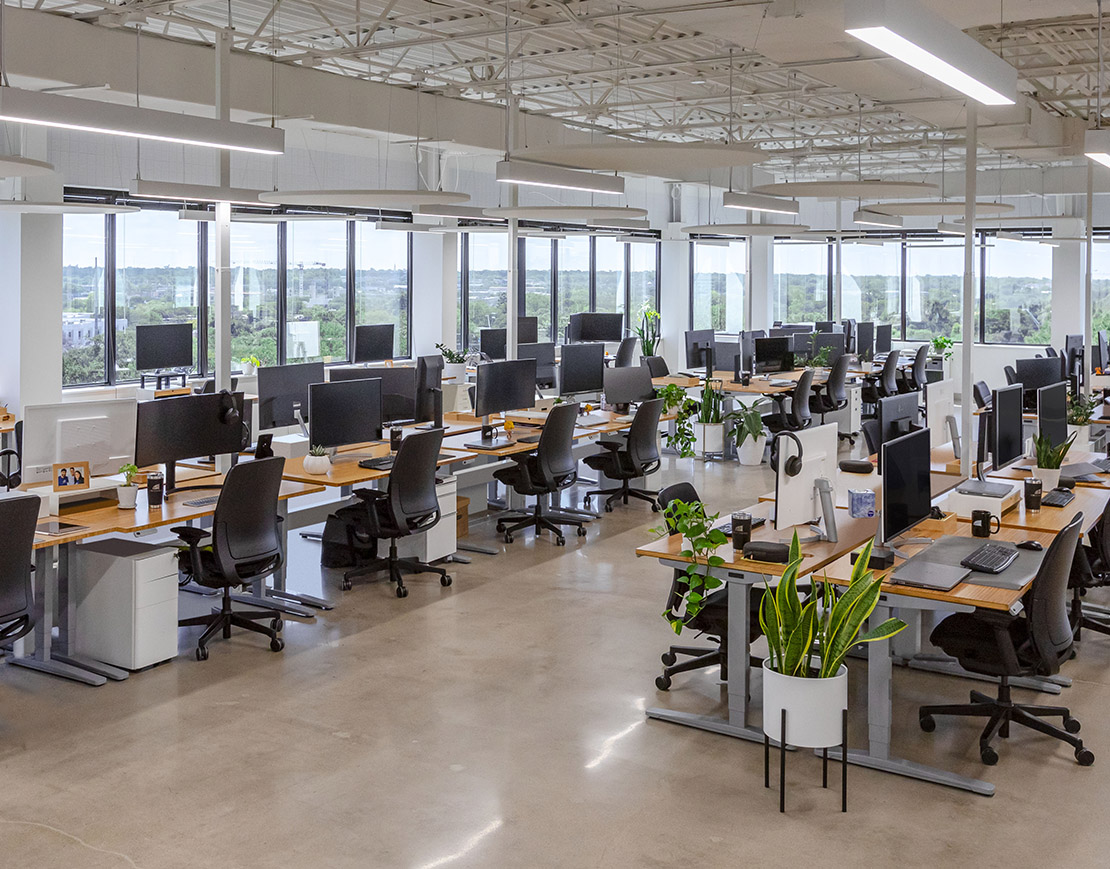 Deliver High-Quality Products Fast & Free
You need business solutions now, which is why we offer the highest quality products to you in the shortest possible time, saving you time and letting you get back to work.
Our fast and free shipping guarantee on every UPLIFT Desk item also ensures that you and your team can focus on building a great office space, not worrying about additional costs and fees.
Whether you could be working better with one of our height adjustable desks, an accessory like a keyboard tray or monitor arm, or a more supportive office chair, we're here to help you pick the products that help you the most.
Friendly and Knowledgeable Customer Service
We're chosen by hundreds of thousands of offices for a reason. From the moment you visit our customer-centered website to shop our growing product line to the first time you use your new standing desk, chair, or accessory, we're here to help you every step of the way. Get advice and ergonomic education to help you make your buying decisions and how to set up your new space. Whether you're looking for one desk or one hundred, our team is happy to answer any questions you may have.
Let us take the guesswork out of building a healthier, more productive office.
Click here to reach out to our team today.
Our Mission
Click Below to Learn More
Helping Our Environment
We are, at our core, a local company seeking to change the world one happy and healthy customer at a time. By starting small and helping our communities through our many public outreach projects and by making eco-conscious choices regarding our long-term environmental impact, we hope to achieve this. For example, as a result of our partnership with the National Forest Foundation, for every solid wood desktop that we sell, we're able to plant five trees in the national forests throughout the U.S. We offer environmentally conscious desktops made from all-natural Moso bamboo, rubberwood, reclaimed wood, and 100% recycled medium-density fibreboard (MFD). We also utilize recycled aluminum in our desk frames.
We say it all the time - healthy living doesn't start and stop at work, it's the little choices we make every day that add up to a healthy lifestyle. We take this seriously, whether it comes to choosing products with little to no VOCs (Volatile Organic Compounds), donating desks to non-profits that support eco-friendly causes, or doing business with manufacturers with eco-conscious values like ours. We want to make a big difference in many people's lives while having a small environmental impact.
Working with Those Who Care
Building and nurturing relationships with manufacturers and companies that promote positive change in their hometowns is another goal of ours. We seek to create relationships that are mutually beneficial for manufacturer and seller, helping everyone achieve their highest goals at work.
Our products are designed in the USA, and many are made here. We choose to work with manufacturers that embody our values, including integrity, quality, and positive environmental impact. By doing so, we are able to create long-lasting and fulfilling working relationships with the makers of our products, which enables us to deliver higher quality products than our competitors. We're not braggers, we just try to be big picture thinkers.
Creating Happy Employees
When you're comfortable and happy, you work better. Pain, strain, and injuries are kept at bay by engaging in better postures at work and simply moving more. Your mood improves when you have the chance to move more throughout the workday, alternating activities like standing, perching, active sitting, and walking.
From day one at UPLIFT Desk, our team members learn the principles of ergonomics through firsthand experience, working with the products we produce, and enjoying their myriad of health benefits, like better circulation and improved focus.
We foster team member happiness and excellence every day, in ways big and small, through our individual ergonomic workspaces and in-depth ergonomic training. When we're happy, we more easily spread that workplace happiness on to you. It's a win-win scenario that we've really gotten used to.
Click here to learn more about joining the UPLIFT Desk team.
Helping Your Business Flourish
We're thrilled when we can help businesses meet their goals and help people grow to their greatest potential. Another beautiful aspect of our mission is that as your workspace evolves and leads you to achieve your goals, we achieve ours, too.
We are both the manufacturer and the retailer. This allows us to deliver the best office furniture to you at the lowest price possible, letting you custom build your ideal ergonomic workstation for much less than you may think it would cost to work better and feel healthier. We have been here for you since 2002 and we stand behind our best-in-class UPLIFT Desk warranty. You'll find our products in Fortune 500 companies; let us show you why.
You can shop and purchase all of our outstanding ergonomic office products on our site, or visit us in person at the Austin or Chicago Showrooms.
Great work starts with a great workstation. Let UPLIFT Desk be your partner in building yours today.
Join the UPLIFT Desk Family