In 2002 UPLIFT Desk was founded with a simple mission: create a Standing Desk you'd use every day to work better and live healthier. We wanted to share the benefits of an ergonomic workspace with as many people as possible. That was years ago, and we've grown quite a bit since then.
We've gotten amazing feedback and great stories in return. We've seen how improving office ergonomics can have an incredibly positive effect on peoples' health, comfort, and productivity.
"The Uplift V2 Standing Desk offers the best mix of performance and features of the desks we tested." - Wirecutter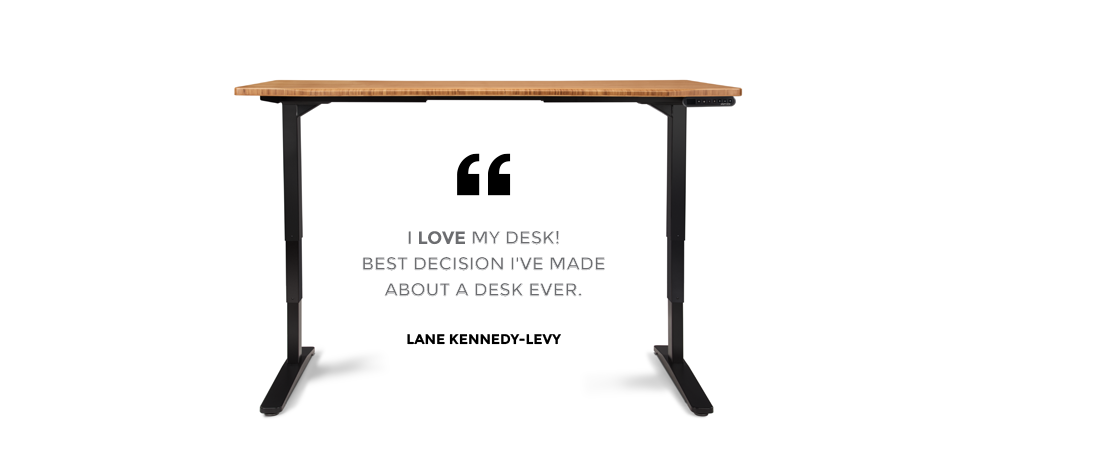 ---
In the Press
We've been featured in magazines and media across the country.
---
---

I couldn't be happier with the quality of the desk, the excellent customer service, very quick shipping, and the "wow" factor of the entire transaction. When you order, you start with the basic desk and customize it to your liking... The desk works beautifully, looks smart, and I really dig the accessories that were sent along with the desk....
Highly recommend this company and the desk. It's one of the best purchasing experiences I've had in a while.
Claire Pang
For my job I can spend up to 10 hours stuck sitting at my desk. Not fun for my back or legs. I have been researching for some time to find the "right" sit/stand desk. I love the UpLift desk! The whole experience was a great from beginning to end. The website is super easy to navigate. Picking the desk with all the accessories was a snap. The hardest part for me was picking the type of desktop I wanted. I really like how the ordering process shows what the desk will look like. I chose the bamboo curve, 60" by 30". It is smooth, solid, and beautiful. The workmanship shows they take pride in their product. I am very pleased. The assembly was a breeze, especially with the helpful step by step videos provided on their website. The cpu holder fits perfectly, definitely recommend the track spacer. The keyboard holder, with it's very convenient height and angle adjustments, is the best one I have ever used. Again, recommend the track spacer. I also highly recommend the advanced digital memory. I almost didn't get it because I am the only one using the desk. But in the end, I decided I am already making an investment, might as well add this convenience to it. So worth it... I am 100% pleased. I literally have nothing negative to say about this desk. It's not often that I have found a company with a product that I have been 100% satisfied with, so I am happily spreading the word.
Chris Conklin
I LOVE my standing desk! The Uplift system was easy to install and is simple to use. It is versatile and allows me to move from a sitting to standing position quickly and effortlessly. I wanted to make my own table top, so I simply bought the legs and stool. The components are well made and sturdy. There is no rock or wiggle in my table. I am VERY HAPPY with the outcome.
Parker Wells
My desk is an amazing product. No, I don't work for the company and did lots of research and price comparisons before I purchased. Ordering was very easy, product was easy to track in the shipping process, construction was a breeze with easy to follow instructions and the quality of the components has been fantastic.
Really can't say enough. If I needed another one I would order immediately.
Thanks for a great desk.
MJ Stenson
This is the sit/stand desk you need! Fantastic product, well made and constructed with attention to details. Plus the service I have received from Sami Jo and the rest of the team has been great. Questions answered immediately.... Highly recommended!
Randy Brous
---
Tweet About It
We love feedback! Tweet us what you think about your new UPLIFT Desk with @UPLIFTDesk.
I love my @UPLIFTDesk from @HumanSolution - So well made, so easy 2 go from sit 2 stand n secs. Now I gdgt tweets when I move desk
@photorectoby
Using @UPLIFTDesk was a great idea.
@dbsmasher
Finally pulled the trigger on a stand up @UPLIFTDesk for work. Love it already!
@BFish100
I'm really loving my new @UPLIFTDesk. Getting standing time in feels good. I'm at a client today and really missing it. #TooMuchSitting
@duanenewman
Love @UPLIFTDesk! How did I not find this BEFORE busy season!
@EileenRSassCPA
Just finished building my new standing desk. Base from @UPLIFTDesk and bamboo top from @IKEA. Love it.
@elorest
New stand up desk from @UPLIFTDesk ... I'm liking it so far! Good for the body & good for the mind!
@justintarte
I just used my @UPLIFTDesk to crack a pecan, because I could.
@fienen
thrilled with the @UPLIFTDesk.
@tacoapp
Digging the new @UPLIFTDesk. Bonus: cedar top makes my office smell awesome.
@kriscargile
Count us among ur many fans @UPLIFTDesk!
@fluidstance
Got an @UPLIFTDesk a year ago. I love it! Do it!
@angelmurf
I had a custom @UPLIFTDesk made, & I LOVE IT!!
@darthspader747
My @UPLIFTDesk has ruined me for all other desks.
@eliweir
First official day working with my new @UPLIFTDesk. Love this thing!
@benjordan
We LOVE our @UPLIFTDesk setups, have them at the office + home for most team members! Life changing.
@brandonreink