Happy Customers in High Places
We're honored to be named the "Best Standing Desk" by Wirecutter for 3 years running, for review periods 2019-2020, 2020-2021, and 2021-2022. We are also rated #1 by Techradar, 9to5Mac, and many others. Join our hundreds of thousands of happy customers, including most Fortune 500 companies. Click here to see more reviews, we think you'll like what they say...
We created UPLIFT Desk after listening to you: our goal is to help every person and every office build spaces that let people thrive and do their best work. Our team is dedicated to keeping our prices as low as possible while holding our quality to the highest standards so that you can create the long-lasting workstation you need and deserve.
More people are working better and living healthier than ever before, and that's due in large part to you, our customers, and to the support you've given us over the years. Thank you.
We support thousands of top Government/​Educational Organizations and Fortune 500 Companies
We support thousands of top Government/​Educational Organizations and Fortune 500 Companies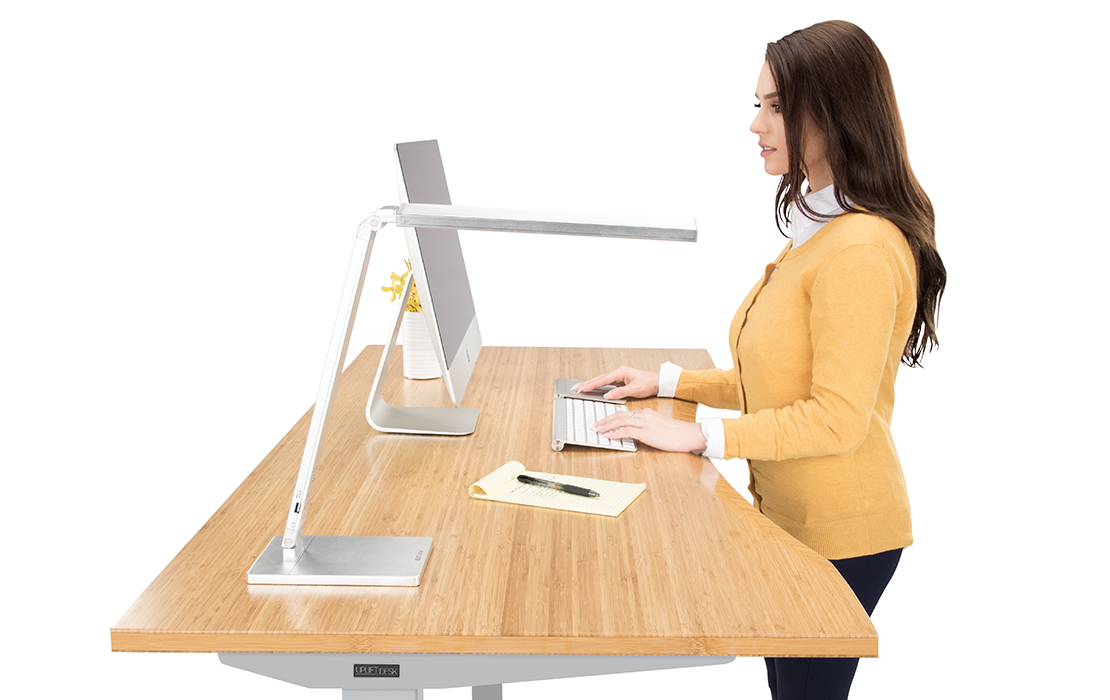 Who Are We?
For almost 20 years, we've been at the forefront of the standing desk movement. We have been designing quality products right here in Austin, TX since 2002. Manufacturing products with the best locally -and globally- sourced components is core to our success.
All UPLIFT Desk products are designed to enable optimal customization of your dream office, at an affordable price with award-winning quality. All of our desks include sturdy and functional frames with beautiful desktop materials and colors that satisfy all palates. Add your choice of monitor arms, keyboard trays, drawers, power outlets, lighting, acoustic privacy panels, chairs/stools, standing mats, motion boards, and many other accessories. We've done the work to make sure all accessories work perfectly and are color-coordinated with our desks. It's time to UPLIFT your workday.
Learn More About Us
Let's Build It Together
Your desk is where you work and create. It is important that your desk is built to your needs, and it should inspire you. That's why we offer a wide range of beautiful desktop materials with a sturdy 1" to 1.75" thickness. Check out our desktop lookbook for more details and pictures. We offer in-stock desktops that ship the same day you order! Choose from sustainable Moso bamboo, GREENGUARD Gold-certified laminates, or Eco Ergo-Edge Curve. For the ultimate in beauty, select one of our beautiful solid wood desks in Rubberwood, Reclaimed Fir, Walnut, Acacia, Pheasantwood, Natural Ash, and African Mahogany. To begin building your dream desk, we recommend you start by choosing one of our most popular standing desks:
If the plethora of off-the-shelf options weren't enough, we also offer a made-to-order solid wood height adjustable desk available in 16 different wood species and cut to your exact size requirements.
More of a do-it-yourselfer? Add your own desktop to our V2 or V2-Commercial 2-leg, 3-leg, or 4-leg standing desk frames.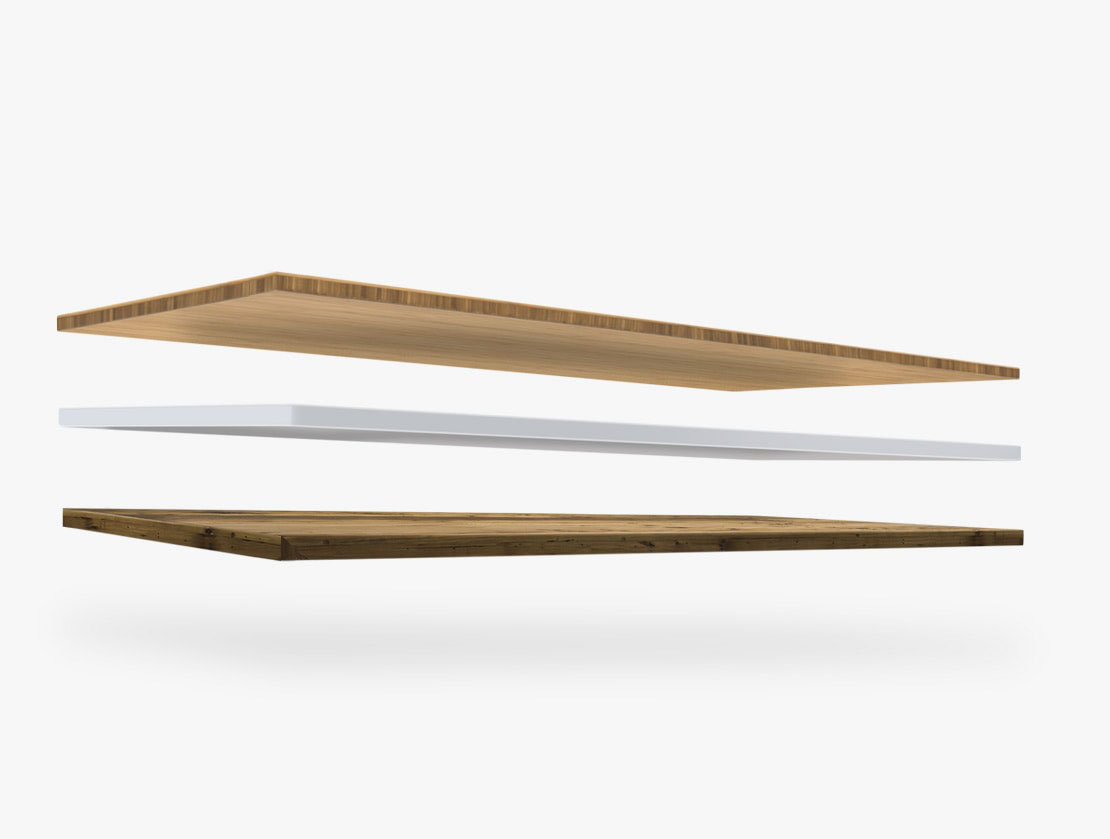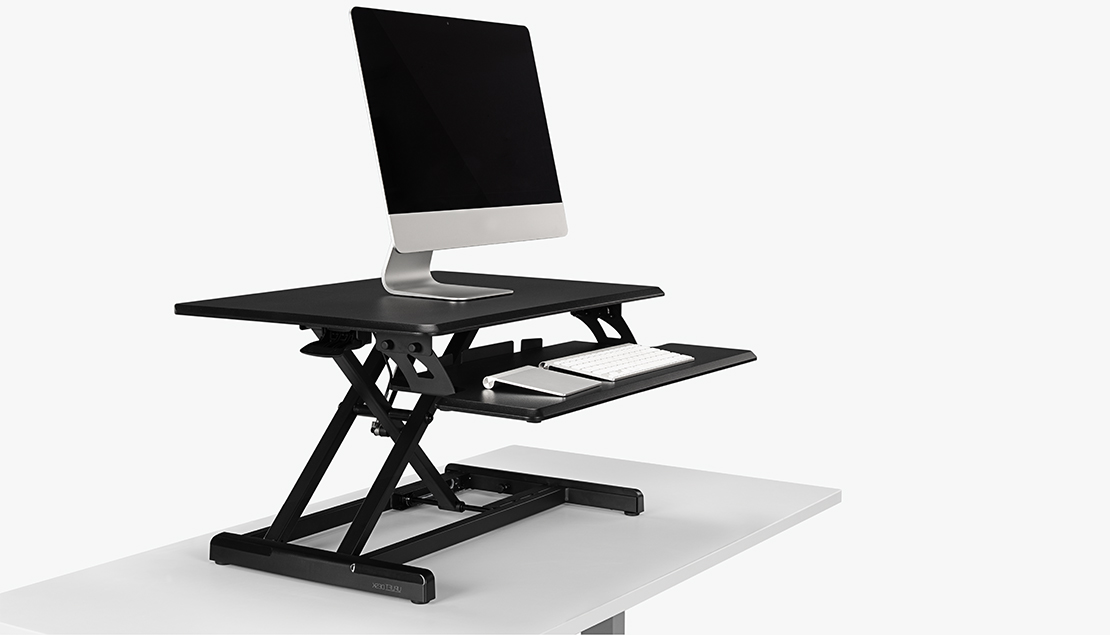 Convert Your Desk
Not ready for a new desk or love the one you have? You can add a desktop converter to any stationary desk and give yourself the ability to stand. With our family of Standing Desk Converters, you have lots of options. Pneumatic adjustment brings your monitor, keyboard, and mouse to your ideal standing height with our ATX Standing Desk Converter, and it requires absolutely no assembly. Just lift it out of the box and you're standing.
Converters work well if you're committed to your current desk but want the additional health benefits of a full standing desk. Most desktop converters force you to give up the ability to achieve a perfect seated height and often actually make the seated height worse because they raise the seated desktop height an additional inch or so. Our E7 Electric Standing Desk Converter solves that problem by allowing the keyboard tray to lower well below desk height, and the E7 is Wirecutter's pick for best standing desk converter!
Shop Converters
Accessories That Matter
Once you've customized your perfect sit-stand desk, take it to the next level with high quality, matching accessories designed to mesh and work well together. Our Certified Professional Ergonomist (CPE) oversees the design of all UPLIFT Desk accessories to ensure the ergonomics of your desk are optimized. Start with keyboard trays that enable your wrists to be straight while using an ergonomic keyboard and mouse. Then add monitor arms for optimal monitor placement. Add convenient electric outlets to keep power at your fingertips. Our task lights offer personalized lighting levels and color spectrum to help reduce eye strain. Keep yourself organized with a plethora of storage options like file cabinets and drawers. And checkout UPLIFT Acoustics to see everything from desk-mounted acoustic privacy panels to a complete office (or "Officle") solution using our Freestanding Acoustic Panels, OneWall Mobile, or OneWall Cubicle acoustic office partitions to divide up your space and provide a sense of space ownership.
Shop Accessories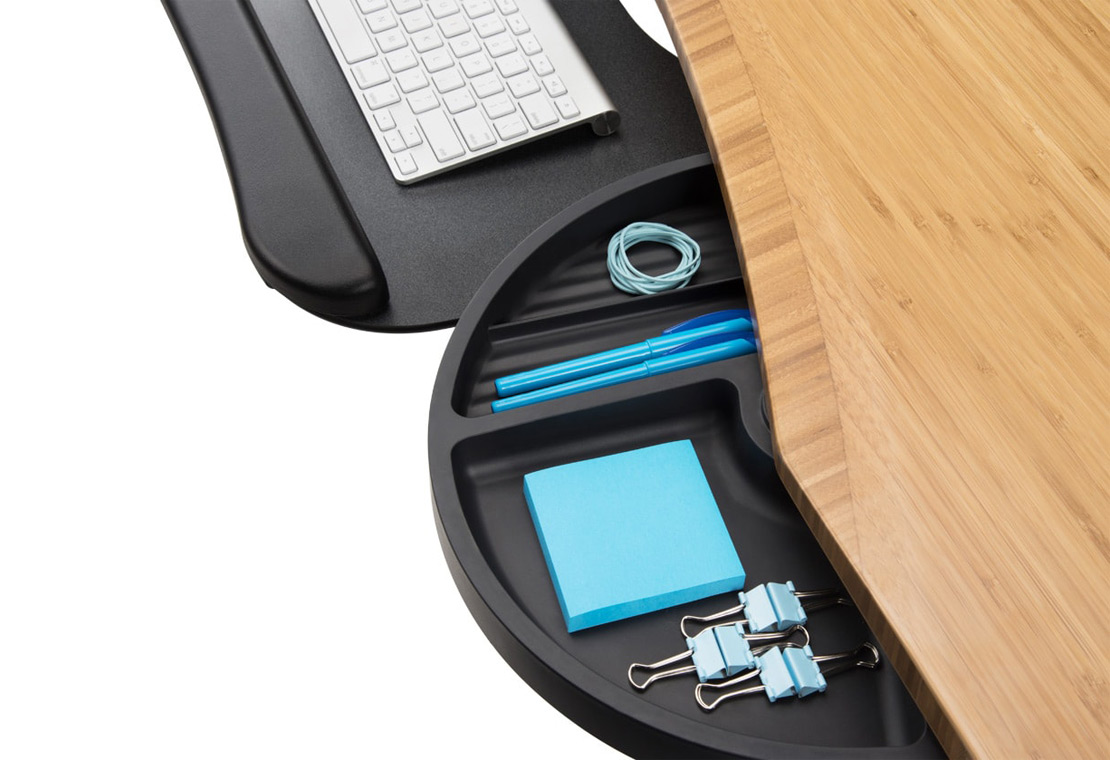 DIY Standing Desks? A-OK
Have a hankering to make your own desktop? We've got you covered. The UPLIFT height adjustable desk frames are compatible with nearly any desktop. Our award-winning frames lift 355 pounds, have best-in-class stability and telescope to fit desktops from 42" deep to 108" wide. If you can build it, our frames can handle it.
UPLIFT Desk V2 frames are available in 2-leg, 3-leg, and 4-leg configurations and work with desktops of almost any size and shape. So, if you don't find what you're looking for, just ask our experts who will help you find a solution OR point you in the right direction.
Learn About Our Frames
The Key to a Height Adjustable Desk
Our Advanced Keypad stores up to four preset heights so 2 people can save their settings or a single person can add a height for chair, standing, stool perching, and even treadmill use. Just tap the button then stand up and move your chair aside as your desk elevates automatically. Your exact desk height is shown on a display that goes dark after 10 seconds to reduce light pollution and power draw while the desk is stationary. Our popular Advanced Comfort Keypad has the same functionality as the Advanced Keypad but with a soft-touch and angled face for easier viewing. This keypad was chosen by Wirecutter as their favorite.
Learn About Standing Desks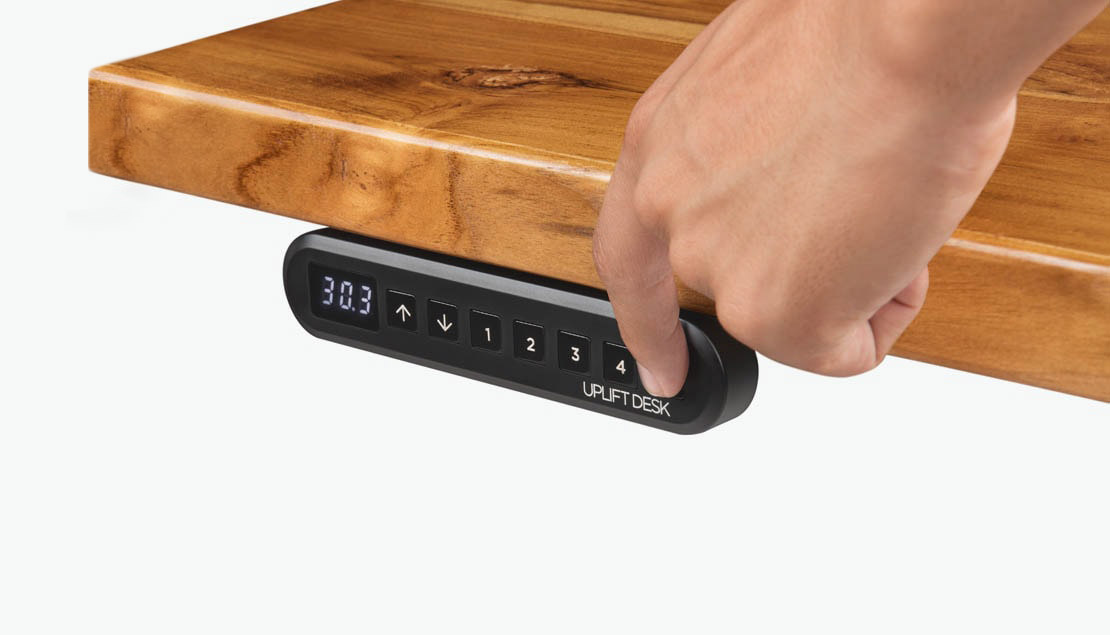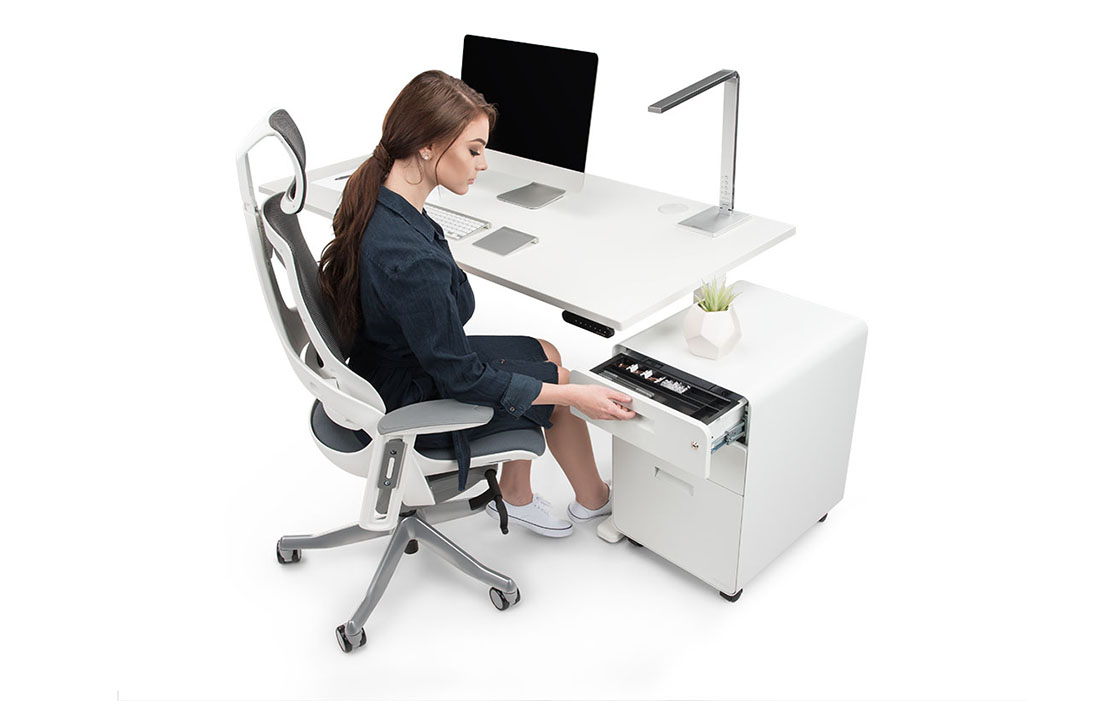 Take a Seat
Just as sitting all day stresses your body, so too does standing all day. We recommend you start your day standing, sit when your feet get a bit tired, then try to stand up every hour. Most studies suggest around 2 hours of standing per 8-hour day. More importantly, stand up and sit down as frequently as you can to keep your body moving. As a bonus, you burn a few extra calories per hour when you're standing versus sitting. And during those times that you take a load off, we offer a full line of ergonomic chairs and stools. You will still need an ergonomic chair with the proper features and lumbar support. Remember, with desk height adjustability, you'll finally get to work at perfect seated- and standing-heights without compromise.
Shop Seating
Eco-Friendly Ergonomics
We responsibly source eco-friendly materials to craft our one-of-a-kind products. We feature desktops made from 100% recycled wood, reclaimed solid wood crafted from wood remnants that are normally discarded or wasted during the manufacturing process, rubberwood solid wood from retired rubber trees (99% of the earth's natural rubber is produced from latex that is extracted from a tree called Hevea brasiliensis, commonly known as the rubber tree), GREENGUARD Gold-certified laminate, and renewable bamboo (the fastest growing plant in the world). To offset our beautiful, thick solid wood desktops, we partnered with the National Forest Foundation to plant five trees in U.S. National Forests for every solid wood desktop that we sell. We plant a minimum of 5,000 trees per year.
To compound our environmental efforts, our monitor arms, desk frames, and most of our seating options are either made using recycled materials or can be recycled at the end of life. This purposeful composition makes for strong products that also benefit our environment.
Learn About Our Initiatives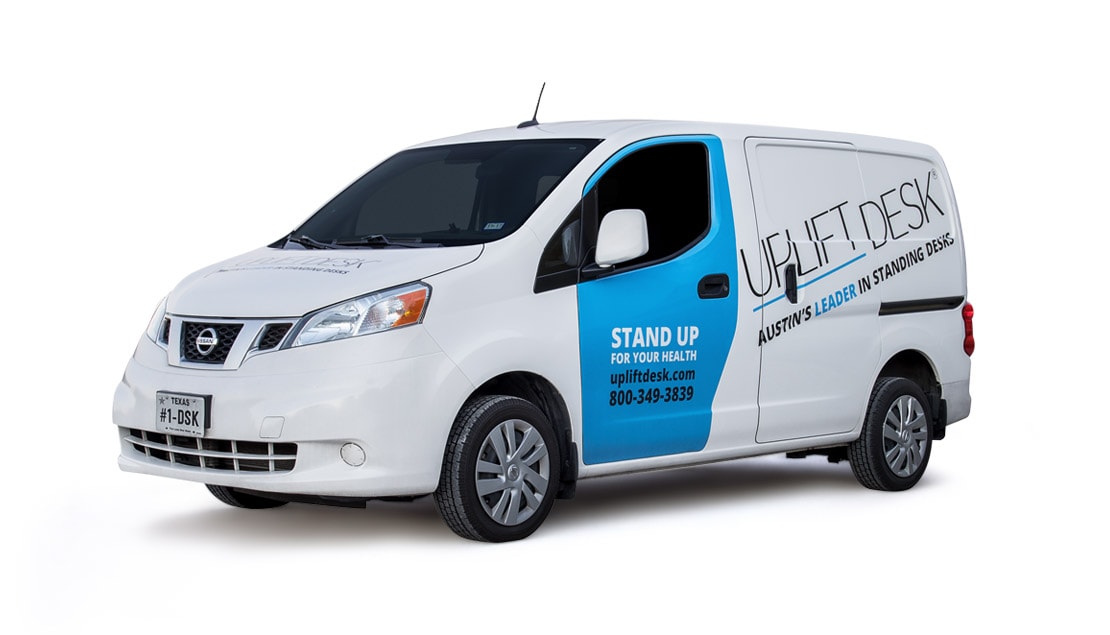 Ships Fast and Free
Everything ships free to addresses in the contiguous United States (excludes Alaska and Hawaii but we do ship there!). Each order is carefully checked for quality, packed with care, and shipped from our Austin, TX manufacturing facility. For your convenience, we also offer installation options that you can add while configuring your desk in our desk builder.
Learn About Shipping
Unparalleled Service
You'll be enjoying your UPLIFT Desk for hours each week. You're going to make us a large part of your work life and we don't take that lightly. That's why our desks come with an industry-leading 15 Year warranty and world-class support. Great customer service is our #1 goal. We are here for you via phone, chat, and email!
Contact Us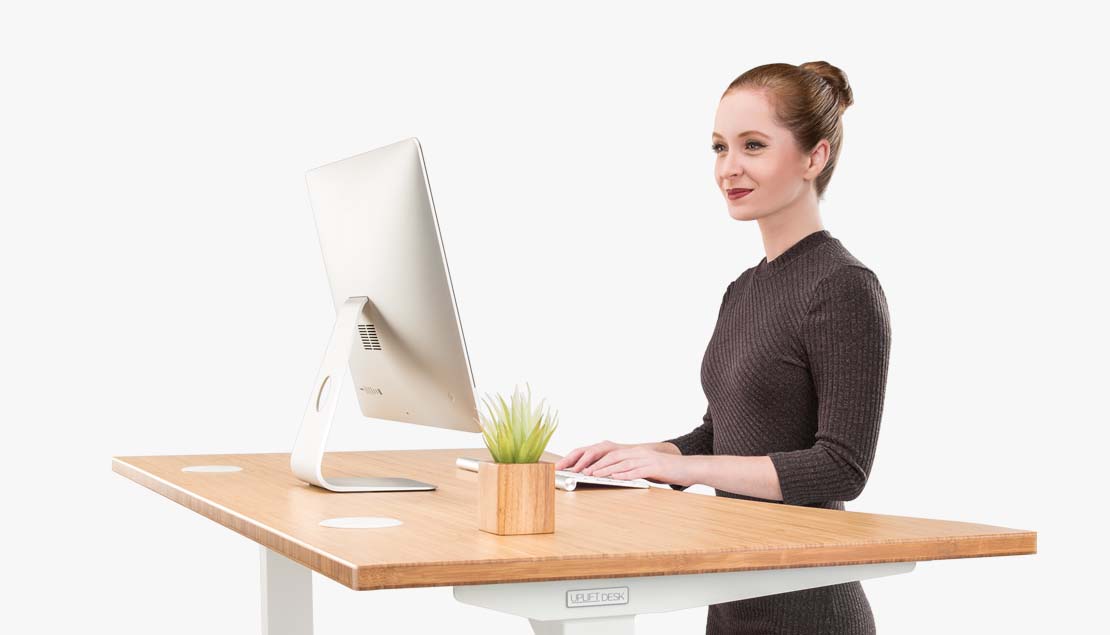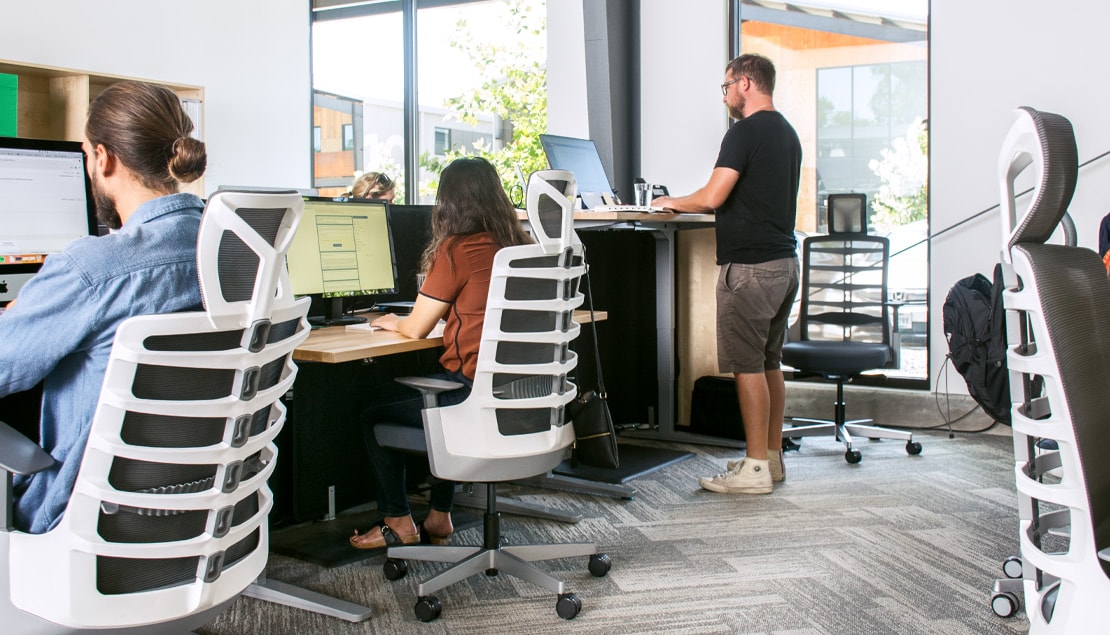 Complimentary Office Design and Space Planning
Do you need four or more desks in your office? If so we encourage you to utilize our FREE Office Design Planning Services. Let our design experts work with you to create a comfortable, productive, and beautifully-designed space. All designs are reviewed by our Certified Professional Ergonomist to further optimize the design. Complete four simple steps to get started. We'll start working with you and have a configuration in just a few days. When you like the layout we provide a discounted quote. No obligation.
Space Planning Form