10+
Desk Frames
100+
Desktops
200+
Accessories
200,000+
Configurations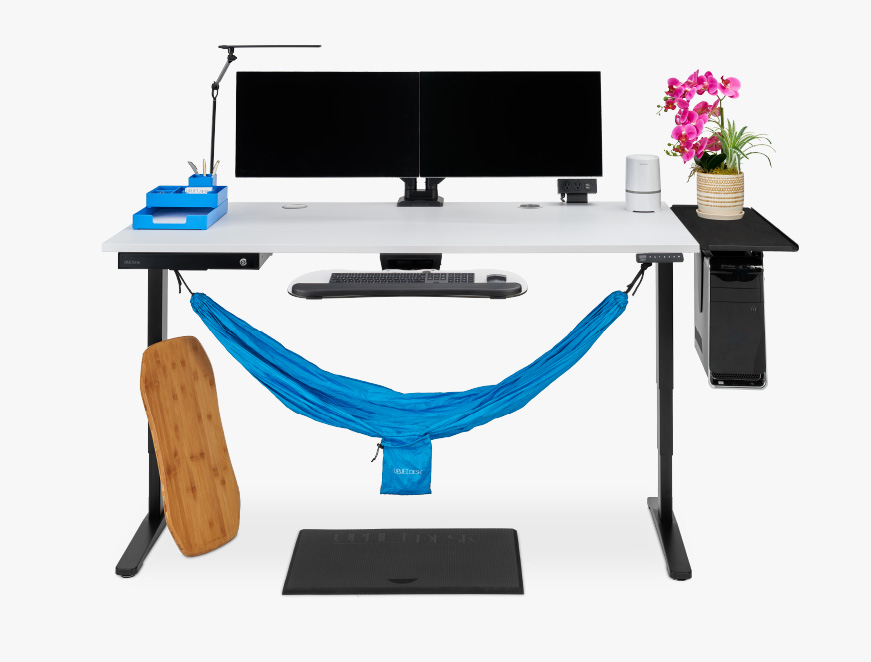 Save up to $200 store-wide!
Save $100 on $999+ with coupon code: NEW100
Save $150 on $1499+ with coupon code: NEW150
Save $200 on $1999+ with coupon code: NEW200
New Year Sale coupons cannot be combined with each other.
Sale ends 01/31/22 at 3:00pm central.
While supplies last! Take advantage of these deals while we still have products on our shelves.
Shop Now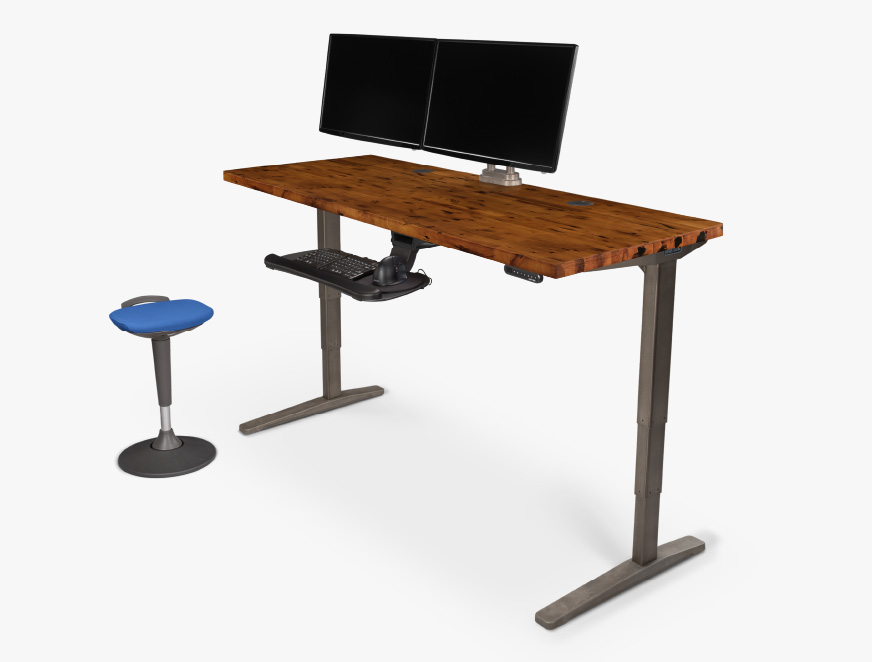 Save an additional $347 on UPLIFT Standing Desks!
Combine these savings with the $200 off coupon code NEW200 to save up to $547.
Save up to $257 on three free accessories. No coupon necessary, just choose your three free items when configuring your desk
Accessories bundled with a desk are already discounted, but these accessories have additional savings applied, no coupon necessary:
$20 off Advanced Paddle Keypads
$20 off all keyboard trays
$20 off Zilker or Range Single/Dual Monitor Arms
$20 off all stools
$10 off Wave Vertical Ergonomic Mice
Sale ends 01/31/22 at 3:00pm central.
While supplies last!
Shop Now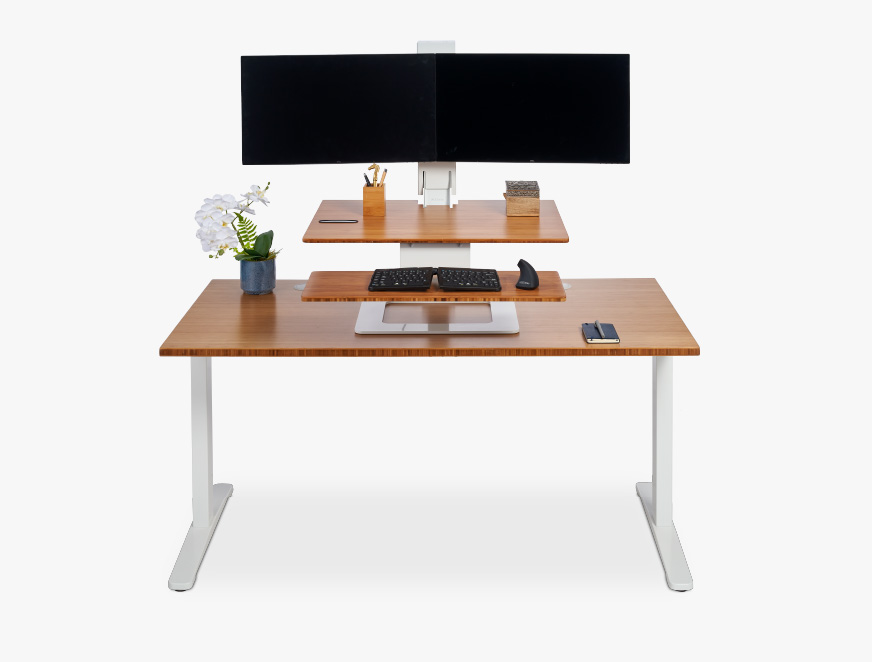 $20 off standing desk converters!
If you've been considering adding more movement to your workday, but are not ready to purchase a standing desk, a standing desk converter will get you standing for a fraction of the cost.

Sale pricing is already applied, no coupon necessary.
Sale ends 01/31/22 at 3:00pm central.
While supplies last!
Shop Now
We make comfortable, well-designed, ergonomic furniture to help you do your best work and keep you moving.
Uplift Your Entire Office
A beautiful workspace starts with a beautiful desktop
Choose from hundreds of desktops made from the following materials.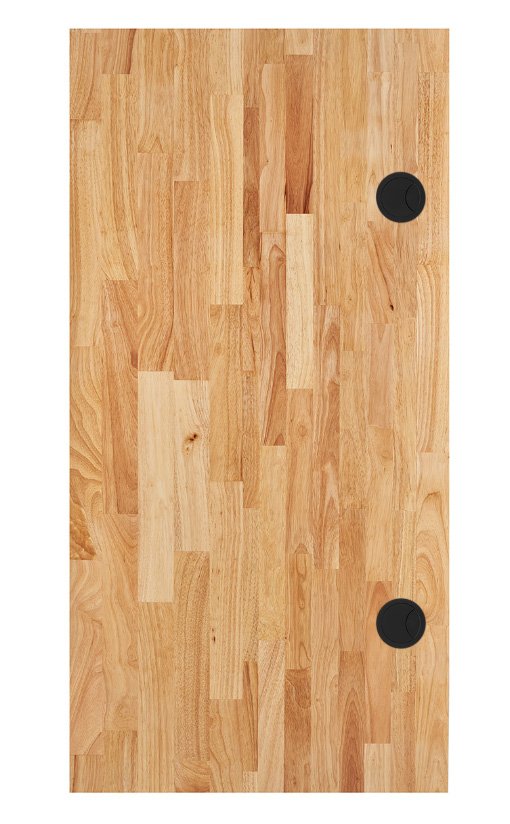 Rubberwood
1" thick solid wood from latex-producing Pará trees in Southeast Asia; sustainably up-cycled as eco-friendly tops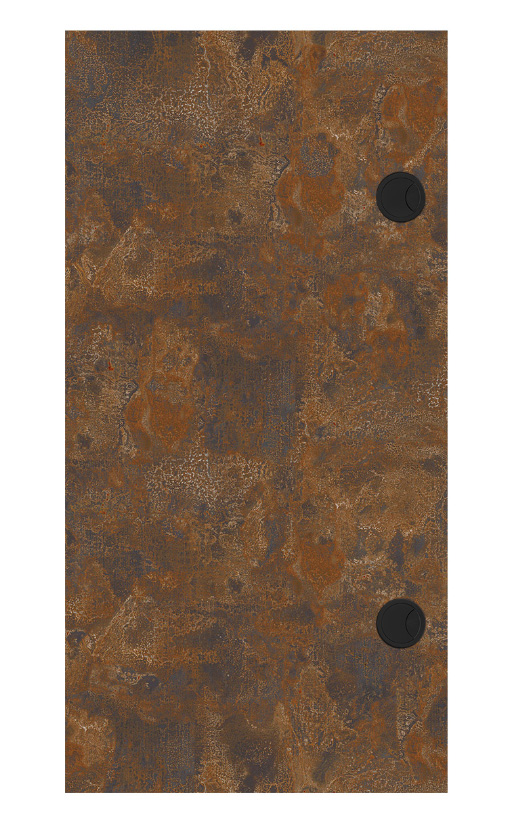 Custom Laminate
100+ varieties of GREENGUARD Gold-certified Laminate available for custom order in 20 different sizes
Milwaukee Jct.Rust shown above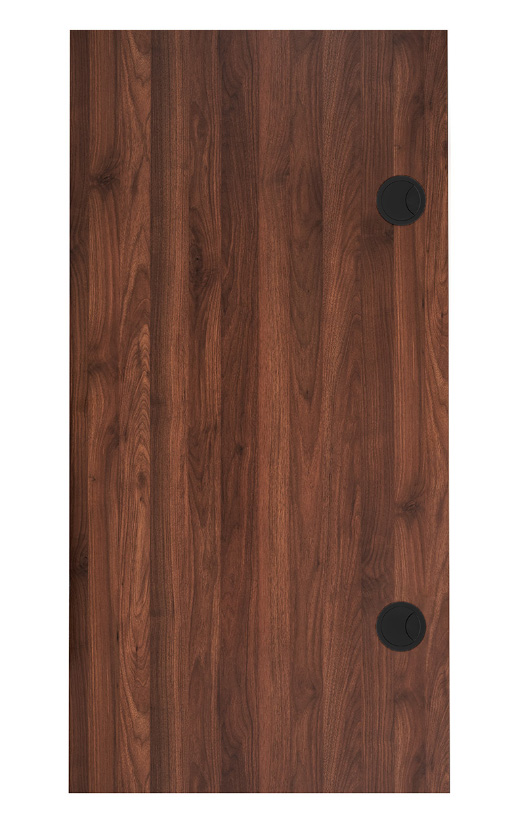 Laminate
GREENGUARD Gold-certified Laminate that meet the world's highest standards for low chemical emissions.
Walnut Laminate shown above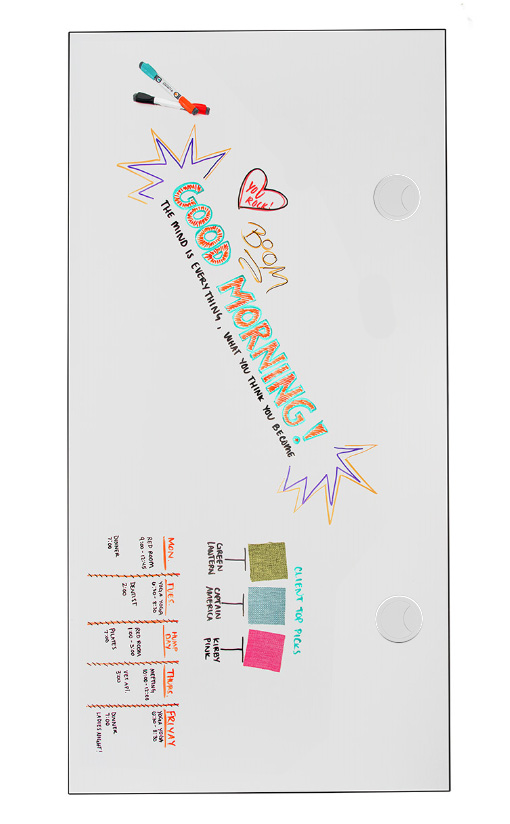 Whiteboard
GREENGUARD Gold-certified Laminate that meet the world's highest standards for low chemical emissions.
Whiteboard Laminate shown above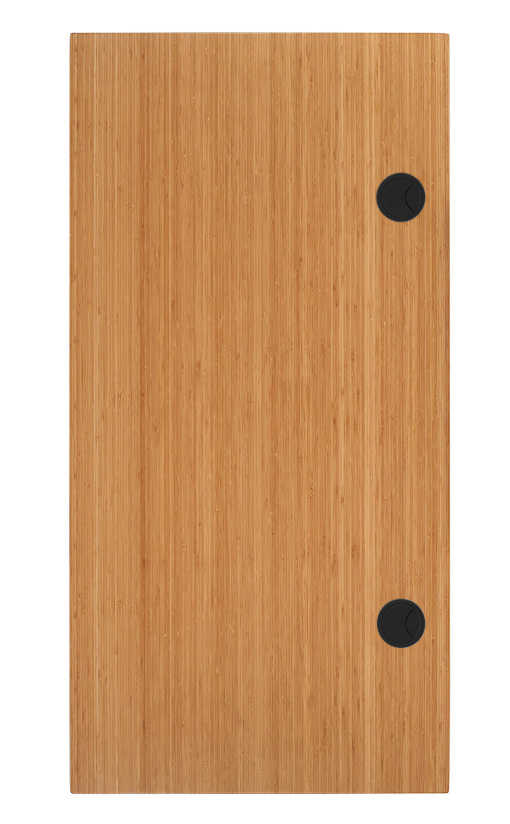 Bamboo
1" thick Moso bamboo that's 40% harder than oak, sustainable, sturdy, and aesthetically pleasing.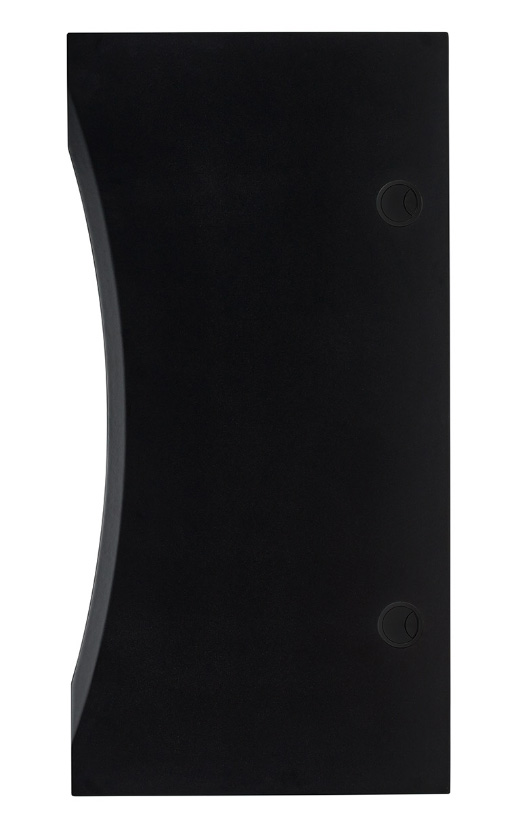 Eco Curve
1" thick locally sourced high-grade MDF (medium density fiberboard) desktops created from 100% recycled materials
Black Eco Curve shown above
Butcher Block
1.5" thick desktops in a patchwork style utilized on block countertops with unique grain patterns and colors.
Acacia Butcher Block shown above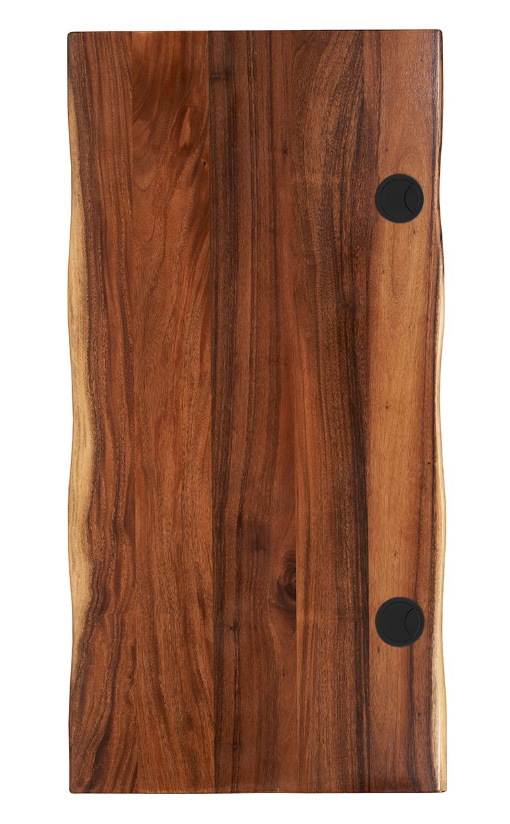 Solid Wood
1.75" thick one-of-a-kind, natural, solid wood desktops with authentic exotic species, rich colors, and distinctive grains
Saman Solid Wood shown above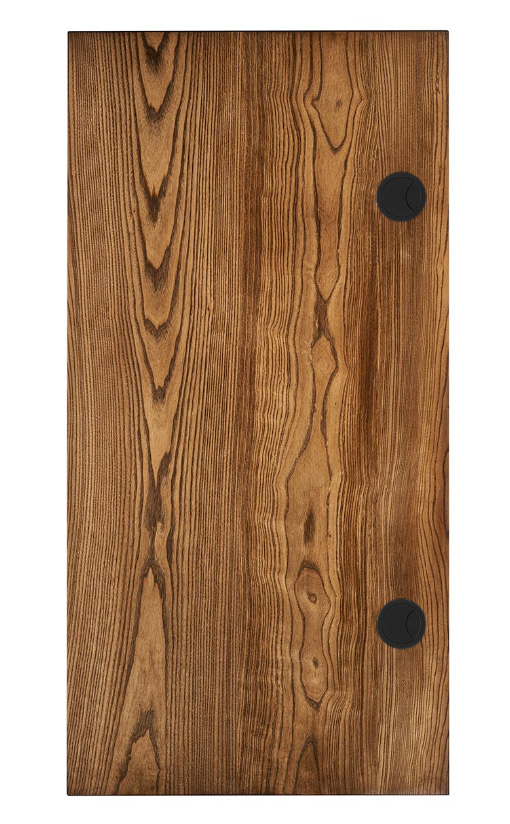 Custom Solid Wood
Beautiful, 1.75" thick custom solid wood tops handcrafted to perfection and made to order by expert woodworkers
Custom Dark Ash shown above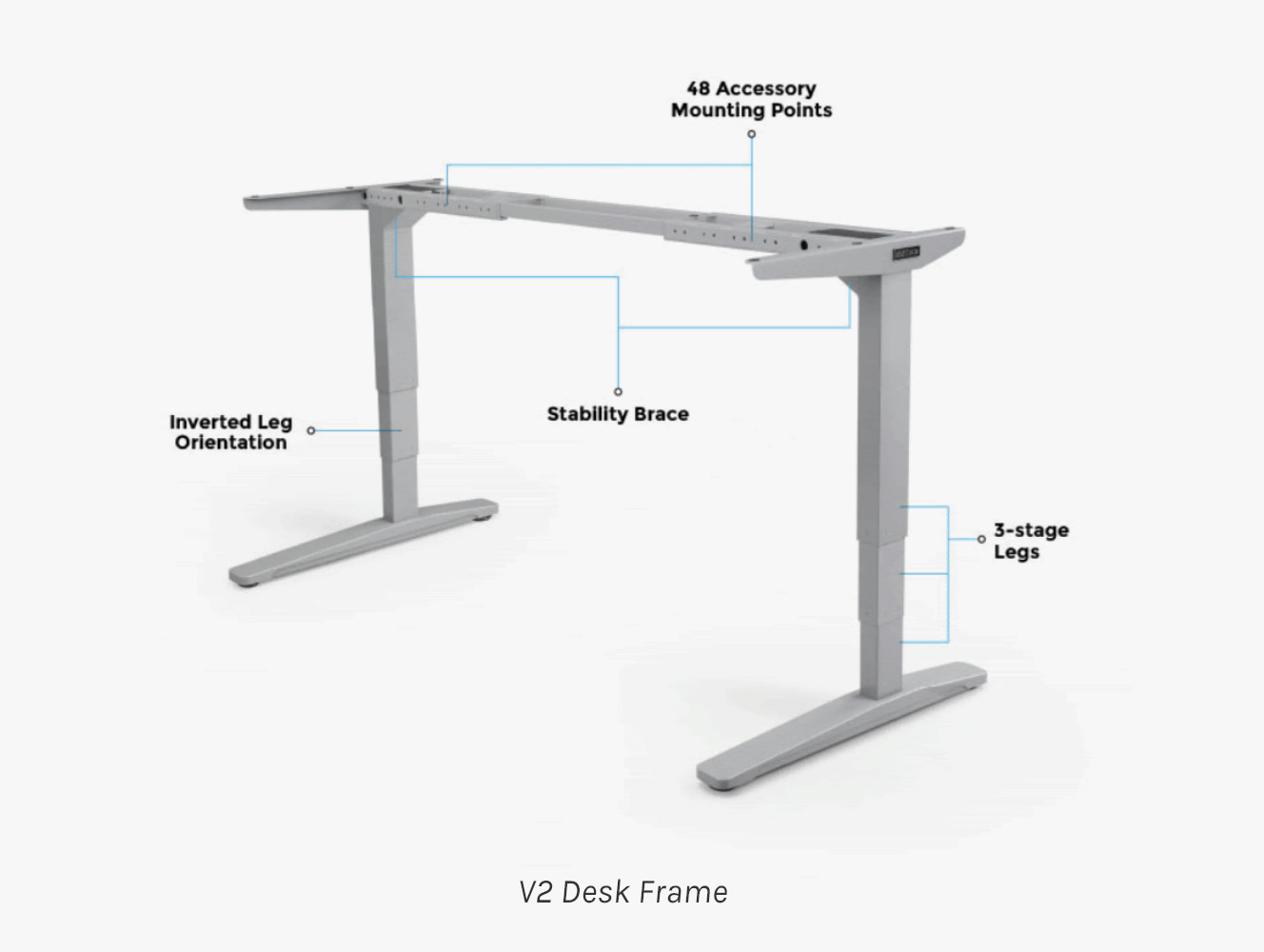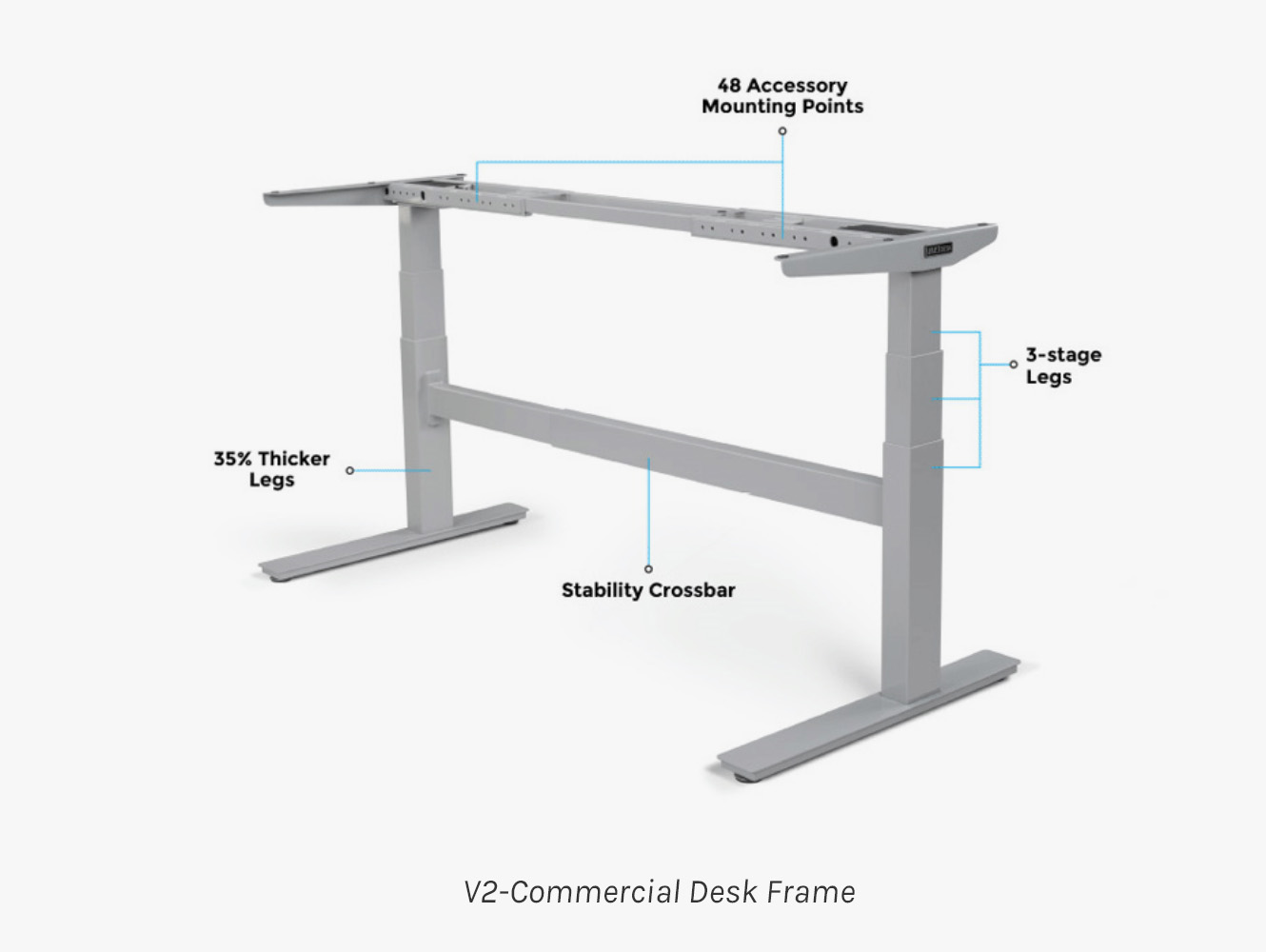 Raising the Standard in Standing Desks
Powerful, reliable, and endlessly versatile, the UPLIFT V2 Standing Desk Frame allows you to rise to the level of the work you do. Named the "Best Standing Desk" by Wirecutter our designers made this V2 frame even sturdier and more adaptable than before, letting you do more with your desk than you ever thought possible.
Click here (pdf) to see the similarities and differences of our V2 and V2-Commercial Frames.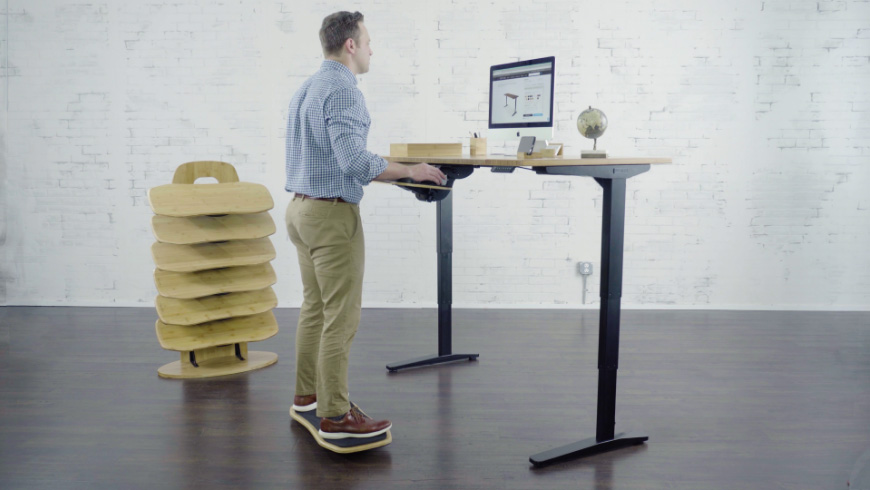 Stand Up for Your Health
Learn why the standing desk is the scientifically-proven cure for all our workday sitting problems
Learn More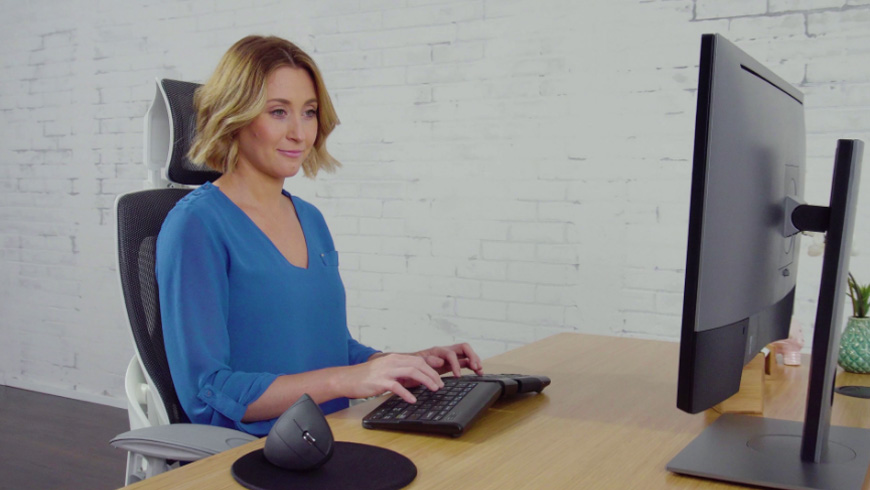 Improve Your Ergonomics
Learn how to use ergonomic principles in your modern office for happier and healthier employees
Learn More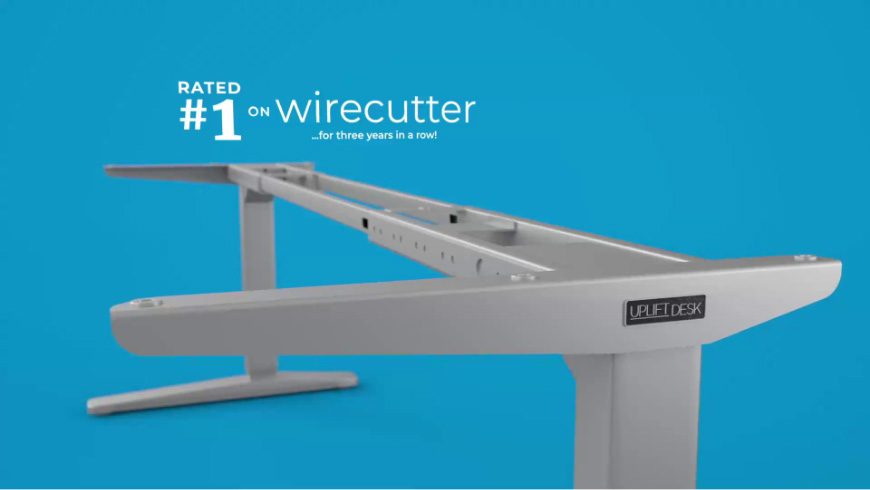 More Options. More Choices.
With hundreds of thousands of desk configurations, we're confident that we have the perfect desk for you.
Shop Now
The UPLIFT Desk Difference
Free Shipping

Orders ship fast and free from our Austin, Texas warehouses

30 Day Free&nbspReturns

Free return shipping if your request is made within 30 days of your&nbsppurchase

15 Year Warranty

Comprehensive, 15-year warranty on all UPLIFT Desk products bought after&nbsp4/14/2021

Easy Assembly

All of our products are easy to assemble; assembly services are available by request

Customer Service

World class customer service is our #1 priority; call us today if you have any questions

Quality Products

Our product design team works hand in glove with our founder, a Certified Professional Ergonomist

More Choices

Hundreds of different desktops, frames, color combinations, and&nbspaccessories

Desk Configurator

Configure your desk and add accessories in real time with our state-of-the-art desk&nbspbuilder

Design Services

Redesign your entire office with our space planning services. Get a free layout with orders of 3 or more desks

Pay Over Time

Easy financing options, get your desk now and pay later interest free if approved
Happy and Healthy Customers
Zach F.
"Was dealing with a lot of back pain, but having the option of spending 30 minutes standing and 30 sitting makes a huge&nbspdifference."
Molly F.
"I've been standing as much as possible and my neck and back are feeling better than they have in a long time."
Victor C.
"Standing at my computer for part of the day is truly a revelation…being able to vary my position keeps me from feeling stiff and cramped."
Jacob S.
"The ability to go from sitting to standing and back in just a matter of seconds makes working so much easier."
Sonia B.
"The delivery was very quick, setup was straightforward (and fun!), and once it was all said and done, it was one beautiful, sturdy desk."
Carol W.
"I am crazy about my beautiful new desk and everyone who comes into my office is taken by how gorgeous and efficient&nbspit&nbspis."
Read More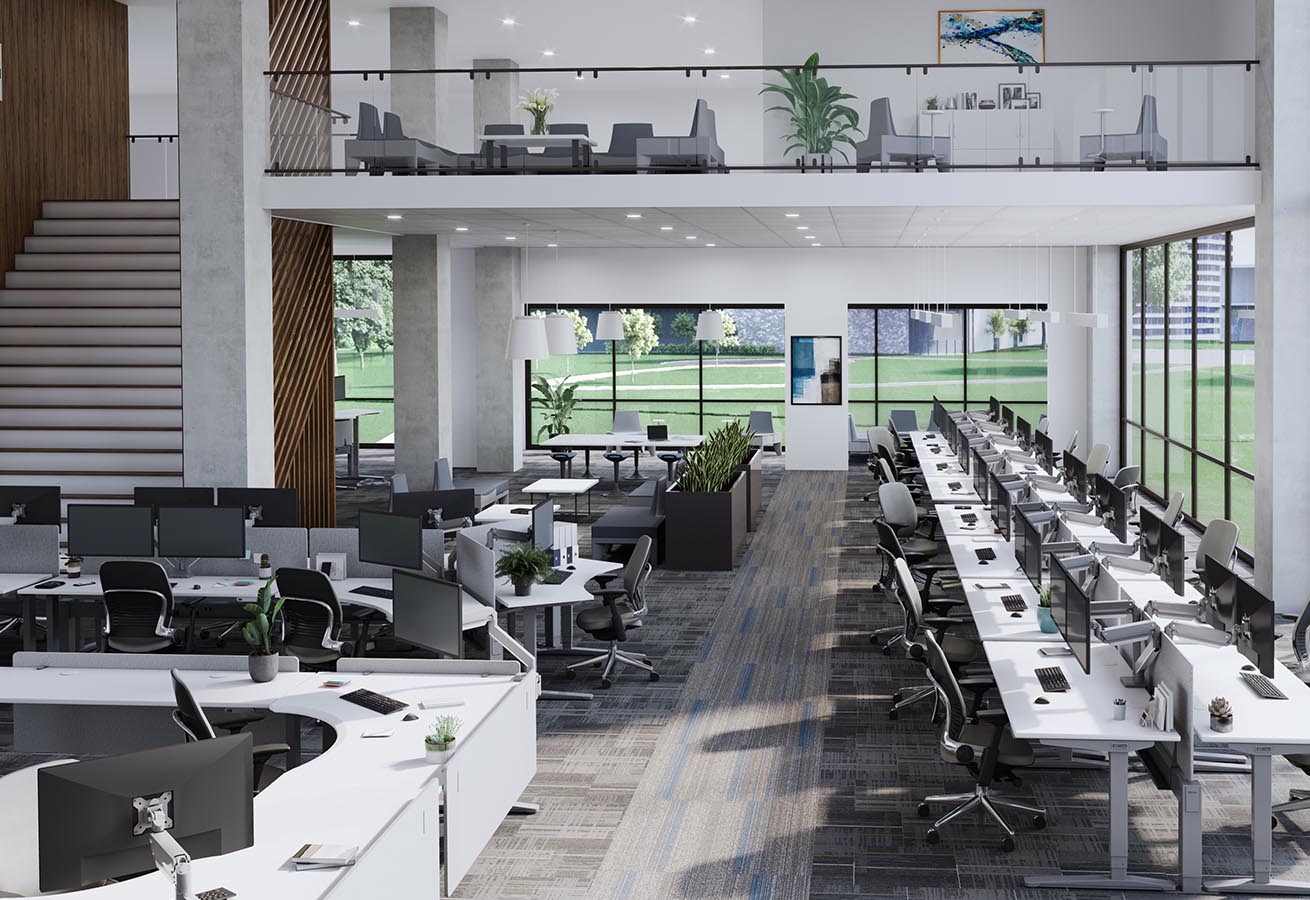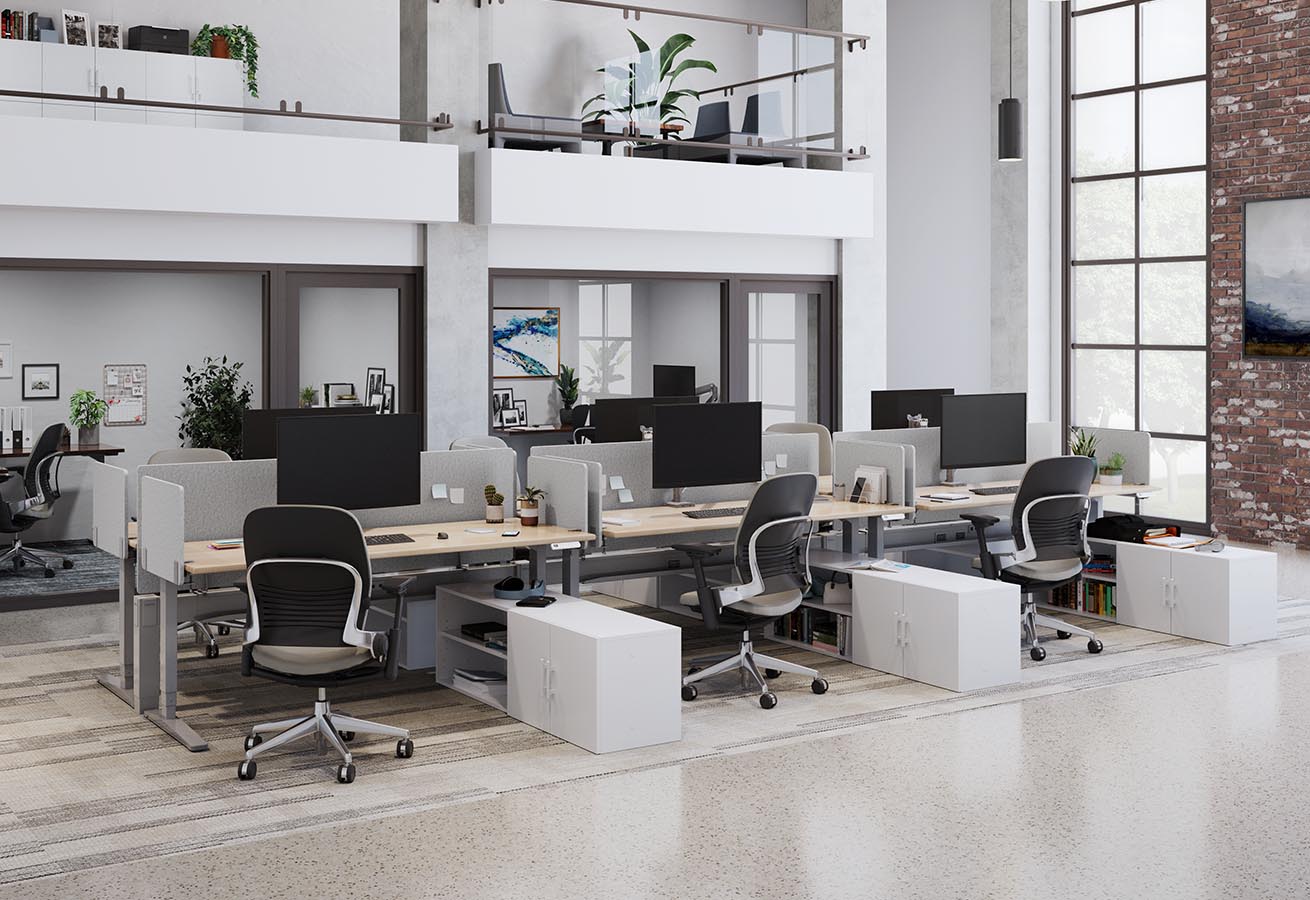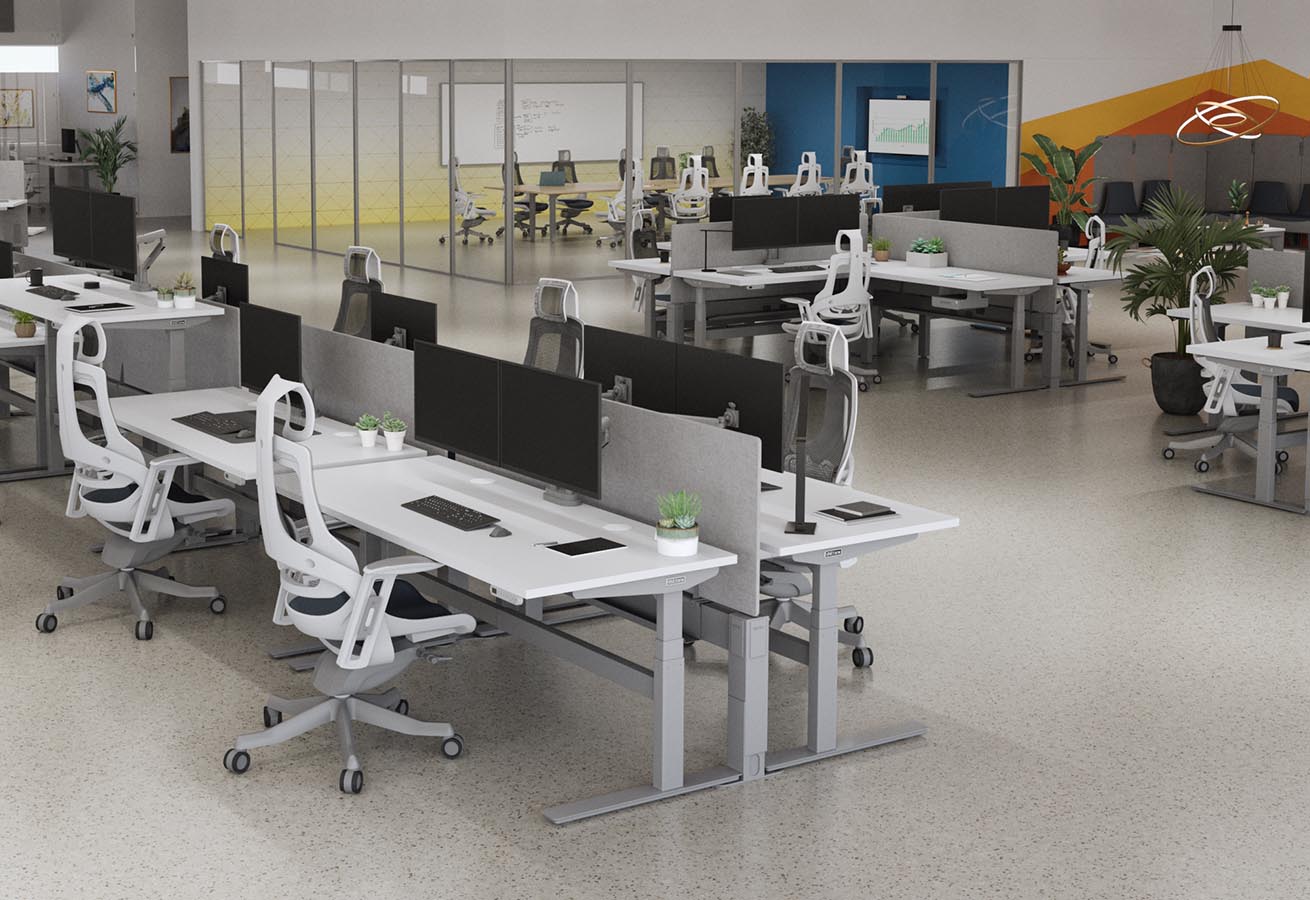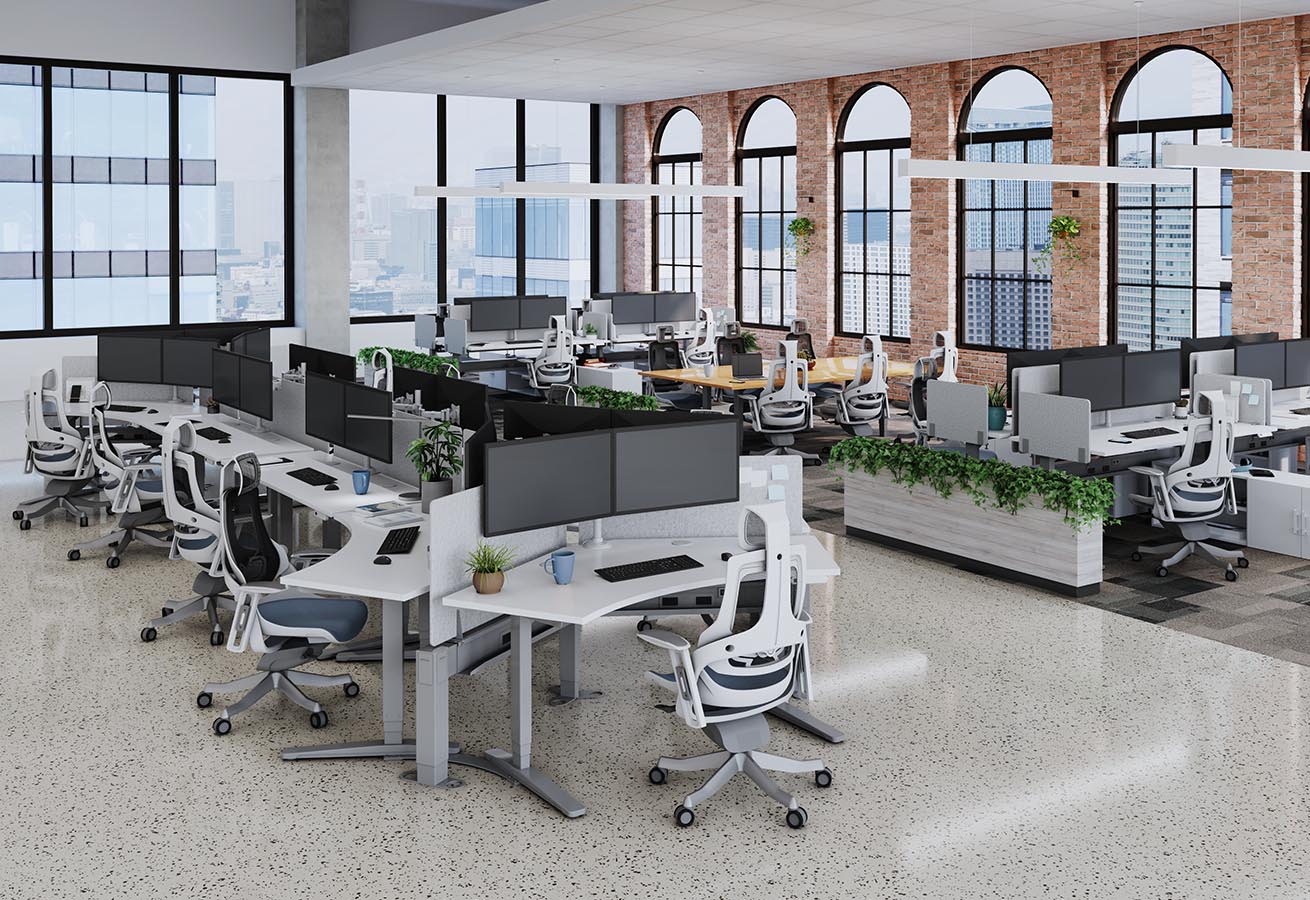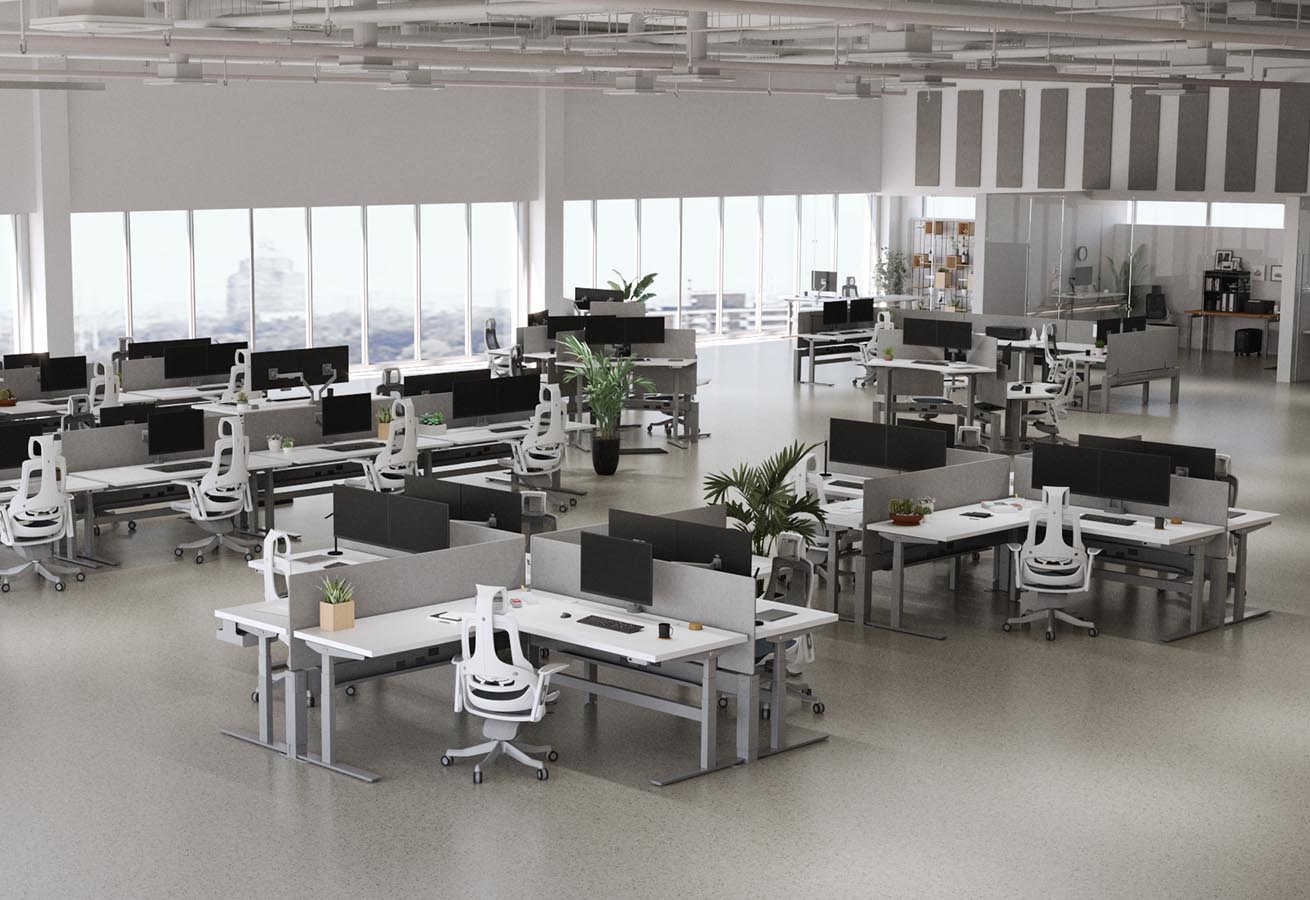 UPLIFT Desk Office Furnishing
A comprehensive range of furniture solutions to meet your office needs.
Nearly 90% of employees agree that they perform their jobs better in a well designed work space. A holistic, design-driven floor plan utilizing standing desks can have a positive impact on how your employees health and overall productivity. UPLIFT Desk can help your office thrive with best-in-class, affordable solutions. With strategic planning, you can achieve the stylish design your team needs to live healthier, work better, and feel inspired. Get in touch today for a free office layout.
Plan My Space
We support thousands of top Government/​Educational Organizations and Fortune&nbsp500&nbspCompanies
Customer Photos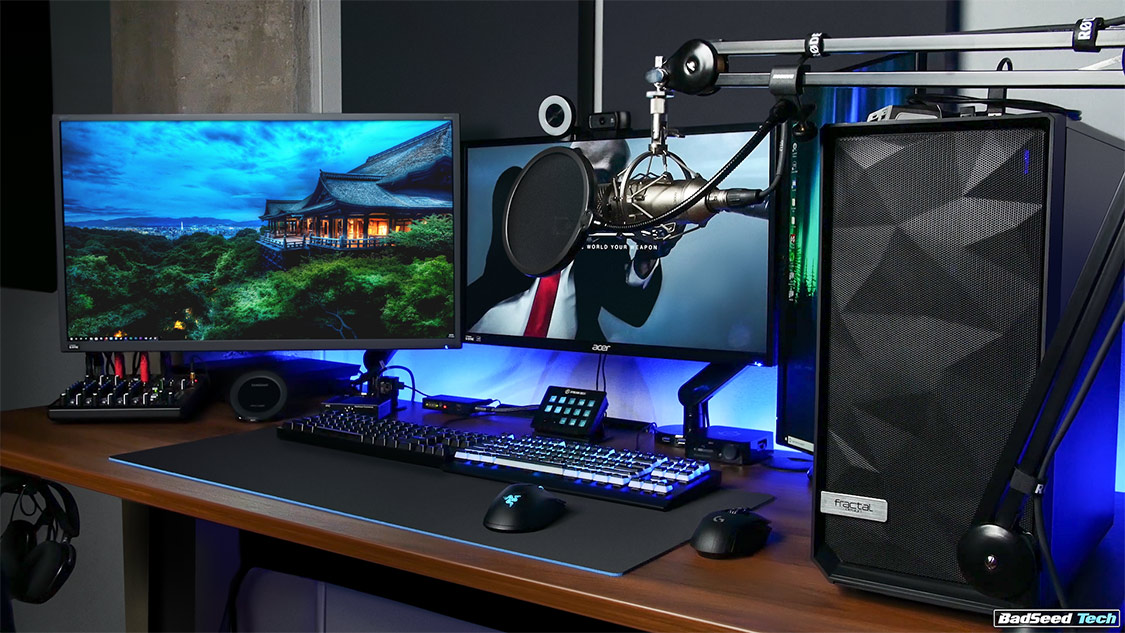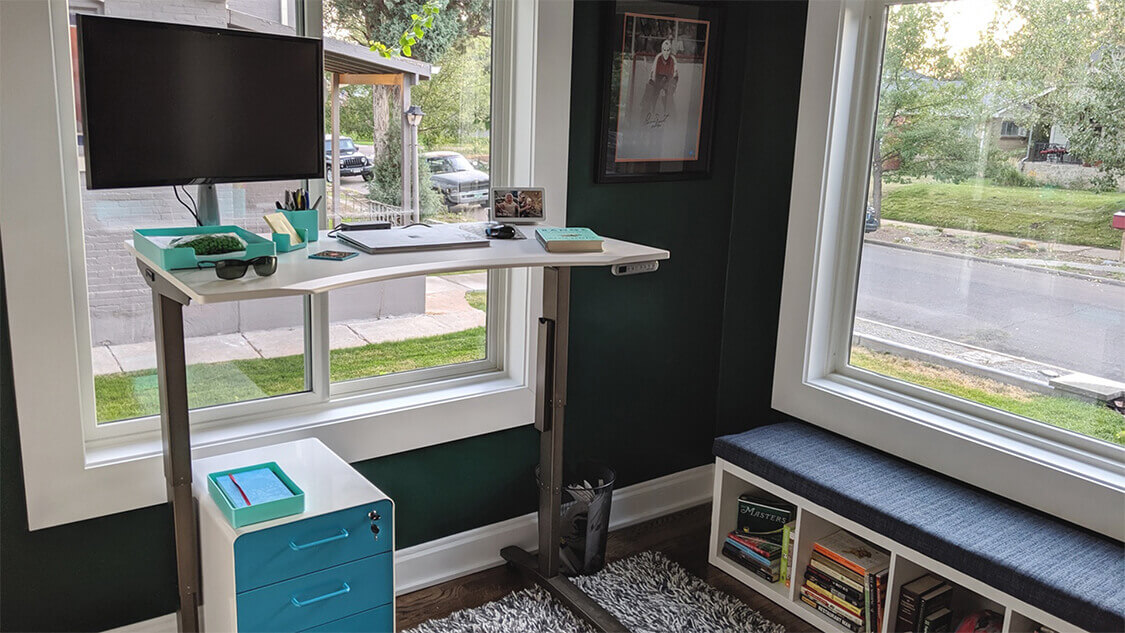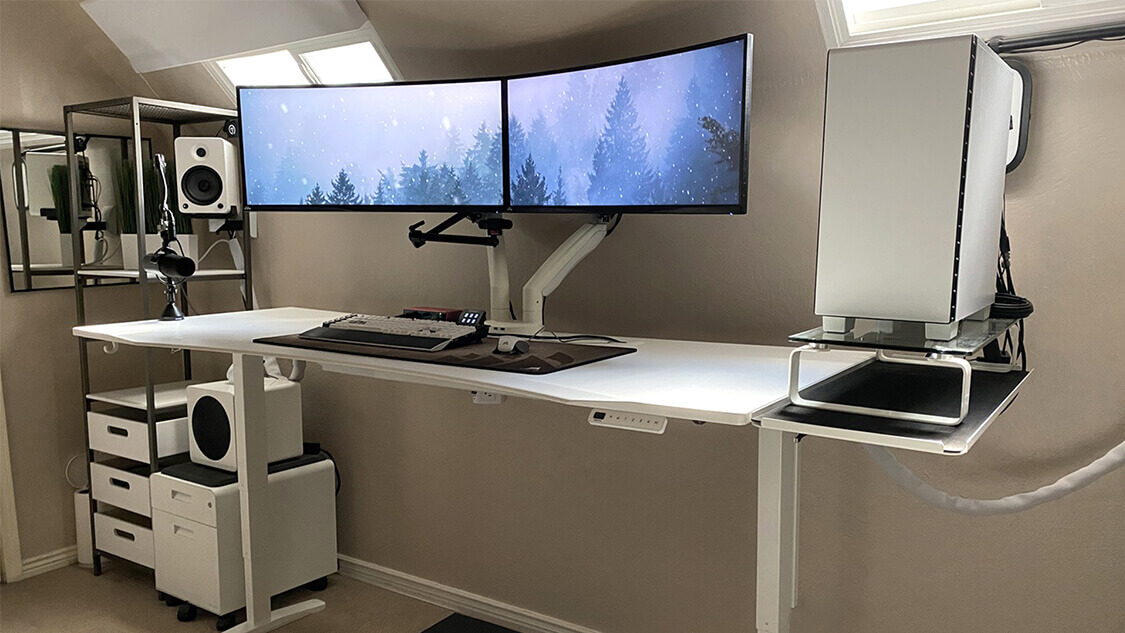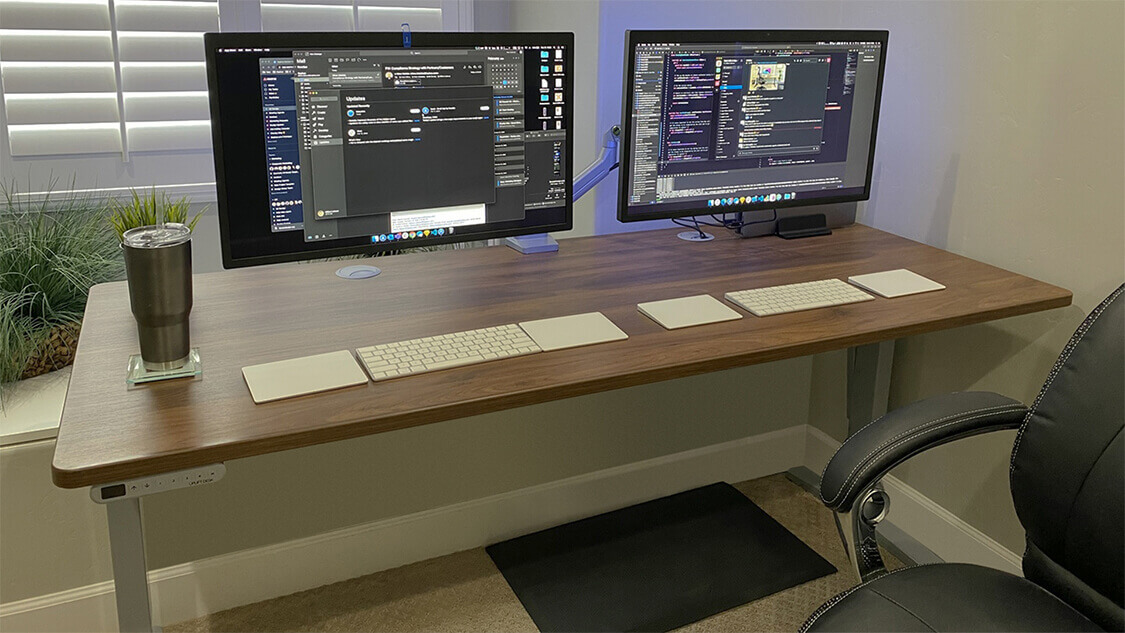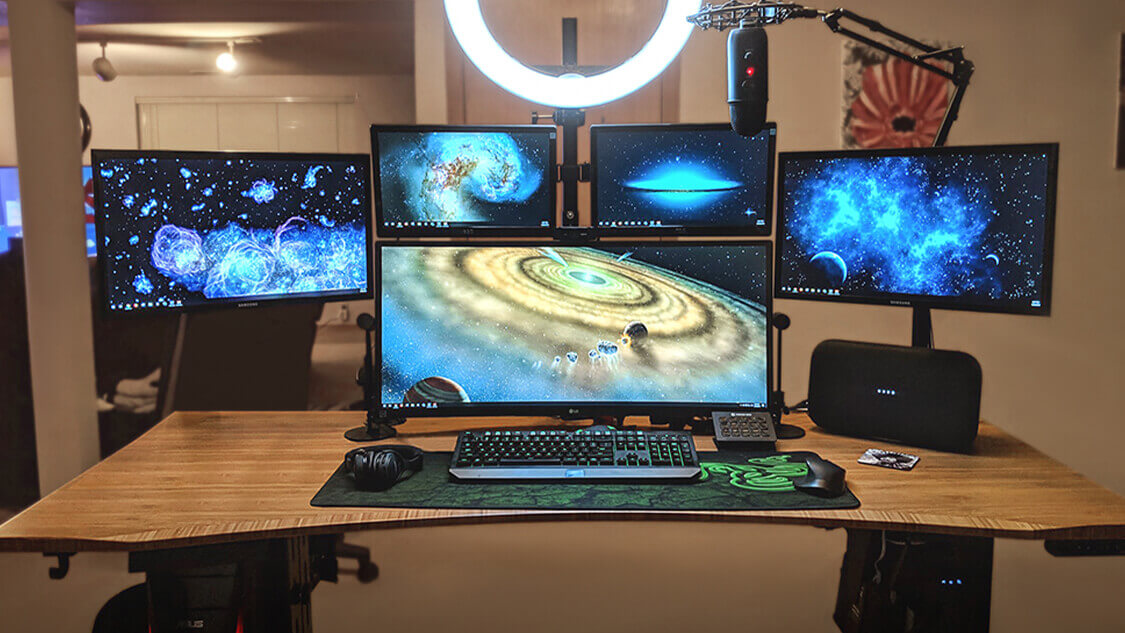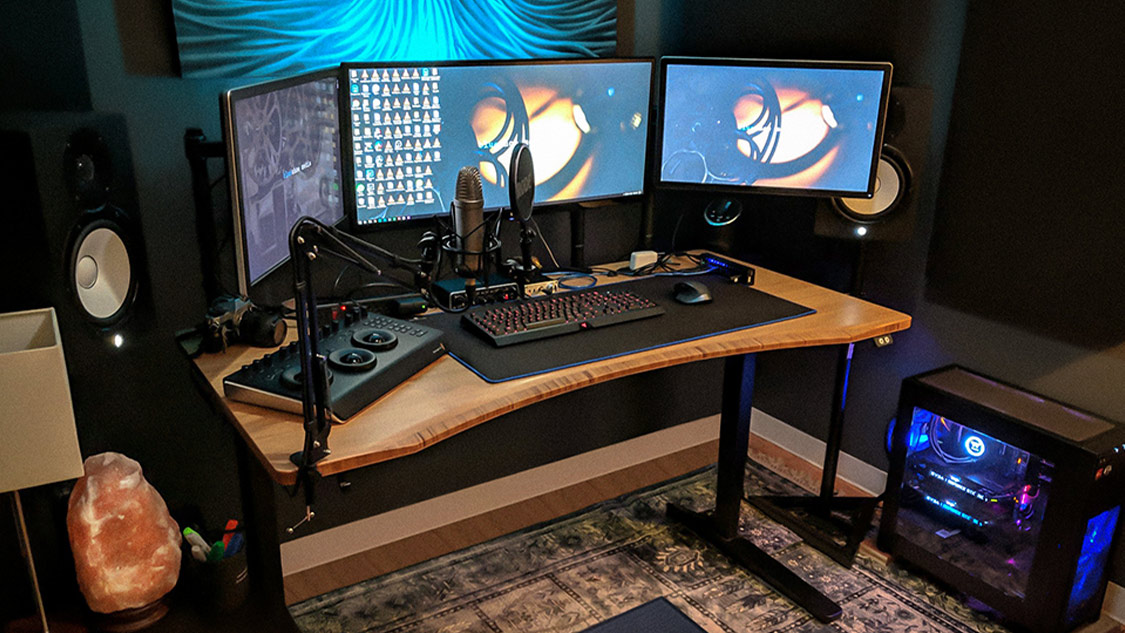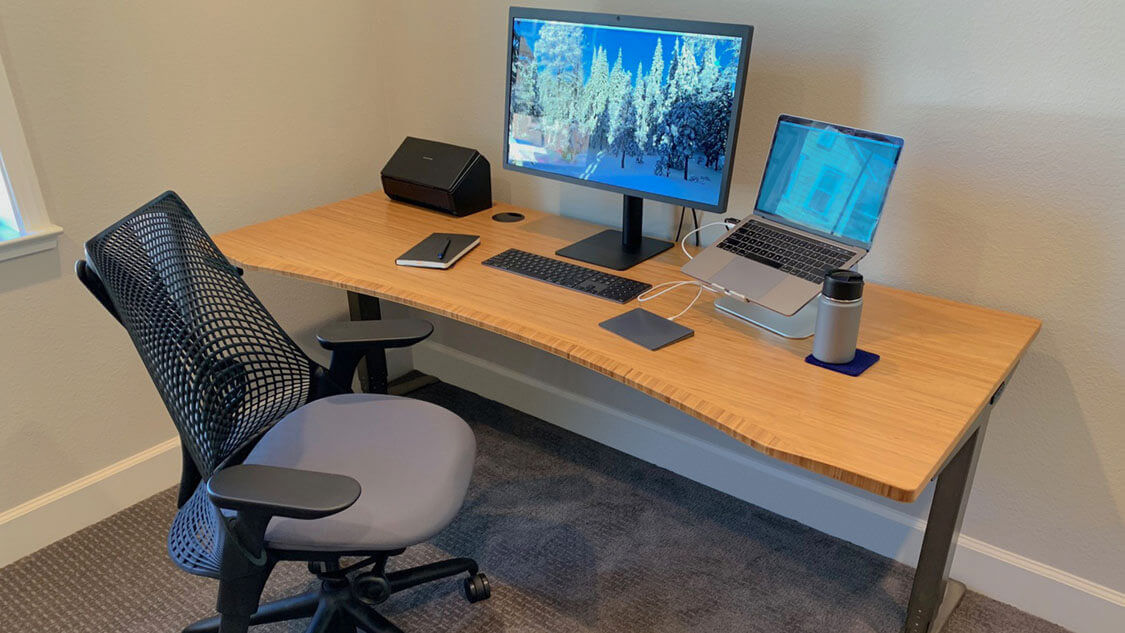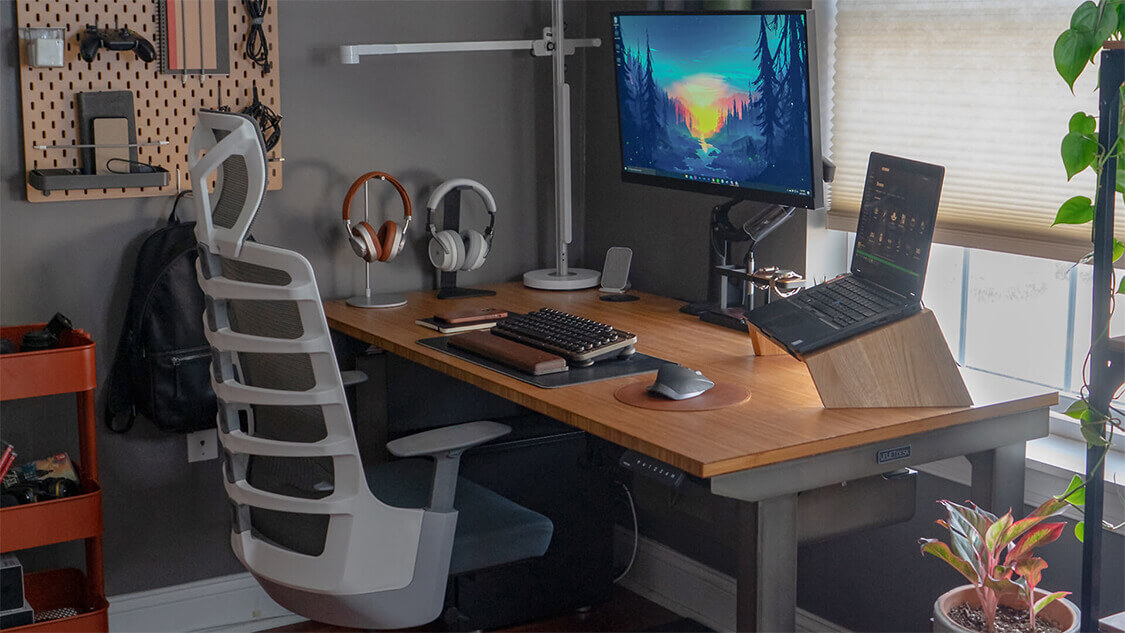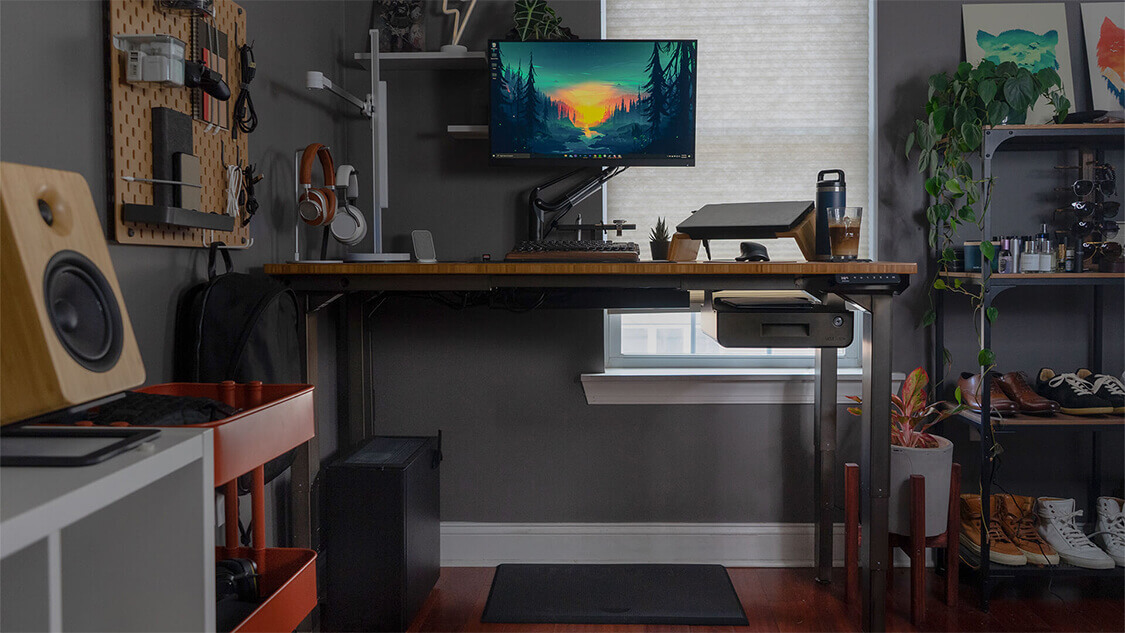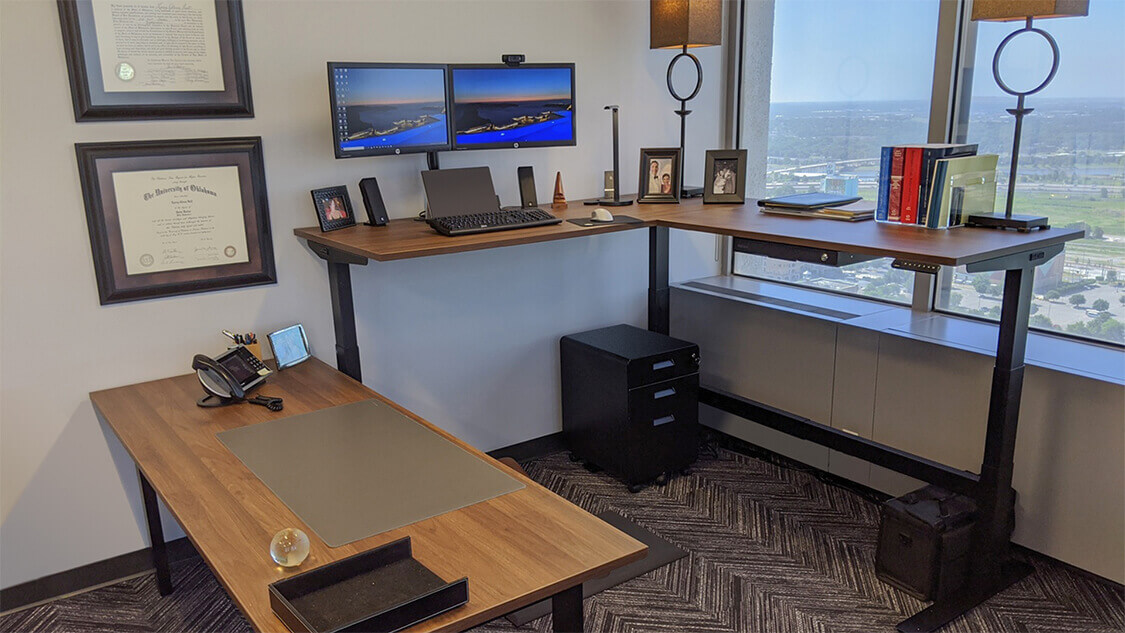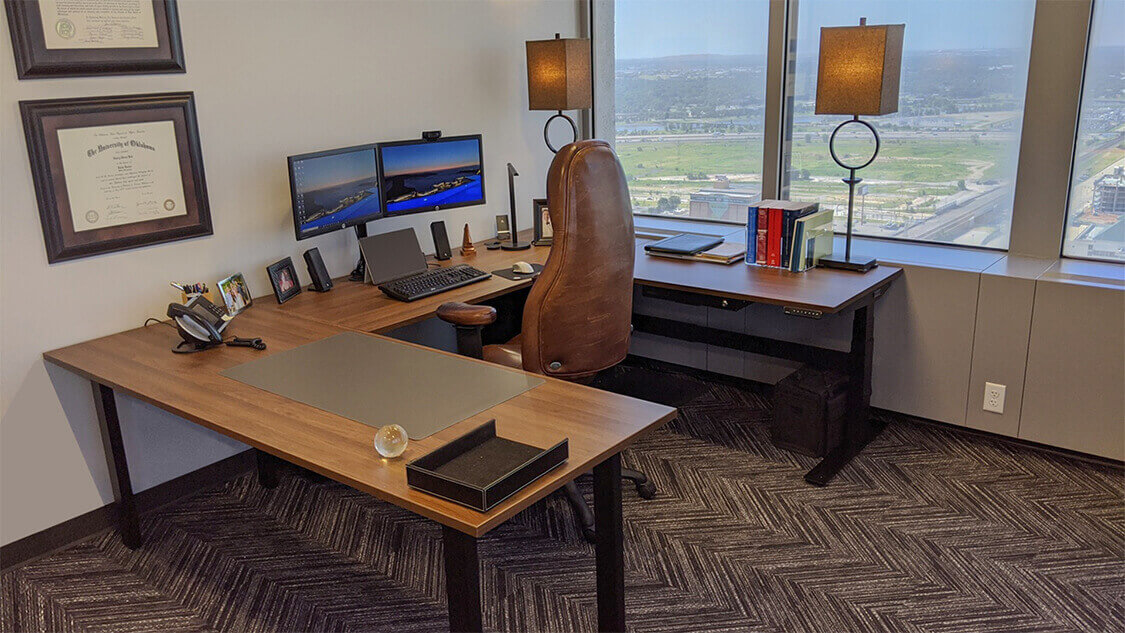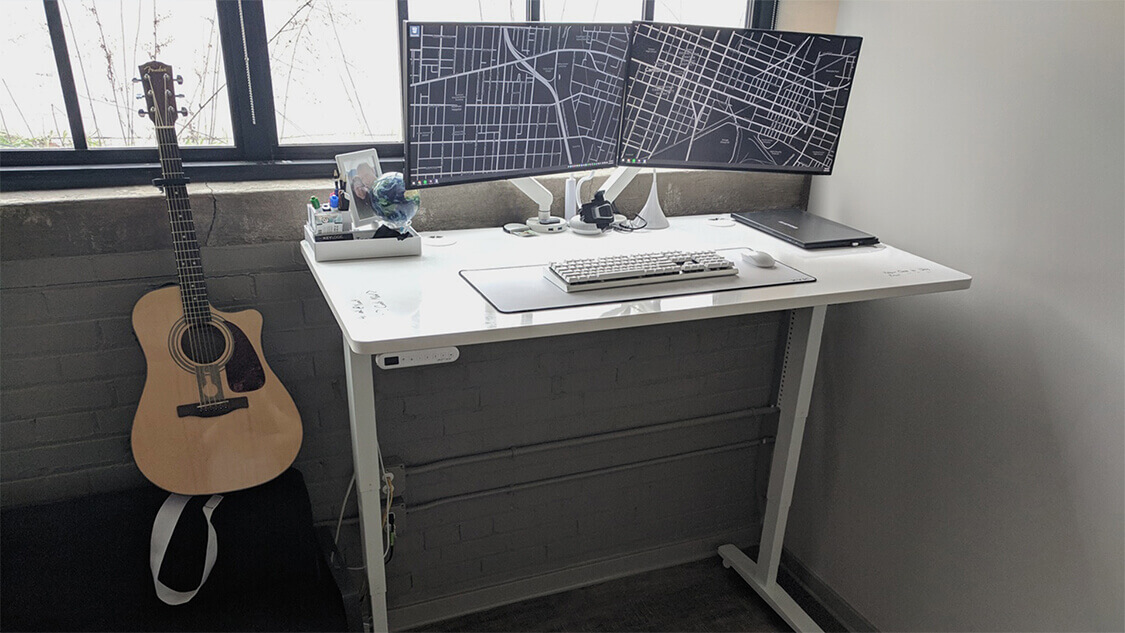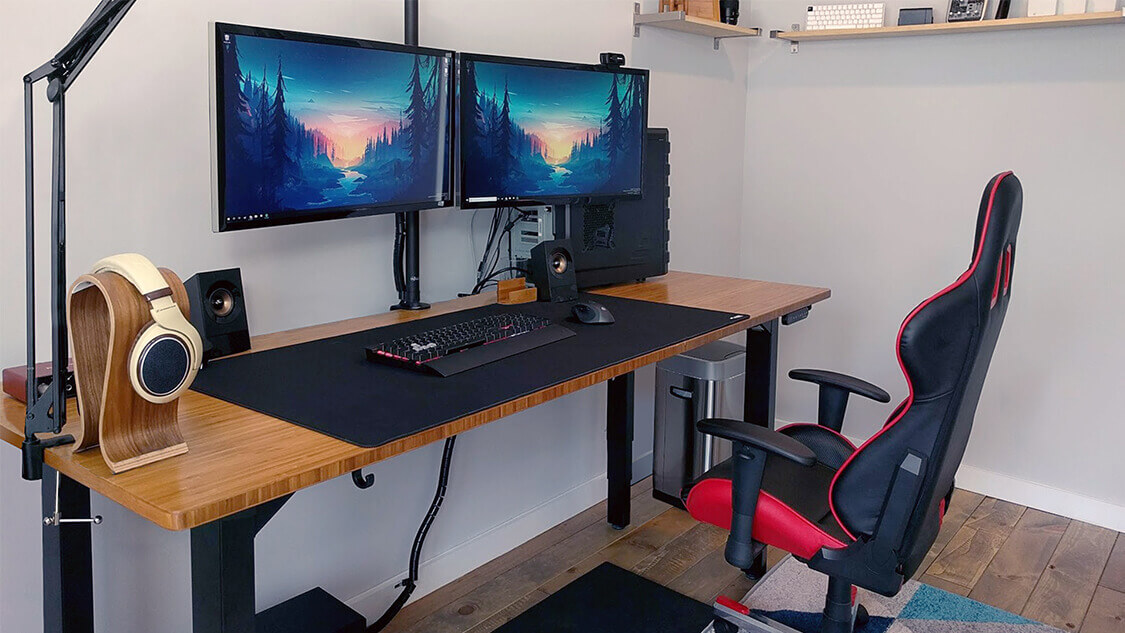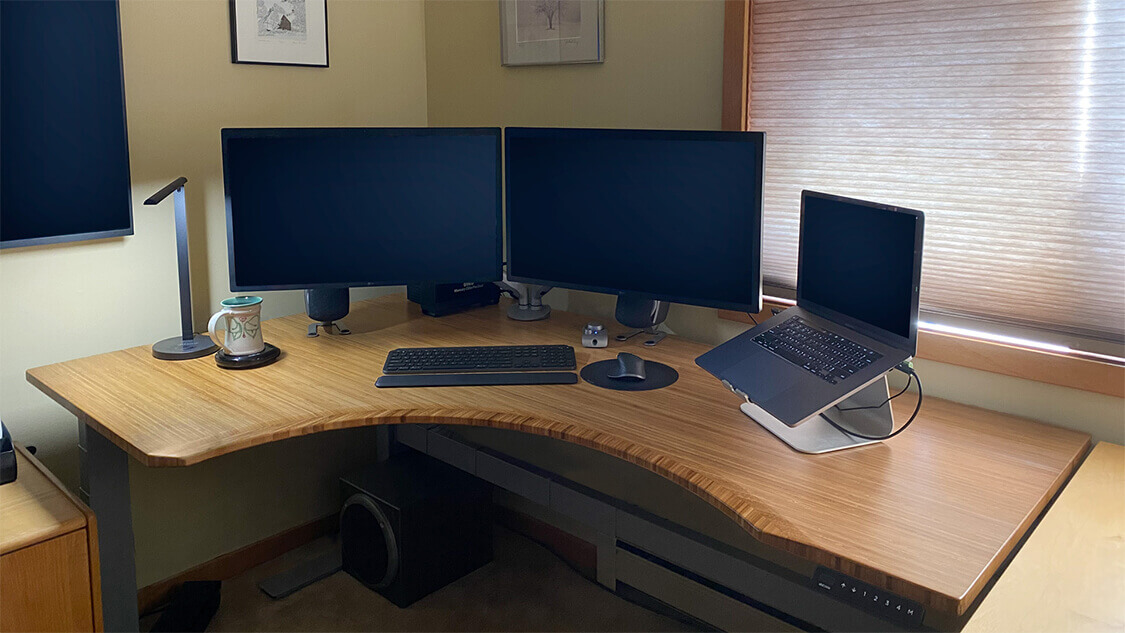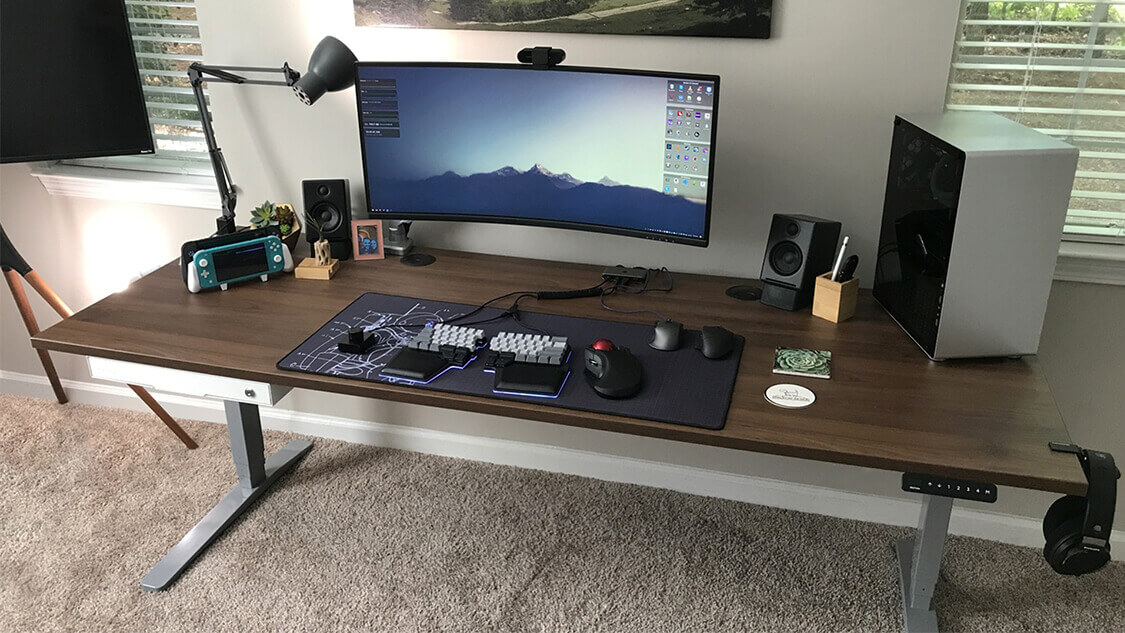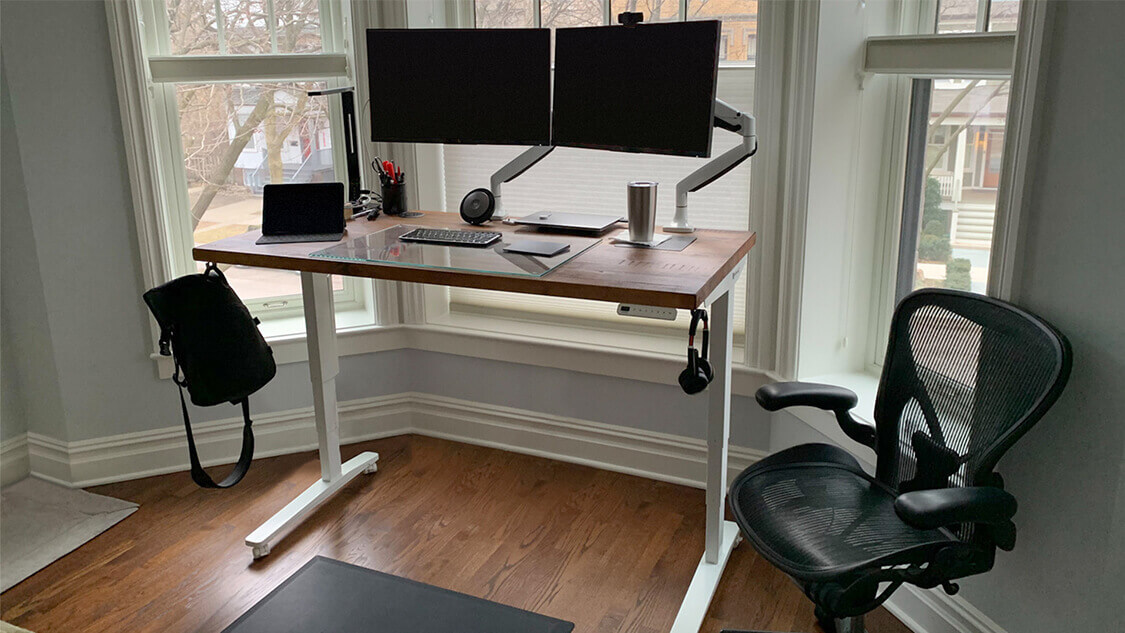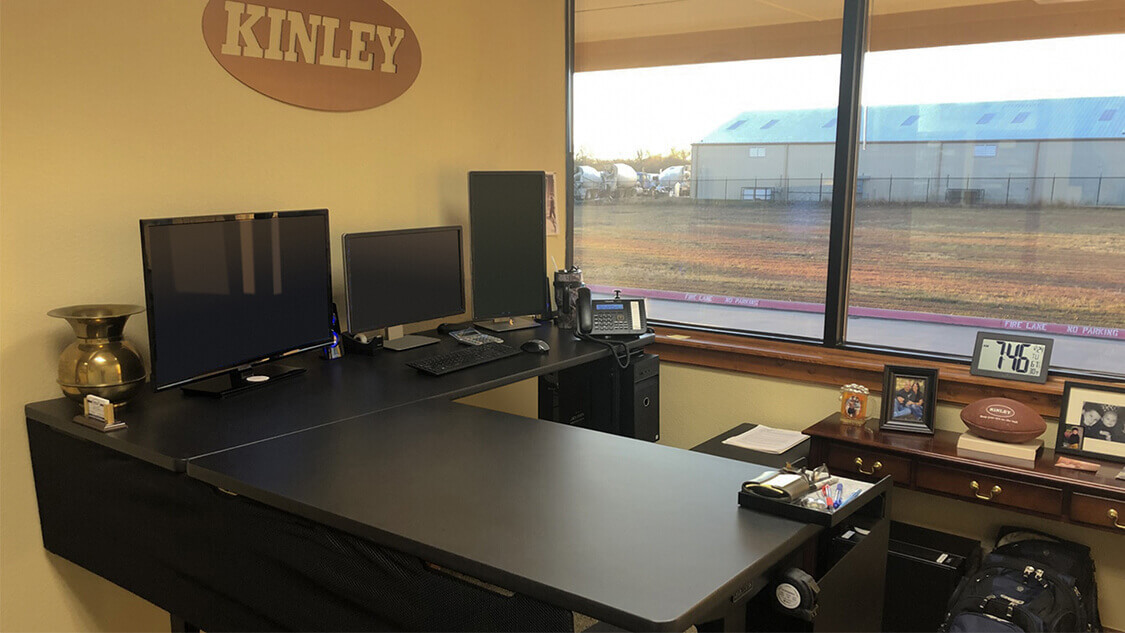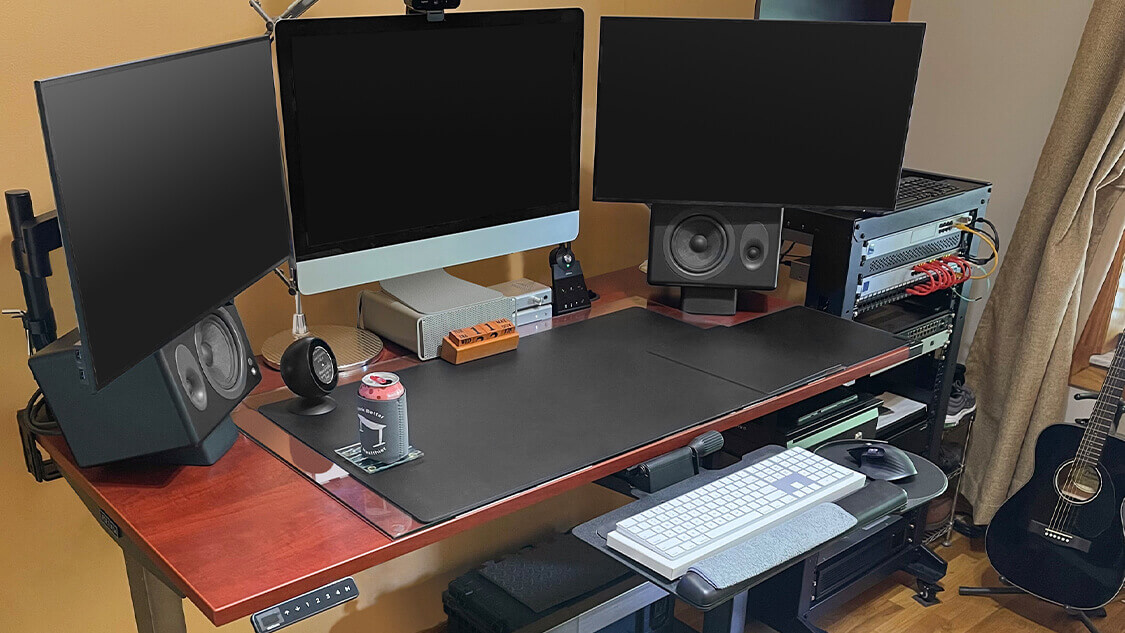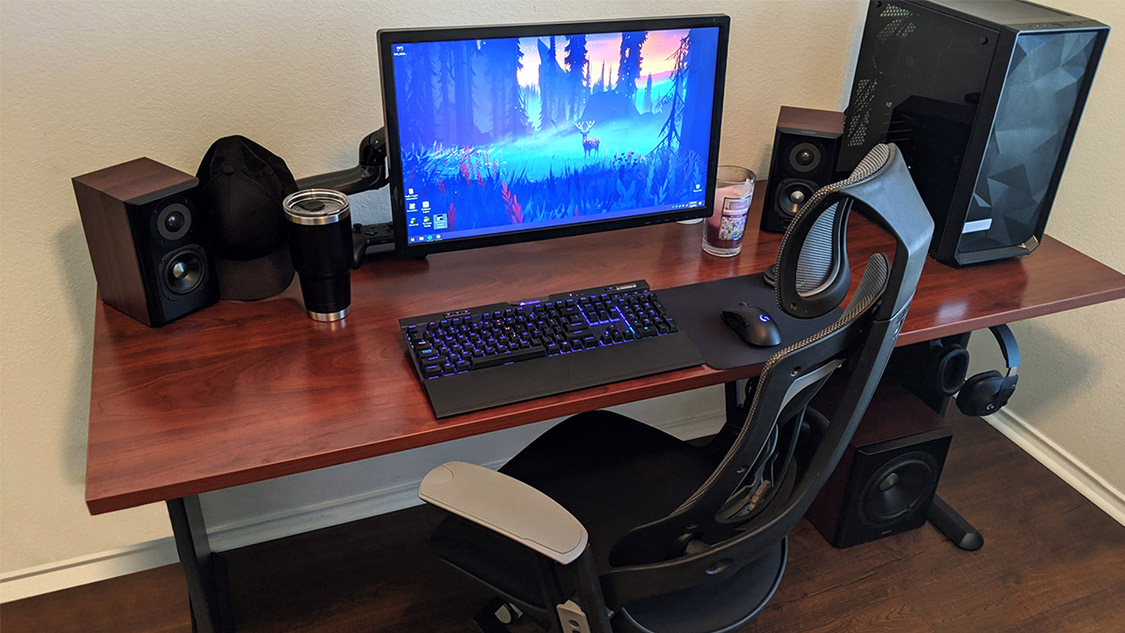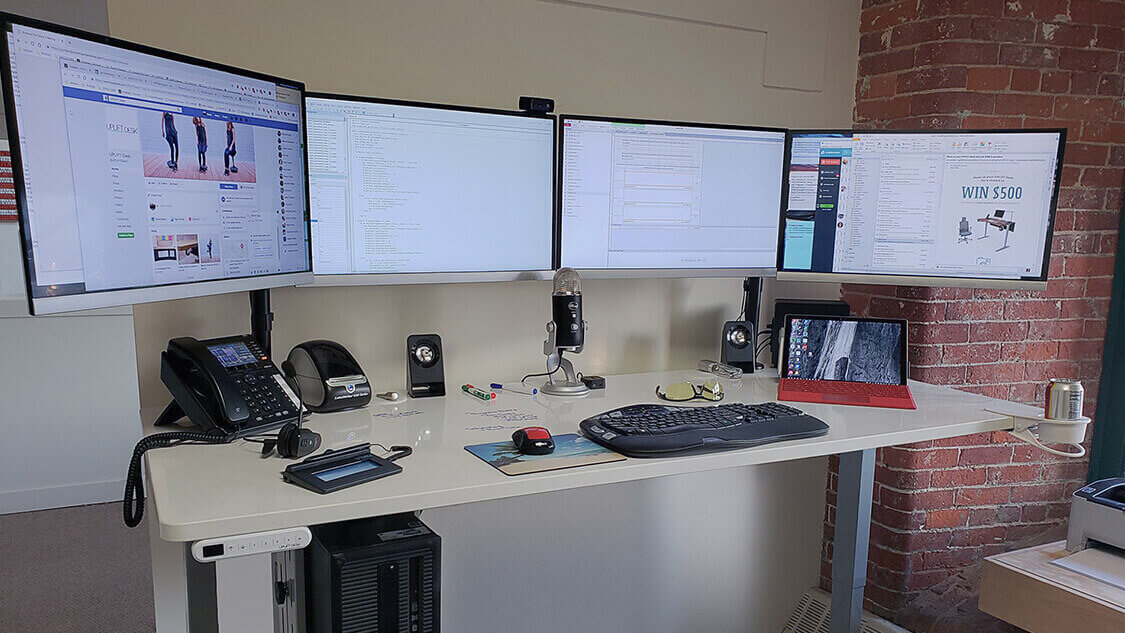 Popular Desk Configurations
Unsure where to start? Click on a pre-configured desk to add the options to a desk configurator.
In the Press

"Reasonably priced and attractive…I love it. It helps me stay healthy and productive."'

"UPLIFT Desks are like the sports cars of the standing desk world"
"#1 on Wired's list of 16 Essentials to Smarten Up Your Home Office"

"I strongly recommend the Uplift Bamboo Standing Desk…the desk is built with sturdy, high-quality materials."

"The UPLIFT V2 features a greater variety of attractive customization options than you'll find on any competitor."

"The UPLIFT V2 benefits from top-notch build quality, and prides itself on stability."

"Give UPLIFT a look if you're standing-desk-curious or in the market for an affordable ergonomic office makeover."

"Uplift desks are some of the most popular standing desk designs out there thanks to their blend of excellent build quality, range of sizes and finishes, add-on accessory options and sturdy frames."
Read More