HTML Source EditorWord Wrap
Desk Donation Spotlight
Family Eldercare
Ensuring dignity and independence for all, Family Eldercare assists elderly residents in Austin and the Central Texas area, acting as a caregiver for older adults with disabilities.
Founded in 1982, the non-profit is able to prevent abuse, neglect, and financial exploitation of these vulnerable adults through a series of programs. In-home counseling, guardianship, in-home care, and money management are just a fraction of the services offered by the group. Their work helps thousands of residents thrive in their later years, with tailored services designed to help people maintain health and keep their independence.
As a way to show them thanks, our team donated 10 complete standing desks, including Greenguard-Gold Certified Laminates, 1" Thick Carbonized Bamboo, and Eco Curve Desks, to help them stay healthy as they help residents in our area do the same.
Read more about Family Eldercare on our blog.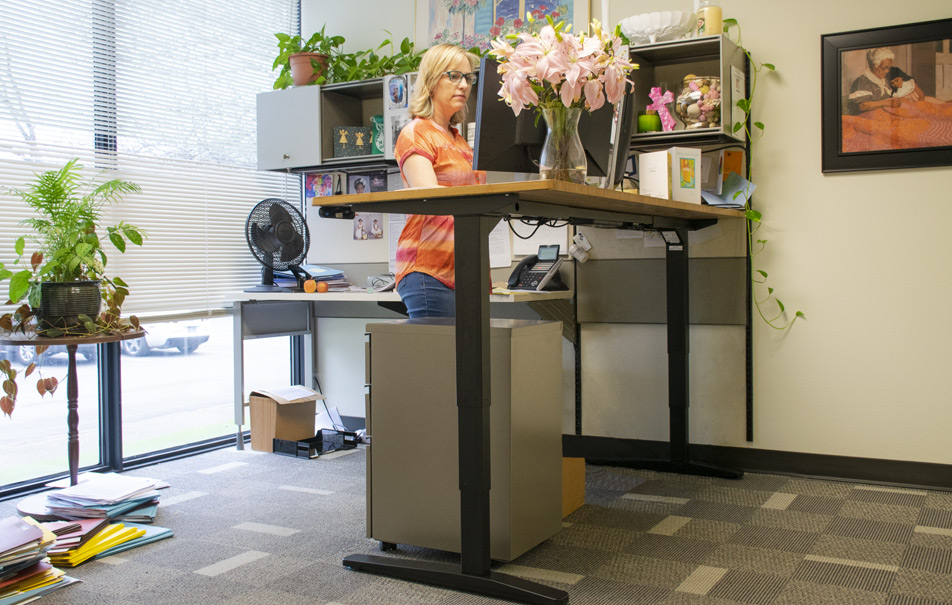 Our mission doesn't stop at helping customers lead healthier, more productive lives. At UPLIFT Desk, we strive to be a caring neighbor that gives back to our hometown of Austin, Texas. Each month, we work with a different local charity or nonprofit and donate up to 10 desks of their choice, helping them stay healthy and happy while they work to make our community a better place.
If you know of an organization we should work with, click here to tell us about them. Thank you for your help in improving the lives of those who work every day to better our city!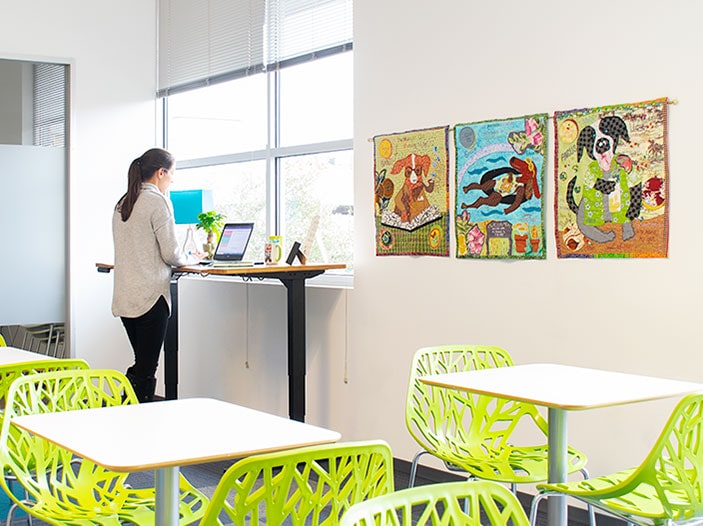 Emancipet
Affordable veterinary services are made possible for pet owners all over the Greater Austin area thanks to Emancipet, a team that's dedicated to ensuring dogs and cats in our town stay healthy.
Our non-profit of the month helps our furry, domesticated friends help with microchipping, deworming, heartworm treatment and prevention, flea and tick prevention, and basic vaccinations. These services are provided to clients all over the area at reduced rates, so no pet goes without basic medical care. Since 1999, Emancipet has spayed or neutered upwards of 325,000 dogs and cats. Our team donated a collection of Bamboo Stand Up Desks with 1" Thick Desktops to help their employees at their headquarters stay active and energetic while they work on helping so many pets throughout our city.
Read more about Emancipet on our blog.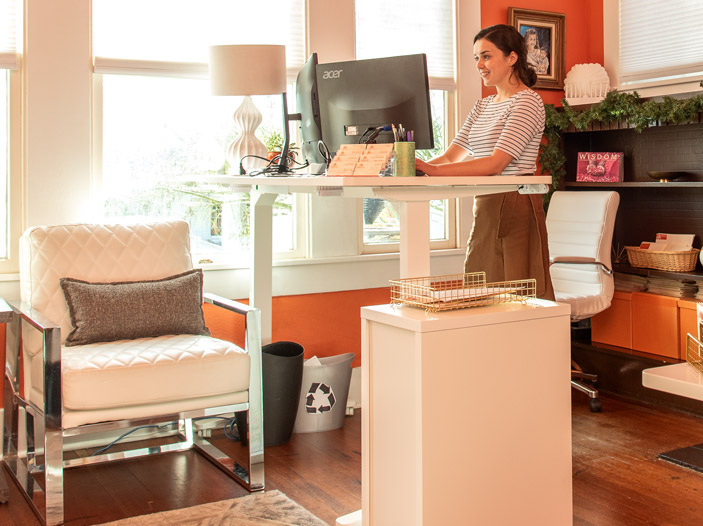 Miracle Foundation
Helping orphaned children all over the world, Austin's Miracle Foundation is a crucial force in ensuring that every child grows up with a loving family that supports them.
In order to make sure their team stays happy and healthy as they help so many, we donated a family of desks to help them truly work at their best (and in the most comfortable postures). This includes three white laminate Height Adjustable Standing Desks, four Whiteboard Sit-Stand Desks, and three 120 Degree Sit Stand Workstations to boost energy, improve circulation, and stave off negative health effects that can develop from sitting too long. We hope these sit-stand desks help their team be even more productive, letting them help even more kids around the globe.
Read more about Miracle Foundation on our blog.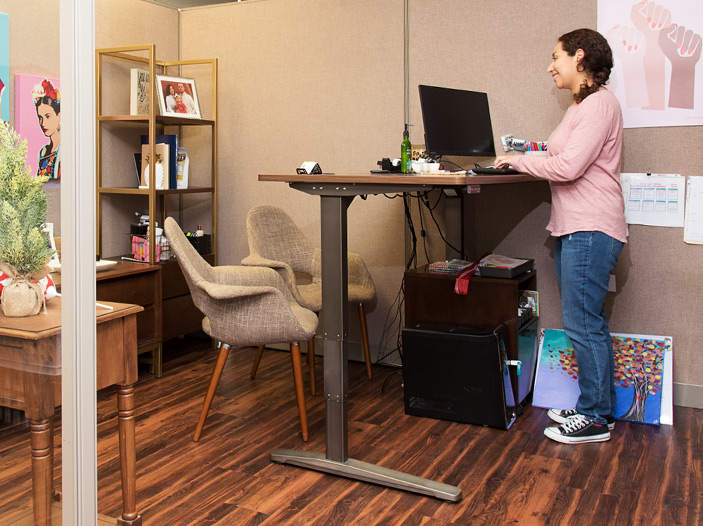 Con Mi MADRE
At the intersection of family, heritage, and education stands Con Mi MADRE, a group whose mission centers on encouraging Latina women to achieve their educational goals. Thanks to their hard work and the Four Pillars - starting early, parental engagement, cultural relevancy, and a holistic approach - the group elevates the lives of young Hispanic women, ultimately assisting hundreds of girls in Central Texas to attend college.
We gifted the group a few Dark Brown Rubberwood Solid Wood Sit-Stand Desks, a Douglas Fir Reclaimed Wood Stand Up Desk, a Bamboo Stand Up Desk, and a Walnut Greenguard-Gold Laminate Standing Desk to aid them in their cause (and help them stay happy and healthy while they do it!).
Read more about Con Mi MADRE on our blog.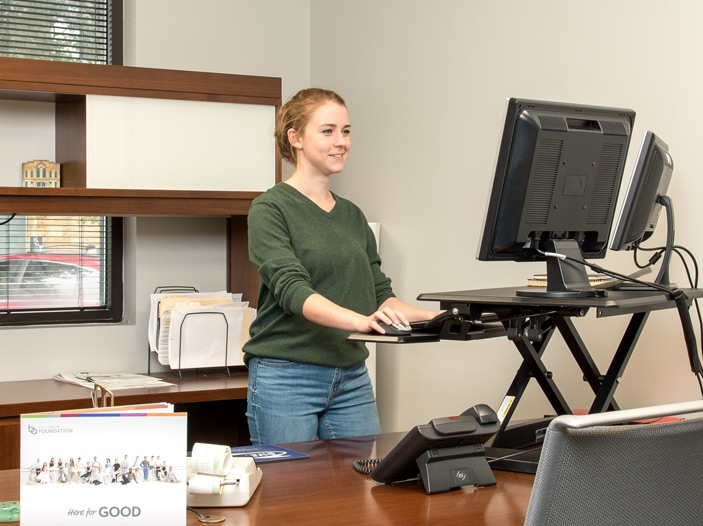 Ballet Austin
Ballet Austin is instrumental in shaping the arts and lives of dancers in Austin, offering education, scholarships, and real-life experience on the stage. Learning in professional settings, students at Ballet Austin get unique chances to hone their skills while putting on big-name shows, both reproductions and originals, for the delight of citizens of greater Austin.
Their hard work helps countless Austinites appreciate the arts, so as a thank you to them, we donated a fleet of standing desks, XF Standing Desk Converters, UPLIFT Dual Monitor Arms, and Motion Stools to help their dedicated team work better and live healthier.
Read more about Ballet Austin on our blog.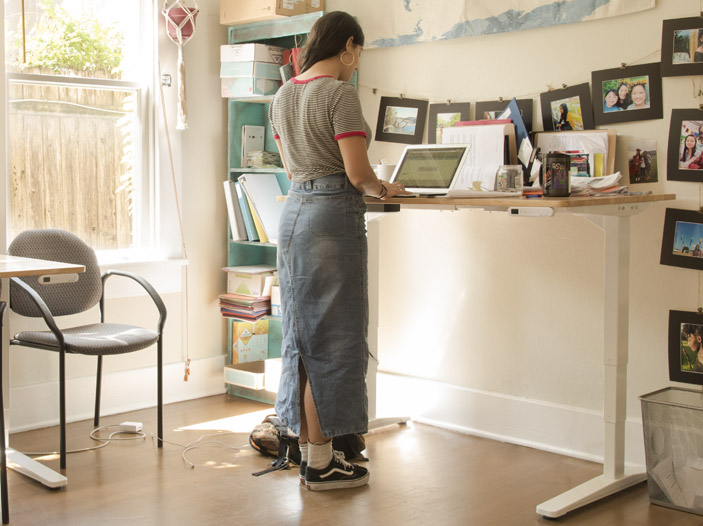 GirlForward
GirlForward makes it their mission to help young refugee girls who have been displaced by conflict. They do this through education, assistance, and support, working specifically with teenage girls (ages 14- 21) who have been resettled in Austin from countries including Afghanistan, Syria, DR Congo, and Burma. Through their Mentoring Program, Camp GirlForward, and Safe Spaces, the group is able to help refugee girls turn negatives into positives, with the ultimate goal of assisting each girl to graduate from high school.
Their work helps dozens of young women in Austin, so we donated a total of eight desks to help get them standing - six of our reclaimed elm and two of our natural rubberwood height adjustable desks to be exact - to say "Thank You" for all they do and help the girls at GirlForward stay a little comfier throughout the day.
Read more about GirlForward on our blog.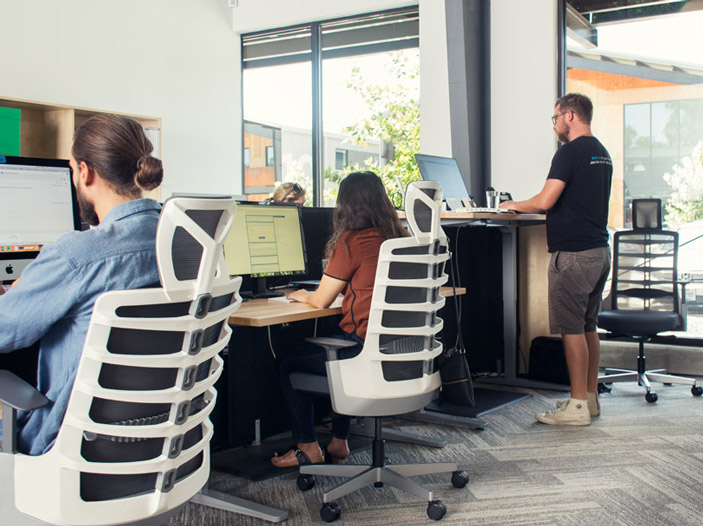 Austin Parks Foundation
Established in 1992, Austin Parks Foundation works hand-in-hand with many communities throughout town to ensure easy and safe access to outdoor spaces, including its 300+ parks, trails, and greenbelts.
Even though a lot of their missions take place outdoors, it's the work behind the scenes that leads many of the members of APF to the indoors, which means many of them sit in an office chair, sometimes for the better part of the day. We provided them with a few ergonomic chairs, including 12 UPLIFT Pursuit Ergonomic Chairs and six UPLIFT Vert Ergonomic Chairs, to help keep them comfy and cool while they work hard to keep Austin's parks looking great.
Read more about Austin Parks Foundation on our blog.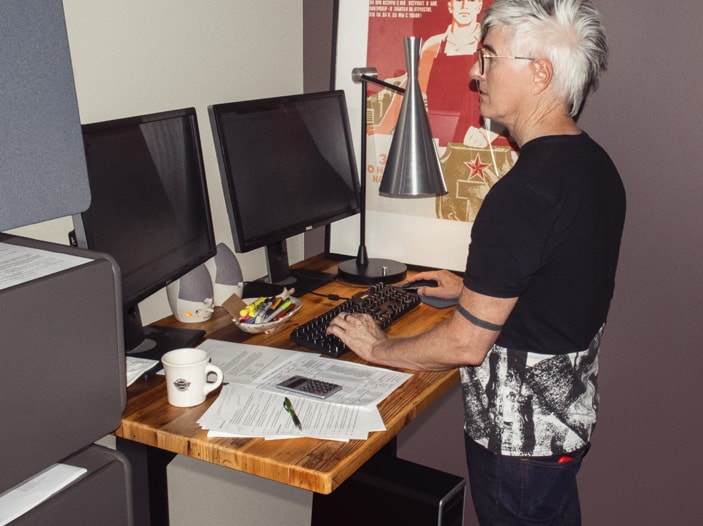 Project Transitions
Project Transitions' goal is to provide medically-supportive, affordable housing and recuperative care for people living with HIV and AIDS in Austin. Clients at Doug's House are given around-the-clock care from social workers, caregivers, and a Registered Nurse. Their team operates two transitional apartment complexes for people living with HIV and AIDS and their families. Project Transitions' also runs Top Drawer Thrift, some of Austin's most loved thrift stores, which sell donated items to fund their programs.
Read more about Project Transitions on our blog.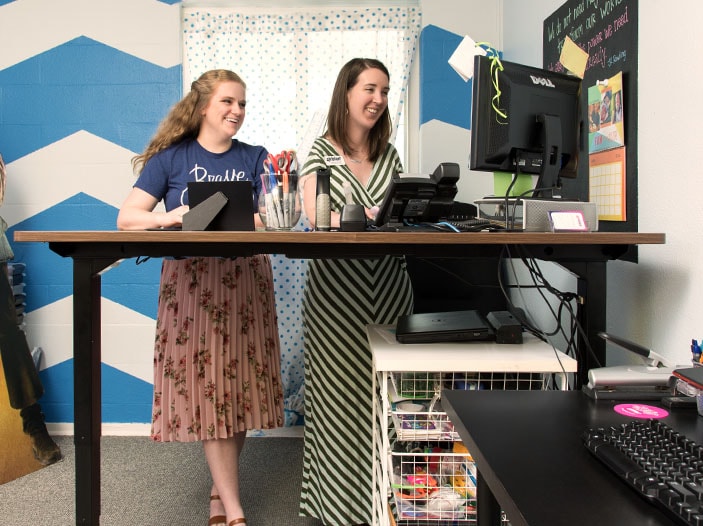 Girlstart
Girlstart makes it their mission to educate young girls in STEM studies, preparing them with the mental tools to tackle important problems in the future. The group gives girls all over Austin the opportunity to learn more about science, technology, engineering, and math in after-school programs, summer camps, and conferences.
Last year, Girlstart provided STEM opportunities for more than 27,400 people, and their numbers continue to grow. Our team donated 10 complete height-adjustable desks to the group, including a few of our bamboo and Greenguard-Gold laminate desks, giving them stylish and eco-friendly sit-stand workstations that will help them work healthier and with more comfort.
Read more about Girlstart on our blog.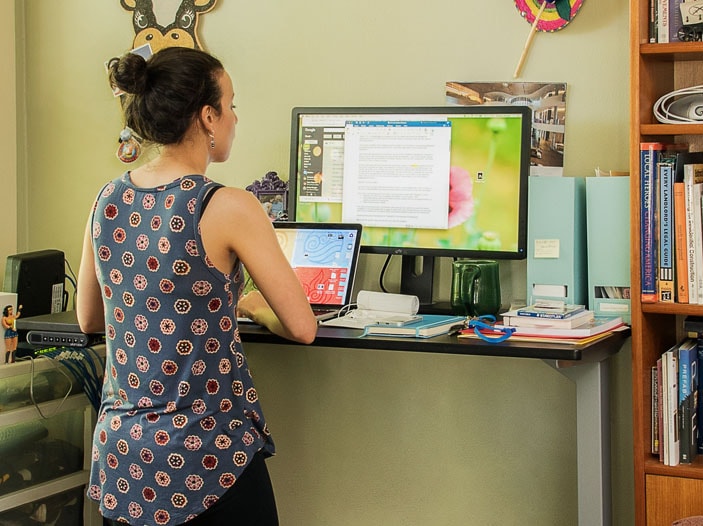 Texas Housers
Texas Housers works to make Austin and Greater Texas a better place to live by ensuring that every person, regardless of income, is able to purchase a home in a safe and clean community.
The staff members behind Texas Housers spend a majority of their day at their desks. It takes a lot of computer work to help so many people, so we gifted the group seven desks to make their jobs, and lives, a little healthier. We're excited to see what they can do when they're comfortable while they researching, organizing, and problem-solving at their new sit-stand desks!
Read more about Texas Housers on our blog.
Want to Get Involved?
Share your favorite Austin nonprofit with us! Just fill out the form below; we'll consider your submission for our future monthly charitable donations.