Complimentary Space Planning
Get a free office layout when you purchase eight or more desks
Complimentary Office Design Consulting and Space Planning
Do you need eight or more desks? We offer FREE Design Planning Services for your office. Let UPLIFT Desk create a professional design layout of your space that allows every person to work better and live healthier. We use industry leading space planning software to design your office furniture layout. All designs are approved by a Certified Professional Ergonomist. See how everything fits together before you buy, get a quote showing bulk discounts, and let us help you optimize your space for comfort and productivity. There's no obligation to make any purchases. Our team simply wants to lay out your business space for free, and once you are happy with the design, we can provide you with a free quote. Whether you're designing an office for eight or 8,000, we're here to help.
Complete steps 1 through 4 below and submit the form. We'll create a space that transforms your office with our collection of desks, workstations, chairs, and ergonomic accessories.
Custom Flexible Office Designs
Have an office floor plan in mind? Or do you need to start from scratch? Our designers can help you build a flexible office plan that fits your individual needs. Create the ideal space for you and your team. Whether that consists of a few desks or hundreds, we're ready to help your business work better and healthier.
Already have the V1 version UPLIFT Desk? We now offer a benching solution to keep them aligned.
The UPLIFT Power and Data Rail is compatible with all brands of desks, and has built-in benching for UPLIFT V2 & V2-Commercial desks.
If you have UPLIFT V1 desks, you can combine the Power and Data Rail with our UPLIFT V1 desk benching system to keep them aligned.
Not sure if you have a V1 or V2? The quickest way to tell if you have a V1 desk is to check for the UPLIFT Desk logo on the sides of the frame. If you see our logo, you have a V2 desk. If there isn't a logo, you have a V1.
Create Your Space
If you are a design professional, you may likely be using a space planning software package such as 2020 Spaces, ProjectMatrix, or CET Designer. If so, please look for our library of UPLIFT Desk products within those platforms.
Designers using building information modeling (BIM) software such as Revit can download our 3D product files from our 3D Models / CAD Files page.
SketchUp software users will find 3D files of our product collections on the UPLIFT Desk page at 3D Warehouse.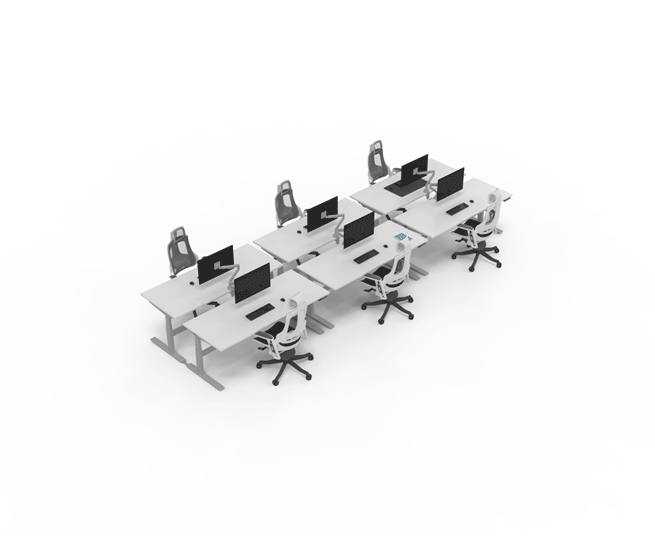 Create Defined Office Spaces
We have a wide selection of partitions that can create effective separation in your open office. With our flexible product designs, you can design and redesign your space as office needs evolve. Defining spaces and integrating privacy with panels and walls is a simple and rapid solution for improving your open office. Mobile panels and walls enable you to quickly reconfigure spaces as your needs change. The solutions and products presented here show an effective strategy for creating better space ownership in the office and also serve to improve social distancing as needed.
See the animation that shows a row of benched desks expanding and rotating to create more space. Then panels are used for space division. The animated steps shown and products used are as follows:
We begin with a typical 6 person benched desk setup
Desks are then separated into two single rows with 10' spacing between. Then the desks are turned 180 degrees
Side-by-side desks then separate to create a 3' space between
Desk mounted privacy panels are added to desks
Mobile walls are placed between the rows desks
Freestanding panels appear next to each desk to complete the space division and provide ideal social distancing
The Space Between Us - Mobile Panels & Walls
Creating a space that provides 6 feet of distance between employees can be challenging. We offer tips and products to help you achieve your new socially distanced office.
For simplicity, we prefer to utilize our OneWall Mobile Walls and Freestanding Privacy Panels to create a reconfigurable design with minimal installation and permanence. We can achieve six or more feet of spacing and establish physical space division between people. All of this is accomplished with just 100 square feet of additional space usage.
A Simple How-To Social Distance Guide:
We suggest that you start by separating individual desks to create a minimum space of 6 feet between workers. Also, consider rotating desks so employees face away from rather than towards each other.
Next, to create flexible and useful dividers, partitions, and social distancing barriers, we recommend a mix of the following products. Use multiple, side-by-side Freestanding Privacy Panels, or desk mounted Acoustic Privacy Panels to separate desks. Consider utilizing OneWall Mobile Acoustic Office Partitions to create larger barriers that are still flexible, mobile, and reconfigurable. All of these options are available in multiple sizes and colors to best suit your office needs and style.
Visit our Space Division + Privacy Panels + Walls page for more information.
Space Planning Form - complete the 4 steps below:
1. Check out the Configurations Shown Above for Inspiration
Multiple styles of configurations can be combined to create your own unique office design. Imagine your layout then let us know in the "Tell us about your project" field below.
2. Learn About the Possibilities and Custom Build Your Desks
Complete your layout with optimally designed individual desks and productivity-inducing accessories. Visit our desk builders to customize your workstations, our five most popular desks are: 2-Leg Desk, L-Shaped Desk, Curved Corner Desk, 4-Leg Desk, and even Desk Frame only if you have your own desktops. If you're up to it, build your desk then snap a screenshot of your shopping cart and attach the file to the form below; no worries if you're not ready to do that, we're here to help you through the process.
To power your open plan office space, checkout the UPLIFT Power and Data Rail. It gets power and data to your desks while also serving as an optimal benching solution. All of the most popular desk benching configurations are supported. The patent pending system is extremely flexible and reconfigurable so you are never stuck with a monolith of benched desks bolted together. Benched desks simply lift in and out of our power rail benching pockets with no tools required. The power rail also telescopes horizontally and vertically to fit various sized desks and office configurations.
Add simple freestanding structures to your space with our UPLIFT OneWall Mobile Partition and UPLIFT Freestanding Acoustic Privacy Panel Holder. We also offer the UPLIFT OneWall Cubicle Partition. All three of these products have telescoping steel frames that adapt as your office needs change. All of our solutions offer acoustic materials to reduce ambient noise so you can concentrate better.
3. Share Your Floor Plan
Provide us with the layout of your office in a CAD file format. Images of the space and sketches of the desired layout are also helpful but are not a replacement for a proper CAD file. Also, be sure to provide details about your office project: number of desks, desk sizes, number of desks per group, etc.
The turnaround time is 3-5 business days after submission of all necessary information and documentation.
Please note: It is the responsibility of the client to provide accurate and detailed files and measurements. In the case that the layout does not fit the actual space, UPLIFT Desk will not be held responsible.
We support these formats: .dwg (preferred), .dxf, .drw, or .slddrw
4. Submit the Form
We'll immediately send you an email. A designer will be in touch with you soon.