A Brave New (Flexible) Office
Work is changing and to keep up, offices are adapting to deliver an ideal balance between shared and private workspaces. The modern office requires a perfect blend of these spaces; we help businesses achieve this. Keep your work area interesting with our 120 Degree Sit Stand Workstations that allow teams to build out fun pods of workstations, so you're never further than a conversation's reach from your colleagues. We also offer an innovative range of acoustic privacy panels, modesty panels with wire management, and storage options to help you build the well-rounded, flexible office furniture your business needs.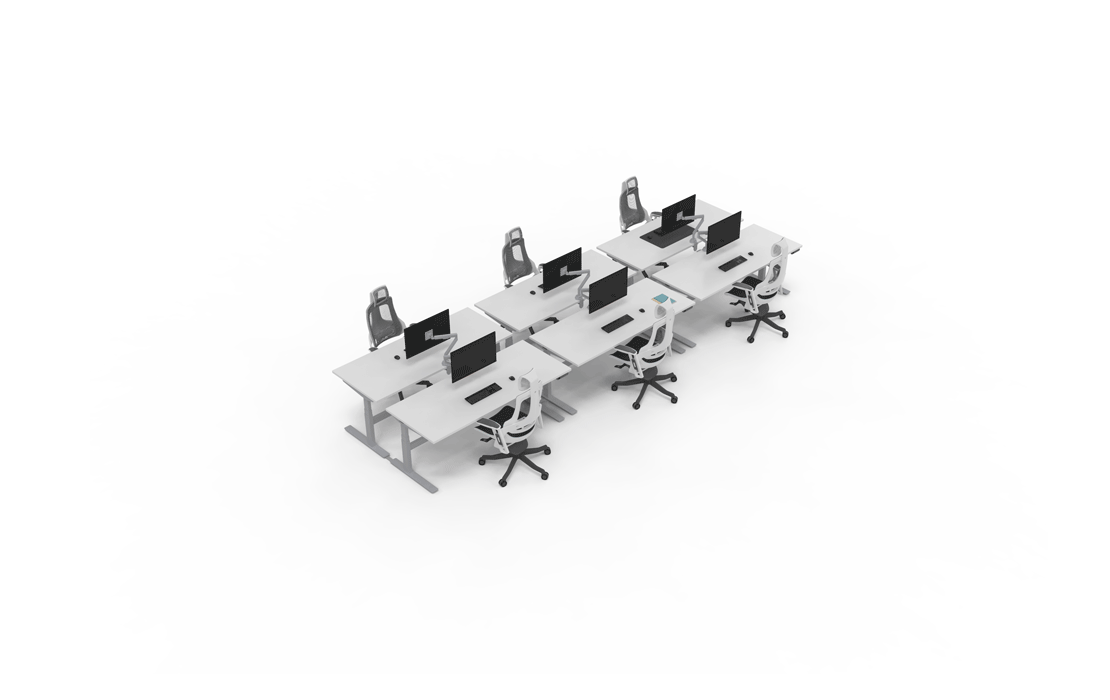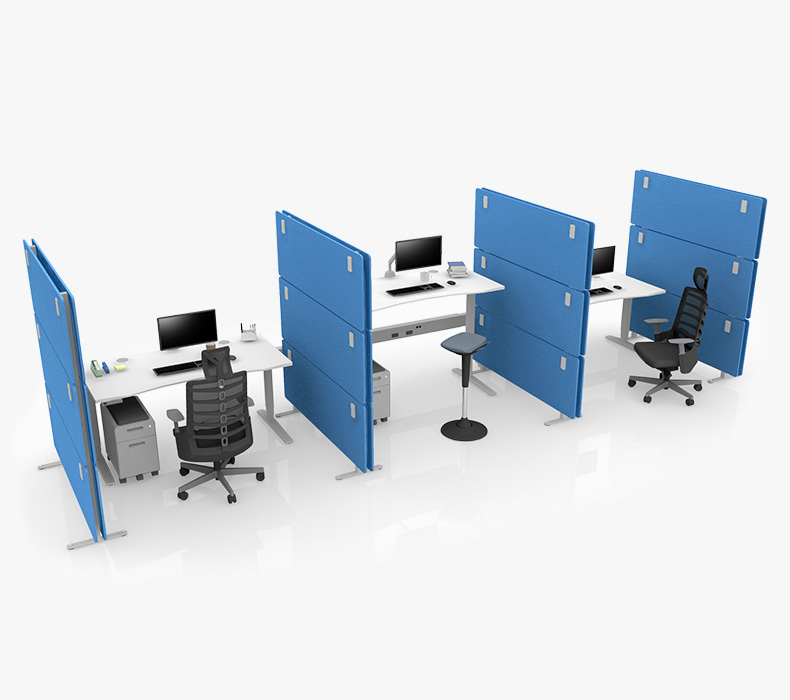 Shared Spaces
Human-centered configurations with movable privacy panels and freestanding installation options enable teams to readjust their space as needed. Give yourself the freedom to adjust and grow in the future with an adaptable shared office space from UPLIFT Desk. Setting up workstations in neighboring groups with dedicated desk power via the Power and Data Link helps power workstations without a clutter of cords. Acoustic privacy panels and modesty panels with wire management establish boundaries that designate shared work areas and private workspaces.
Click here for more on Office Design Consulting and Space Planning by UPLIFT Desk.
Collaborative Areas
When you need a larger collaborative space that doesn't require your employees to leave their primary work areas, we can help. A 'big table' desk layout encourages communication between individuals and teams but having a big desk at one height doesn't work because people aren't all the same height. Desks arranged in continuous yet independently-adjustable rows of desktops are reminiscent of a traditional bench configuration, modeled after the conference table. These configurations increase the options for employees who need a temporary pop-up workspace. Comfort is ensured by fitting the desk to the person instead of making the person adjust to the desk.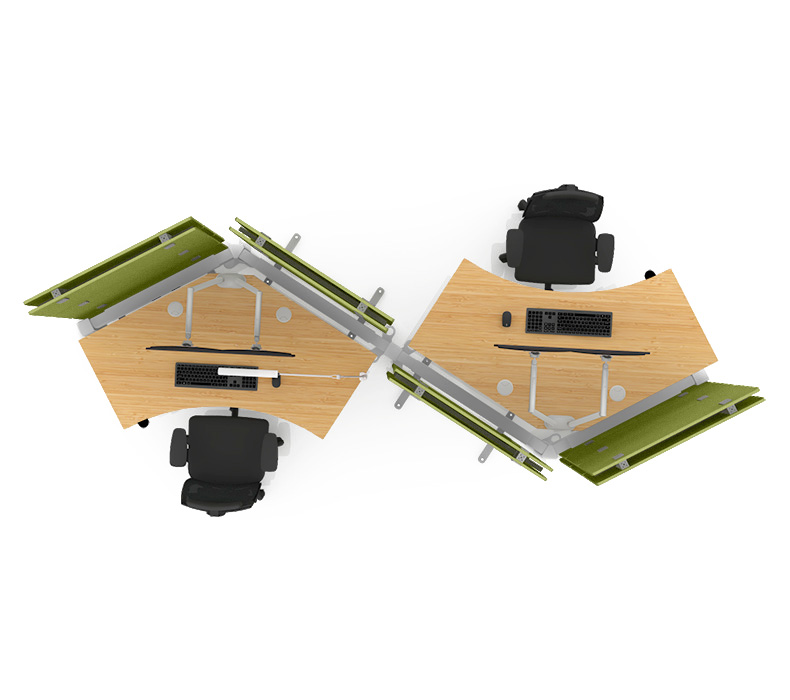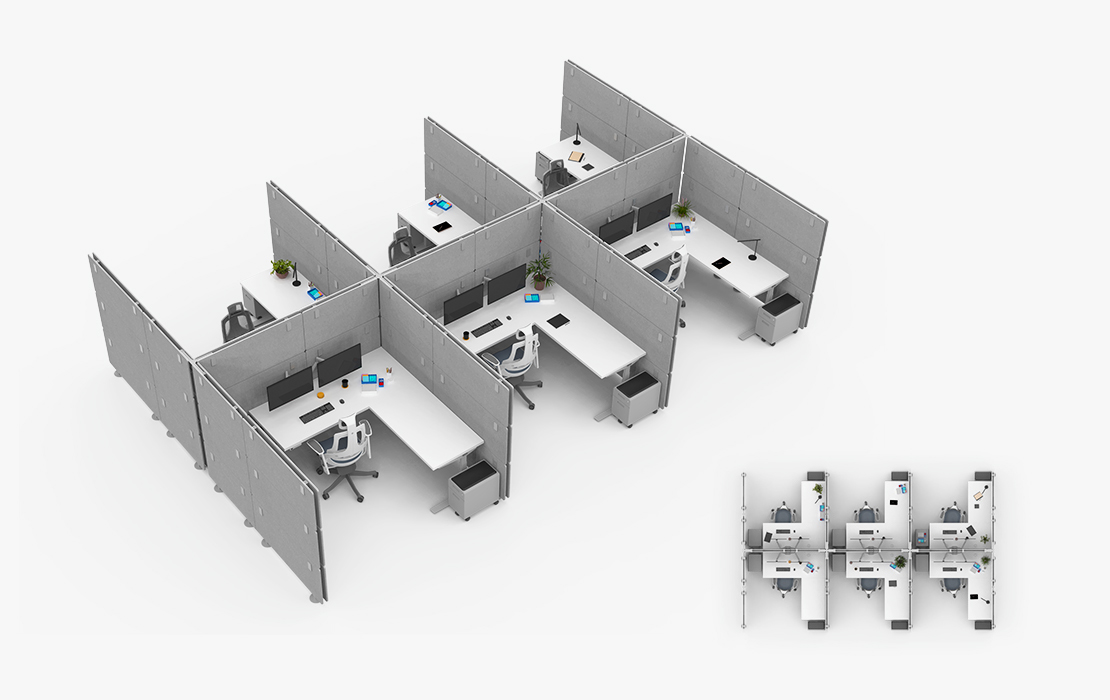 Possible Flexible Office Configurations
UPLIFT Desk offers a resource of possible flexible office layout configurations to suit your unique business needs. Remote ergonomic assessments are made easy with us, just drop us a line and we'll be in touch with you to see just what ergonomic products you need to help you work at your best. Or reach out to us to create a custom layout for your office space, however big or small. Visualize your flexible office space with our interactive 2020 Catalog and Project Matrix, which lets you quickly design spaces with all our products and get a firsthand look at what your current space could be with a little help from UPLIFT Desk. All designs are approved by a Certified Professional Ergonomist.
Browse UPLIFT Desk Flexible Office Products by Clicking the Categories Below
Here is our installer assembling an UPLIFT Desk in 7 minutes
3.

Easy Installation Options

Your new office ships free same day if ordered before 3pm (large orders can take a day longer)

We don't markup our products in order to claim "free installation." If you are installing yourself, we want you to save money. The following installation options will be included in your proposal if you request an installation quote:
Install yourself with help from our assembly videos
Our desks are quick and easy to install. If you choose to proceed with this cost-effective option and install on your own, we have installation videos that help. For large orders we'll send one of our installation experts anywhere throughout the USA or Canada to train and guide your team through the installation process. We're here for you!
We install for you within 14 days of the purchase date
If you would like for us to install your workspace, we provide full turnkey installation through our installation partner. We'll install your order within a few days of your UPLIFT Desk products arriving on-site. If requested, we will send an UPLIFT Desk representative to your location, to further guide and supervise the installation. Let's Get Started!
Our designers are excited to start this journey with you.
Fill out the form below and one of our designers will quickly get in touch with you to ask a few questions and then will complete your free design layout/quote. We do free iterations of the design, just let us know what you like/don't like when you receive your office space layout.
Additional Resources
*Free shipping in the contiguous 48 United States. For other destinations, your shipping costs will be calculated at checkout.