Features
Effortless adjustment with 8" of height adjustment range
Lift and release mechanism with dial for 10° positive and 20° negative tilt
360° swivel mechanism allows for storage and quick adjustments
Includes removable wrist rest and mousepad
Made in the USA to meet or exceed ANSI/BIFMA standards
Switch Keyboard Tray
It's great to have a place for everything and everything in its place. Enter the Switch Keyboard Tray — featuring a separate mouse pad area that can go from left to right with just a push and the will to change. It's never a bad time to Switch things up.
Check out our Keyboard Tray Comparison Chart (PDF) if you need more help deciding which keyboard tray is best for your setup.
Corner Sleeve
Working in an L-shaped desk doesn't mean you need to feel wedged in all the time. Our convenient UPLIFT Corner Sleeve steps in to take the edge off for everyone that likes to work right in the middle of all the desk action. As soon as you've taken in the hardy metal structure and the added space the sleeve adds to your work surface, trust us—you're going to learn to love feeling cornered.
Track Spacer
Why choose between installing our supportive crossbars and getting the full under-desk retraction our keyboard trays offer? Get the best of both worlds with the Track Spacer, and expand your accessories' reach to the stars, or at least the back of your desk.
Goldtouch Adjustable Keyboard
Ready to step up your typing game? The highly adjustable, effortlessly ergonomic Goldtouch Adjustable Keyboard is a perfect complement to our UPLIFT trays—raising, lowering, and splitting to suit any individual need, and cushioning everything from your casework to your commentary with curves on every key. Mavis Beacon would be proud.
While supplies last, add a brand-new keyboard to complement your keyboard tray at a special low price of just $20.
Specifications
| | |
| --- | --- |
| Platform dimensions | 19.5" wide by 11.5" deep by 0.25" thick |
| Mouse pad dimensions | 8.25" diameter |
| Height adjustment | 3" above track to 5" below (8" total) |
| Track lengths | 21" (standard) & 11" (for limited depths) |
| Swivel at mechanism | 360° |
| Weight limit | 10 lbs |
| Material | Phenolic resin |
| Warranty | 5 years |
| Shipping dimensions | 14'' W x 6'' H x 28'' D, 22 lbs |
Frequently Asked Questions
Do more people prefer the Large Keyboard Tray or the Switch Keyboard Tray?

It really comes down to personal preference. Some people really enjoy having a separate mousing platform, and will therefore be happier with the Switch. Other people are quite content with the single, large surface provided by the Large Keyboard Tray.

What are the benefits of the Switch over the Large Keyboard Tray?

The Switch Keyboard Tray has a more compact footprint, thanks to the separate mouse platform. It also features a cable organizer to keep your mouse cord in line.

What is the track spacer and do I really need one?

The crossbar of the UPLIFT frame is mounted to the underside of the desktop, and may get in the way of your keyboard tray when you try to push it all the way under the desktop. That is where the Track Spacer comes into play. The Track Spacer goes over the crossbar and allows you to install the keyboard tray directly to it, instead of your desk. This means that you will be able to fully stow your keyboard tray under your desk without hitting the crossbar. We highly recommend the Track Spacer!

Can I tilt the mousing platform independently of the keyboard platform?

No, the keyboard tray and mousing platform tilt in unison.

Why is it called a "switch" keyboard tray?

The Switch Keyboard Tray allows you to easily "switch" the mousing platform from left to right, depending on which hand you prefer to use for mousing.

Are there one or two mouse platforms that slide out from underneath the keyboard tray?

There is one mousing platform that slides from side-to-side underneath the keyboard platform. Only one side of the mouse platform can be used at a time.

I just installed my keyboard tray but now it won't lower, help!

Stay calm, you may have simply forgotten to remove the shipping pin. Refer to step four of the installation guide for how to remove the shipping pin and you'll be enjoying your keyboard tray in no time.

How big is the keyboard platform?

The keyboard platform measures 19.5" wide by 11.5" deep by 0.25" thick.
UPLIFT Track Spacer
The Track Spacer gives you more freedom to mount your keyboard tray track over your desk's crossbars, allowing you the flexibility to mount accessories, even on smaller desks. If your desk is only 24" deep, this allows you to place the 22" track over the crossbars so you can stow the keyboard tray completely underneath the desk.
Corner Sleeve
If you're working on a corner L-shape desk or a workstation with limited depth, an UPLIFT Corner Sleeve allows you to install a keyboard tray where you couldn't before. This low profile mount is available in two different models that attach to worksurfaces 1" - 2.5" thick, and is compatible with all UPLIFT keyboard tray tracks.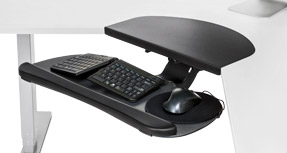 Goldtouch Keyboard
Enjoy a more ergo-friendly typing experience with a Goldtouch Adjustable Keyboard - GTN-0033. We feature ours at a discounted bundle price with this keyboard tray. This wired USB keyboard's split design promotes a more natural and ergonomic typing position, assisting your hands into comfortable typing postures.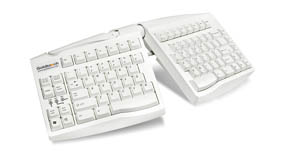 Expedited Production
Get your accessories even quicker by adding our expedited production option.
Order your accessories by 3 pm Central on a business day and we guarantee to start production on your order and ship it the same day. If placed after this time, your order is guaranteed to ship the following business day.
If your selected accessory is not in stock, it will ship per the above guidelines as soon as it arrives.
Note: This expedited production option is different from expedited shipping. If you're interested in expedited shipping, please reach out to us.
Why Buy?
This keyboard tray features a rotating mouse pad that can "switch" between left- and right-hand configurations.
Features & Specs
Gain extra space on your desktop
8" of lift-and-release height adjustment
Tilt ranges from positive 10 degrees to negative 20 degrees
360 degrees of swivel, for repositioning or storage
Warranty Info
This product comes standard with a 5-year limited warranty. For more information on UPLIFT warranty coverage, click here.
Return Instructions
All single-item UPLIFT Desk brand orders, with the exception of our custom laminate and solid wood desktops, are eligible for our 30-day trial. If you're not satisfied for any reason, return the item with no outbound shipping or restocking fees.
Return window closes 30 days after receipt of item. You must request the Return Merchandise Authorization (RMA) number within this time. You are responsible for return shipping costs.
All items must be disassembled and returned in their original factory packaging and in "Like New" condition. Items not returned in this condition may be subject to additional fees.
To view the full return policy, click here.