Features
Spacious surface - Roomy enough to hold both keyboard and mouse pad
Subtle ergo-cutout - Allows you to task closer to your work for more comfort
Versatile ergonomics - Rotates a full 360 degrees and lowers 4.3 inches below desk
Adjusts for positive and negative tilt - From +5 degrees to -15 degrees
Stows away neatly - Slides under desk for storage when 21 inch track is installed
More freedom when installing - Track can be installed over existing crossbars with optional add-on track spacer
Exceptional construction - Tray is made out of recycled MDF, arm made from steel with a textured, black powder coated finish
E3 Keyboard Tray
Type happy with the budget-friendly E3 Keyboard Tray.
With this simple and sleek keyboard tray, you'll be able to engage in ergonomically-advised negative tilt, work with 360 degree rotation, and stow your keyboard away, maintaining the organized look of your workstation while improving ergonomics at the same time.
A spacious surface allows you to place both keyboard and mouse on the same tray, while the wrist support keeps your hands comfy and supported in all the right places, so you don't have to worry about issues like wrist strain.
Check out our Keyboard Tray Comparison Chart (PDF) to decide which keyboard tray is best for you.
Specifications
| | |
| --- | --- |
| Platform dimensions | 27.6" wide x 11.8" deep x 0.35" thick |
| Height adjustment | Lowers 4.3" below desk |
| Track lengths | 21" (standard) & 11" (for limited depths) |
| Swivel at mechanism | 360 degrees |
| Tilt angles | +5 to -15 degrees |
| Weight limit | 10 lbs |
| Warranty | 1 year |
| Shipping dimensions | 14'' W x 8'' H x 31'' D, 17 lbs |
Frequently Asked Questions
Why do I need a keyboard tray?

If you're working without a keyboard tray and feel any strain in your wrists or arms while you task, it's time to give your desk a healthy dose of ergonomics with a keyboard tray! The E3 Keyboard Tray allows you to work in more comfort and halt repetitive stress injuries with one easy addition.

How does this differ from your other keyboard trays?

If you're a fan of using a keyboard tray, you may have heard about our other keyboard tray designs, the large keyboard tray and the switch keyboard tray. Users of the best-in-class large keyboard tray appreciate the spacious singular surface offered, while users of the switch usually tell us they love being able to have a separate mouse platform. If you find that you work better with this separation, that narrows down your choices a bit, but users of the single tray design will love the E3 keyboard tray due to its ability to improve your keyboard's ergonomics (and your comfort levels) at an even more affordable price.

Does the E3 adjust?

Yes, the E3 Keyboard Tray adjusts from 5 degrees positive tilt to 15 degrees negative tilt. Our in-house ergonomist recommends using negative tilt when keyboarding for ideal working postures.

Does this swivel?

Yes, the E3 Keyboard Tray rotates 360 degrees when attached to the included track, which allows you to swivel it in the direction you prefer.

How does this attach to my desk?

This keyboard tray comes with 11 and 21 inch tracks; the optional track spacer will allow you to install the E3 underneath your desk where you want it, even over existing crossbars!
UPLIFT Track Spacer
The Track Spacer gives you more freedom to mount your keyboard tray track over your desk's crossbars, allowing you the flexibility to mount accessories, even on smaller desks. If your desk is only 24" deep, this allows you to place the 22" track over the crossbars so you can stow the keyboard tray completely underneath the desk.
Corner Sleeve
If you're working on a corner L-shape desk or a workstation with limited depth, an UPLIFT Corner Sleeve allows you to install a keyboard tray where you couldn't before. This low profile mount is available in two different models that attach to worksurfaces 1" - 2.5" thick, and is compatible with all UPLIFT keyboard tray tracks.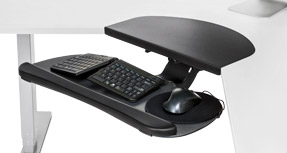 Goldtouch Keyboard
Enjoy a more ergo-friendly typing experience with a Goldtouch Adjustable Keyboard - GTN-0033. We feature ours at a discounted bundle price with this keyboard tray. This wired USB keyboard's split design promotes a more natural and ergonomic typing position, assisting your hands into comfortable typing postures.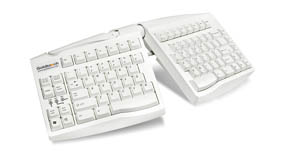 Expedited Production
Get your accessories even quicker by adding our expedited production option.
Order your accessories by 3 pm Central on a business day and we guarantee to start production on your order and ship it the same day. If placed after this time, your order is guaranteed to ship the following business day.
If your selected accessory is not in stock, it will ship per the above guidelines as soon as it arrives.
Note: This expedited production option is different from expedited shipping. If you're interested in expedited shipping, please reach out to us.
Key Features
Budget-friendly tray holds mouse pad and keyboard on one surface
Adjustments are made via simple, easy-to-use lever
360° swivel mechanism allows for storage under desk
Adjusts from 15° negative to 5° positive tilt
Adjusts below track 4.3" for ideal ergonomic positioning
Made from recycled MDF, with a black textured finish
Capabilities
Adjusts Tilt from

15° negative to 5° positive

Swivels

360°

Includes Track Lengths

21" (standard) & 11" (for limited depths)

Warranty

1 Year
Warranty Info
This product comes standard with a 1-year limited warranty. For more information on UPLIFT warranty coverage, click here.
Return Instructions
All single-item UPLIFT Desk brand orders, with the exception of our custom laminate and solid wood desktops, are eligible for our 30-day trial. If you're not satisfied for any reason, return the item with no outbound shipping or restocking fees.
Return window closes 30 days after receipt of item. You must request the Return Merchandise Authorization (RMA) number within this time. You are responsible for return shipping costs.
All items must be disassembled and returned in their original factory packaging and in "Like New" condition. Items not returned in this condition may be subject to additional fees.
To view the full return policy, click here.