10+ Desk Frames, 100+ Desktops, 200+ Accessories, 200,000+ Configurations
Save up to $707
$372+$135+$200 Start by choosing a standing desk
Choose your free items (Deal #1: save up to $372)
Add deeply discounted accessories (Deal #2: save up to $135)
Finally, use a coupon at checkout (Deal #3: save up to $200)
Deal #1: Save up to
$372
with six free items.
Deal #2: Save up to
$135
on select deeply discounted accessories.
Deal #3: Save up to
$200
with store-wide coupons.
Total savings is $707
($372+$135+$200)
Store-Wide Coupons
on $1999+ with coupon:
FROSTY200
on $1499+ with coupon:
FROSTY150
on $999+ with coupon:
FROSTY100
See All Deals
Sale ends 1/31/23, 3 PM Central. While supplies last. Use coupon at checkout. To use a coupon, the purchase value of the order must total at least $999, $1499, or $1999 USD before shipping and tax. Coupons not applicable to lifespan treadmills and bikes unless configured with a desk. Coupons cannot be combined.
Save on Clearance Standing Desks
We're overstocked on a variety of desktops and need your help to make room in our warehouses.
Clearance desks are new in original packaging and backed by the same amazing 15 year warranty included with all UPLIFT Desk products.
Prices starting at:$599.00 $489.00
Price as marked, no coupon necessary. Limited quantity available. Clearance desks do not include the free items offered during the sale. To take advantage of the free item promotion, purchase a non-clearance desk from the UPLIFT Standing Desks page.
Since 2002, we have uplifted over a million home and commercial offices, including almost every Fortune 500 company
Uplift Your Entire Office
We make comfortable, ergonomic, stand-up desks, and office furniture that keeps you moving.
Raising the Standard in Stand-Up Desks
Powerful, reliable, and endlessly versatile, all UPLIFT Desks are equipped with 3-stage legs that have a 33% greater height range and are 33% faster than competing 2-stage sit-stand desks.

With a vertical travel range of over 25.5", one-touch operation, and fast height adjustment motion, the sit-stand desk legs incorporate individual precision drive motors with <50dB noise that are built discreetly into each leg.
UPLIFT Desk Frame Features
V2 Desk Frame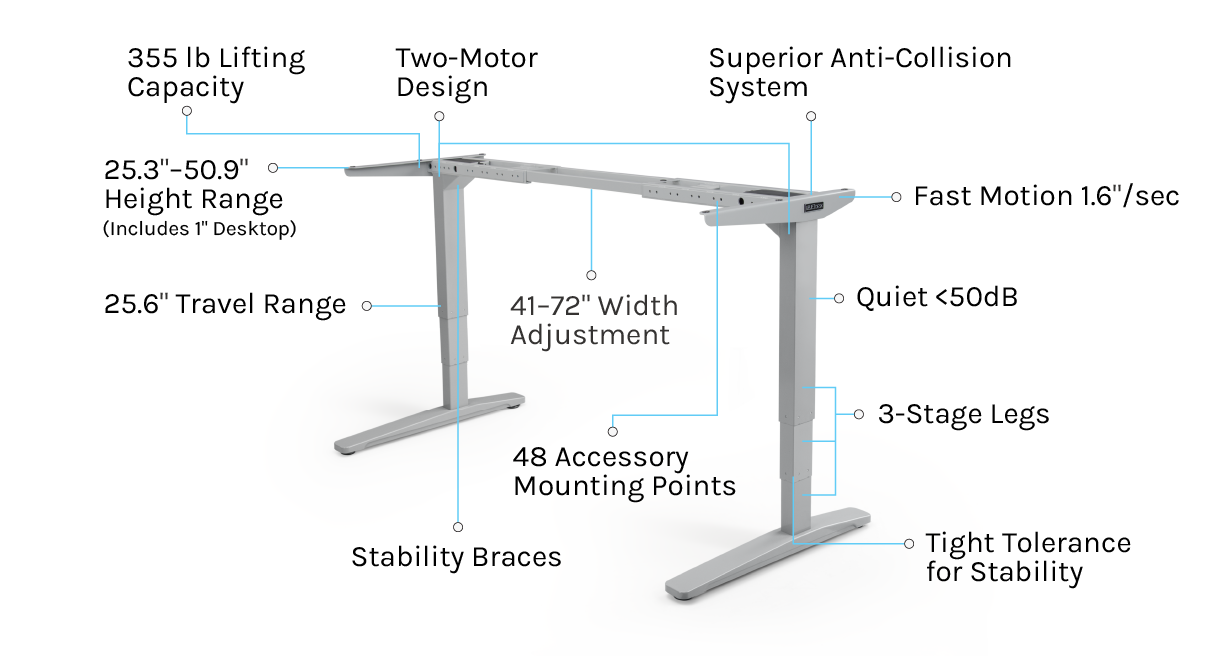 V2-Commercial Desk Frame