Features
Different models available whether you have a 2-leg or 3-leg desk
Comes with all of the components required to adapt your current desktop into a 4-leg standing desk
Each leg is freestanding and works with smaller brackets for custom positioning on desktops of all shapes
Dual control box design features haul sensors that align feet and provide speedy height adjustments
25.5" height adjustment range with standard up/down keypad or upgrade with the advanced digital memory keypad
Eliminates the need to purchase a whole new frame when you need a larger workstation
Assembled in Austin, Texas, and parts are sourced both globally and within the USA
4-Leg Conversion Kit
When your needs change and you find yourself in need of a bigger desk, the 4-Leg Conversion Kit is here to give you the freedom to create the 4-leg desk you've always wanted without purchasing a whole new frame.
This conversion kit is one of the sturdiest and most adaptable bases we offer, boasting a hefty 530 pound lifting capacity.
Enjoy sitting and standing adjustments that come with the simple push of a button, allowing you to add a little movement to your workday. You'll enjoy benefits like better circulation and increased focus just by switching up your stance.
You deserve a desk that works for you, and not the other way around. Transform your current desk setup with the 4-Leg Conversion Kit.
Specifications
Height range
23.5" - 49"
Desktop attachment
Accepts wide range of desktop sizes*
Travel speed
1.5"/second (varies - slowest with maximum load) with soft start/stop actuator motors
Noise level
45 decibels during motion
Weight capacity
530 lb (Weight capacity assumes that weight is distributed evenly between the desk legs)
Keypad
Advanced digital keypad with 4 memory positons is available;
2-button up/down keypad comes standard
Adjustable foot leveling studs
3/8" adjustment for uneven flooring
Voltage
Input: 120 V
Output: 24 V
Transformer power
200 W (0.2 W on standby)
Power supply current
5 amps
BIFMA/ANSI X5.5-2008 Certified
Yes - completely meets all requirements of BIFMA/ANSI X5.5-2008 Test Sections 4.3, 4.5, 5.2-5.5, 6.0, 7.0, 8.0 & 15.0
Safety certifications
Lifting Column - TUV (Canada and U.S.)
Control Box - TUV (Canada and U.S.)
Power Cord - UL/CSA (Canada and U.S.)
Warranty
7-year all-inclusive warranty on the entire desk base, which includes the motor, frame, controller, switch, electronics and mechanisms. Optional extended warranty available when selecting desk options
Shipping dimensions
3 leg conversion - 41'' W x 10'' H x 12'' D, 63 lbs
2 leg conversion - 41'' W x 10'' H x 12'' D, 60 lbs
Frequently Asked Questions
Why do I need the 4-Leg Conversion Kit?

If you desire the lifting capacity of a 4-leg desk, this can help! Each leg is freestanding, allowing for custom configurations of your desk setup.

How is this different from the 2-Leg to 3-Leg conversion kit?

Our UPLIFT 2-Leg to 3-Leg Conversion Kit allows you to convert your current rectangular desk into a corner workstation with just a few under-desk additions! If you have questions about what style of desk is right for you, give our Sales Pros a call and we'd be glad to help!

Why do I need a 4-Leg desk over a 3-Leg or a 2-Leg desk?

We recommend purchasing a 4-Leg desk when you require a workstation with heavy duty lifting capabilities. Our 4-Leg desks lifts over 530 pounds of desktop and computer gear, so if your workstation setup is larger than average, this might be a more suitable desk for your than our 2-Leg or 3-Leg desks.

Is this BIFMA Certified?

Yes, the 4-Leg Conversion Kit completely meets all requirements of BIFMA/ANSI X5.5-2008 Test Sections 4.3, 4.5, 5.2-5.5, 6.0, 7.0, 8.0 & 15.0. If you have any questions about whether this complies with your office's standards, give us a call and we can point you in the right direction.
Model
Choose whether you are converting a 2-leg desk or a 3-leg desk into the 4-leg desk model.
Frame Color
Frame Color
Our base is available with several different color options - black, white, gray, and metallic (industrial style).
UPLIFT Keypad Options
Keypad Options
Your original UPLIFT keypad is compatible with this conversion kit, but if you wish to upgrade or choose a different keypad, select the standard up/down Keypad or the Advanced Digital Memory Keypad for a quick, easy adjustments to your sitting and standing preferences.
Please note: One-touch functionality is not available with the advanced keypad on 4-leg desks. Memory adjustment will still require you to press and hold the memory button until your desk reaches the programmed height.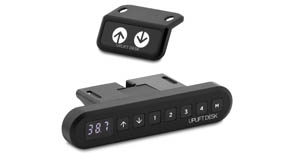 Expedited Production
Get your accessories even quicker by adding our expedited production option.
Order your accessories by 3 pm Central on a business day and we guarantee to start production on your order and ship it the same day. If placed after this time, your order is guaranteed to ship the following business day.
If your selected accessory is not in stock, it will ship per the above guidelines as soon as it arrives.
Note: This expedited production option is different from expedited shipping. If you're interested in expedited shipping, please reach out to us.
Warranty Info
This product comes standard with a 7-year limited warranty. For more information on UPLIFT warranty coverage, click here.
Return Instructions
All single-item UPLIFT Desk brand orders, with the exception of our custom laminate and solid wood desktops, are eligible for our 30-day trial. If you're not satisfied for any reason, return the item with no outbound shipping or restocking fees.
Return window closes 30 days after receipt of item. You must request the Return Merchandise Authorization (RMA) number within this time. You are responsible for return shipping costs.
All items must be disassembled and returned in their original factory packaging and in "Like New" condition. Items not returned in this condition may be subject to additional fees.
To view the full return policy, click here.